The purpose of this content is to explain how you can start with affiliate marketing.
I will answer your questions like:
What exactly do you need to do?
What steps are involved?
How much time will this take?
Depending on what you read, you may come across these…
4 steps to building your successful affiliate marketing business:

Choose a Market
Build a Website
Attract Visitors
Earn Commissions
These are the steps you will take as an affiliate marketer.
This is the general idea of how to create a website for affiliate marketing that makes you money.
But keep in mind that…
The word MARKETING is in affiliate.
The reality is that this involves marketing.
And any type of marketing requires detail, focus and willingness to learn new skills.
Anyone who wants to learn how to be an affiliate marketer, CAN!
You just need to want to and stay committed.
So, I created this 15 step guide for you.
The goal is to provide you with a real understanding of what this stuff takes.
To know how to really get started.
This is how I personally do affiliate marketing. (And I how personally make money from affiliate commissions.)
How Can I Start with Affiliate Marketing
15 Step Guide
Feel free to read all steps in order or jump to any section by clicking on a link above.
Step 1: Training Course – Find a good way to learn
The first step in getting started is to find good training in affiliate marketing.
And the best route would be to find an online training course.
You can learn from a teacher just like you would in school.
But at your own pace, on your own time and from your own location.
You certainly can choose to learn from a book if that better suits your learning style.
But training courses are usually the best way to go because they tap into more of your natural senses to help you learn.
So, let's look at some options for you.
Online Affiliate Marketing Training Courses
Affiliate Marketing Training Books
Amazon
Safari Books Online
Audible
When choosing your training, you want to find the best support for your needs.
Designated Affiliate Marketing Solutions
Wealthy Affiliate, Affilojetpack, and ClickBank University have designated affiliate marketing solutions.
You will be easily connected to training, tools and affiliate marketers all in one place.
Training Only Affiliate Marketing Solutions
Udemy, Lynda.com, Amazon, Safari Books Online and Audible are training only solutions.
They all provide you with training and information. But they don't provide you with tools or easy people connections.
For the training only solutions, you will need to find other places to manage your affiliate websites and connect with other affiliate marketers for support.
Recommended Affiliate Marketing Solutions
Here are my recommended affiliate marketing training solutions with built-in tools and support:
Wealthy Affiliate will teach you how to build Amazon Affiliate websites and other affiliate programs. This affiliate marketing training and toolset is the cheaper alternative to Authority Hacker. WA also comes with a built-in community support system which most solutions just offer access to an external Facebook Group. Wealthy Affiliate Review.
How to Save $5,624 with Wealthy Affiliate
ClickBank University is an alternate affiliate marketing training course that teaches you how to use the ClickBank affiliate program. At just $47 per month, you can save money on the training to spend on your ads for driving traffic. Clickbank University 2.0 Review.
Step 2: Training Schedule – Plan a schedule to do the training
The second step is to do the training.
The best way to accomplish this is to plan a training schedule.
You will specifically list out what days you will take what courses and complete which tasks.
Just like when you go to school, you have a class schedule.
When you start your training to learn affiliate marketing, you should have a training schedule. And you should be willing to commit to the schedule.
A training schedule could look like this:
50 lessons course: 1 course a day, for 50 days
50 lessons course with task assignments: 1 course plus tasks, every other day for 100 days
100 lessons course: 1 course a day, for 100 days
100 lessons course with task assignments: 1 course plus tasks, every other day for 200 days
5 hours course: 1 hour a day, for 5 days
5 hours course with task assignments: 1 hour a day plus tasks, every other day for 10 days
Recommended Organization Tools:
Create a schedule in Google Calendar or Mac iCalendar
Create events for each training lesson
Or list out your schedule in Evernote
All tools above can be leveraged for free.
Step 3: Market Discovery – Choose who you will talk to
The third step is to do your market discovery.
After you start training, you will be asked to choose what you are going to promote.
However, you should NOT just start picking out products to promote to people.
People need solutions.
The way to do affiliate marketing correctly is to offer these people solutions.
So before you can offer these people anything, you need to know WHO they are and WHAT problems they are trying to solve.
So, this is where you start researching who you will talk to.
Ideally, you should start with the problems they have or topics you are interested in learning more about.
You may hear, "choose a niche or topic you are interested in".
A topic is essentially a category of people and is what affiliate marketers call a niche.
This advice is suggested because you are going to be building an entire website around this one category and related categories.
We are talking hundreds, if not thousands, of pages and blog posts of content. We are talking about A LOT of content!
So choose a category or topic that you want to learn more about.
Health, cooking, gardening, knitting, traveling, camping, tasting craft beers and wines, learning affiliate marketing, bicycling, etc.
Pretty much anything you can think of.
Recommended Niche Reads:
Step 4: Market Research- Research the problems of your target audience
The fourth step is to do your market research.
Now that you have picked out your niche, whatever topic that maybe, you will research the problems the people in this category have.
This is referred to as your target audience.
Let's look at Health for an example.
Here is what people want to know about their health.
tips to stay healthy
tips to stay healthy for the winter
how to stay fit for summer
tips to stay healthy for kids
tips to stay healthy while traveling
how to stay fit for men
how to stay healthy for women
tips to lose weight for women
how to stay healthy for women over 50
Because health is a huge massive category, you are better off finding a subcategory.
You want to find less competitive and less broad groups of people to target.
Notice some of the subcategories mentioned above.
Seasons

How to stay fit within the different seasons of the year. Winter, Summer, etc.

Kids

How to keep kids healthy while they are growing and active.
Solutions for kids will be different than solutions for women or men over 40.

Travel

How to stay fit while traveling, not near your own equipment or gym.
Solutions may be easy exercise programs to do in your hotel room, how to choose hotels with the best gyms or how to keep track of your exercise while you are walking 10 miles around town (e.g. a fitness watch).

Lose Weight

How to lose that 10 extra pounds you may be carrying around.
Solutions may be high-intensity workout programs, specific diet plans with equipment such as blenders or specific workout videos you can do from your own home.
All of these are subcategories. And all of the subcategories have more of their own subcategories.
And you can even combine some subcategories like:
how to stay fit in winter while traveling.
Keep researching and you will find very specific problems or desires people have.
The more problems and wants you find, the more options you have for recommending solutions through your affiliate links : )
Ideally, you want to start with 1 or 2 subcategories and 5 – 6 subcategories.
You can always grow into more categories at a later date. But you want to start with a few small problems to help determine the plan of your website.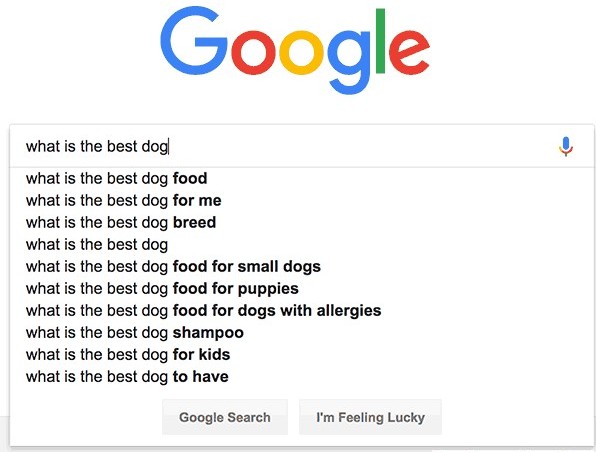 Recommended Niche Topic Search Tools:
Google Search. First, search for the word "health" or "dog". Then place your cursor in the search bar after the word health, as if you were going to change the search. Notice the recommendations under the word. These are all related keywords that people are searching for.
Jaaxy. Jaaxy is a keyword research tool designed to help you find niches and niche subcategories. Jaaxy comes included with Wealthy Affiliate. And you can try out Jaaxy completely free. Jaaxy Review.
Step 5: Affiliate Products – Find affiliate products to recommend
The fifth step is to find affiliate products to recommend and write about.
Now that you have researched the problems, desires, and needs that your target audience has, you will find the best solutions for them.
This is where affiliate products come in.
You will do the research to find the RIGHT products to recommend. Meaning the BEST solutions to your audience's problems.
One way to find products is to search for the problem on Google and investigate what product solutions show up in the top search results.
Another way is to check out what is available from the big affiliate programs and networks.
Affiliate networks are essentially companies that connect companies with affiliates.
So instead of a company managing its own affiliate program, they hire a network company to do it for them.
Some of the most popular affiliate programs and networks are:
Amazon Associates
eBay
Rakuten Marketing
Shareasale
CJ Affiliate by Conversant
AvantLink
But keep in mind, there are companies that manage their own affiliate programs that may not be listed in these above.
Some products may be offered through multiple networks.
Sometimes, you have a specific product in mind that is not listed in any of the above programs.
If this happens, then do this trick:
Do a search in Google for product + affiliate program
Example: Vitamix affiliate program
The search results will show an affiliate program offered directly by the company that makes the product. But you can also recommend the Vitamix from the Amazon Associates affiliate program.
Affiliate responsibility.
It is VERY important to note that you only recommend products that you stand behind.
This means you should do thorough research on the products and ideally, even use them yourself.
After all, you are influencing people's buying decisions and impacting their lives.
When people trust you enough to take your recommendations, they expect to have a good experience with those products.
So don't break people's trust! Or else, you will likely hurt and damage your brand and reputation.
Take this product research part just as seriously as research your audience and their problems.
Research which network has the best products for your audience.
Recommended Affiliate Products:
There is no one recommendation since there are MILLIONS if not BILLIONS of products you can choose from. What products you choose really depends on what your audience needs.
Step 6: Affiliate Programs – Join affiliate programs with the products you want to recommend
The sixth step is to choose which affiliate networks to join.
Once you have found which products you will recommend to your audience, you are ready to join those networks as an affiliate.
Ideally, you want to start with 1 – 2 networks in the beginning.
Each network has multiple products so you will likely be able to recommend more than one product from each.
Plan time for the sign-up process.
You will be required to fill out basic contact and payment information for each vendor.
Every network has different commission structures and rules and regulations. You will need to make sure you read all of these thoroughly.
Recommended Read:
You should start out with just a few networks and products. Then work your way up to multiple networks and products over time.
It is considered bad advice to rely on just one network forever because you do not want to put all of the income streams in one company.
If something happens to the network relationship or commission structure, you want to have other relationships (i.e. revenue streams) to fall back on.
Recommended Affiliate Programs:
Yea, can't really recommend any of these either. Once again, it depends on what products your audience needs and what programs have those products. One note is that Amazon requires a specified amount of sales within a certain period of time. So you will want to build out your website and get traffic before you sign up for Amazon. This is why is important to read the rules and regulations of the networks. They all have different requirements you will need to uphold as an affiliate.
Step 7: Website Plan – Map out how you are going to help your target audience
The seventh step is to start mapping out your website plan.
Once you have identified the products, you will use these categories to help set up the plan for your website.
But first, go check out a few websites that target similar audiences that you want to target.
This could even be your favorite website that you learn from.
See how they set up their website.
What pages do they have?
What topics do they focus on?
How much content do they provide?
What solutions do they offer?
Now, start a website map for your website. This map is the basic structure of your website pages and blog posts.
Here is a basic 5-page website plan:
Home Page

The main page of your website

About Page

Where you tell your own personal story and what the website is about

Contact Page

Where you invite people to contact you for more questions

Privacy Policy

A required page for affiliate marketers

Affiliate Disclosure

Another required page for affiliate marketers

Blog

The main page where all of your frequent content updates will live
Now, you should add some additional or category of topics that are relevant to your audience.
Here is a basic website plan for kids health:
Home Page
For Parents

Content that speaks to the parents on how to take care of their kids

For Kids

Content that speaks to kids and is simplified, easy to read and understand

For Teens

Content that speaks to teenagers on what they need to know at their age

For Educators

Content that speaks to Teachers and Schools on how to support the health of all school kids

About Page
Contact Page
Privacy Policy
Affiliate Disclosure
Blog
Or you could take a completely different approach.
Here is another basic website plan for kids health:
Home Page
Lunches

What to pack for kids lunches to keep them healthy

Exercises

What exercises are safe for kids

Mind

What games or classes or sports can simulate the kid's mental health

About Page
Privacy Policy
Affiliate Disclosure
Blog
Be sure to write your plan down. You want to reference your outline when you start building your website.
Recommended Site Planning Tools:
Recommended Templates:
Step 8: Website Launch – Build Your Website
The eighth step is to actually build out your website.
After you have completed your research and have a basic plan, you will actually launch your website!
Well, almost! First, you need website development tools.
If you choose training from Wealthy Affiliate or Affilojetpack, then you already have these tools and will build a website as part of your training.
If you choose a training only course from Udemy or Lynda.com, then you will need to choose the website tool and services before you can build.
Here is what you need to build websites:
Website Builder – A product used to build and maintain your own website
Website Hosting – A service you pay to have your website connected to the World Wide Web (www)
Domain Name – The name of your website (e.g. websitename.com)
Email Address – An email address to include on your policy pages and contact page
For website builders, many affiliates choose WordPress.
WordPress powers 35% of the websites online today.
Some other popular websites builders today are Wix, Weebly, and Squarespace.
For website hosting, everyone has their own choice.
Wealthy Affiliate and Affilojetpack both offer website hosting plans, along with tools and specific training for affiliate marketing.
Or there are many other hosting providers such as BlueHost, HostGator and WPEngine.
Domain names and email address setup are available from every hosting provider.
You will just need to find the perfect name for your site that is not already taken.
Get ideas for your domain name at Namemesh or Lean Domain Search.
Once you have confirmed the tools you are going to use, then actually create your website with the pages and basic content you planned.
This is where you launch the beginning of your website! YAY!
Recommended Website Reads:
Recommended Website Tools:
Wealthy Affiliate. Get website hosting, WordPress builder and management tools from Wealthy Affiliate. WA provides the best bang for your buck since you get specialized affiliate marketing training, tools and support all from one place.
Step 9: Keyword Research – Find low competition keywords to use for your content
The ninth step is to do more research.
This research will support the future content you will be adding to your basic website.
You will be looking to find low competition problems to solve for your audience.
The reality is, 5 – 6 pages won't bring traffic to your website unless you promote hard on social media or you pay for ads.
And when your target audience gets to your website, they need to be really compelled to buy that product from you.
You want to be passive about selling.
So you want to showcase yourself as an expert in the topic that you are in.
Offer real value to the people who come to your site.
An easy way to offer value is to write content about what they are searching for.
This is where keyword research comes in.
This step is very similar to step #3 where you researched the problems your target audience has.
The difference is that you will be looking for specific keywords to use for your content.
A keyword is literally just a phrase of words that people search for more information on.
The phrases mentioned in step #3 are all keywords:
Health
tips to stay healthy
tips to stay healthy for the winter
how to stay fit for summer
tips to stay healthy for kids
However, you will not just use Google this time.
You will also use a keyword research tool to understand how competitive the searched keywords are.
You not only want to know what people are searching for but how many people are searching for them. And how many other website pages are targeting those specific keywords.
The goal is to find 20 – 30 keywords with low competition so that you can plan a writing schedule.
Low competition just means that there are not 100's of other website pages targeting the same words your website will target.
The keywords listed above are pretty competitive so you will want to find some less competitive variations. This can usually be done by adding more words to the phrase and using other variations.
Some low competition keyword examples are:
best ways to stay healthy and fit

48 average monthly searches
54 competing websites

top 10 ways to stay healthy

104 average monthly searches
86 competing websites

tips to stay healthy for the winter

64 average monthly searches
3 competing websites

how to stay healthy in the winter

114 average monthly searches
39 competing pages

tips to stay healthy for kids

100 average monthly searches
0 competing pages
There are many keyword research tools for you to choose from.
You can use Jaaxy by Wealthy Affiliate tools, AffiloTools by Affilorama, Google Adwords Keyword Planner, Wordstream or many others that are available.
Recommend Keyword Research Tools:
Jaaxy. Jaaxy is a keyword research tool designed to help you find niches and niche subcategories. Jaaxy comes included with Wealthy Affiliate. And you can try out Jaaxy completely free.
Step 10: Affiliate Content – Plan how to include your affiliate links
The tenth step is to plan where you recommend your products.
You want to figure out the best way to interweave your affiliate links within your website.
This step requires planning because every page on your website cannot be a sales page.
People do not like this style. And neither do search engines.
A very common strategy is to create specific REVIEW posts on the products you suggest.
Then use general helpful, non-promotional content to link to your product reviews.
An example content strategy could look like this:
POST #1: Best ways to stay healthy and fit

General helpful post with no affiliate links
Work to get this on the first page of Google's search results
Within the post, link to product review posts that are relatable solutions to how to stay healthy and fit

POST #2: Product Review #1
POST #3: Product Review # 2
So be thoughtful about how you plan this out.
Keep your audience in mind and do what is best for them.
Guide them through helpful solutions and link them to affiliate products when it makes sense.
You may likely come across high ranking pages with affiliate links in them.
There are many different opinions about whether you should include affiliate links on every page or just link to product review pages.
Wealthy Affiliate will teach you to strategically place affiliate links inside product reviews and link to that content when appropriate.
Other affiliate marketers or training platforms may teach you otherwise.
The reality is that you learn by doing.
You try one strategy and measure the results. Then you can try other ways and measure those results.
Here, we try to teach good practices because we use these practices ourselves.
Recommended Read:
Step 11: Content Schedule – Plan a website content schedule using keywords
The eleventh step is to plan a content strategy and calendar.
You are just planning out a schedule for adding new content to help your audience.
This process is somewhat strategic and referred to as your content strategy.
A content strategy is to be thoughtful about how you guide your site visitors through your content and solutions.
When you first start out, you should start with 20 – 30 keywords.
This will get you in the flow of writing and having a plan.
These keywords will become the posts of content you write about.
The keywords will shape what you write about and what solutions you will offer to your readers.
After you have published 20 or so posts, you will start this keyword research process over again.
You will find the next 20 – 50 keywords to write about.
The goal is to always have fresh content. Why?
Because search engines like Google, Yahoo and Bing LOVE fresh content.
Their main goal as a search engine is to find relevant content to serve to the people who are searching on their sites.
And these people are searching for millions of keywords a day. This means there is plenty of opportunities for you to find good keywords to target.
When planning out your writing schedule, you want to set a routine for yourself.
The routine process will become easier over time as you get used to it.
A good content schedule plan can look like this:
Monday Post: Best ways to stay healthy and fit
Wednesday Post: Tips to stay healthy for the winter
Friday Post: How to stay healthy in the winter
Monday Post: Tips to stay healthy for kids
Once again, write down your plan!
You can even use the same tools you use to stay organized for your training.
Recommended Planning Tools:
Create a schedule for each blog post in Google Calendar or Mac iCalendar
Make a list in Google Docs or Evernote
Recommended Read:
Step 12: Content Implementation – Start writing out content for your website
The twelfth step is to start writing out your content!
Now that you have researched what you are going to write about and you have a schedule to hold you accountable, you are ready to write.
Do I really have to write all this content? No.
You can outsource your content.
You can hire writers to write your content for you.
But one thing to keep in mind is…
Your website and content can NOT be weak.
Website traffic is a competition!
You are competing with other websites to get some of those searches to YOUR website. To YOUR content.
So those people can buy from YOUR affiliate links.
Your website and content needs to be GOOD!
Like better than the competition. That's how you win in any competition!
When you are first starting out, you want to really know your topics and the market of people you are talking to.
I personally recommend starting out by writing your own content.
You will naturally learn a lot when you write your content.
Because you will research the problem, find good solutions and become knowledgeable in each topic you write about.
So get to writing. Yourself 🙂 (Or hire out if you can afford it.)
You can write draft posts inside WordPress.
Or you can write your content in Google Docs and then publish in WordPress when ready.
Do whatever feels comfortable to you and choose a solution that is easy to use over and over again.
The tools you use become part of your repeatable process.
Recommended Writing Tools:
SiteContent within Wealthy Affiliate does a great job of helping you manage all of your posts and content. You can use templates for quicker creation, keep count of how many words are in each post and add free images.
Step 13: Website Content Indexing – Work to get search engines to notice your site and your content
The thirteenth step is to publish 20 or more good pieces of content on your website.
You want the start building trust with the search engines so they start recognizing your website. This process is referred to as indexing.
Indexed just means that the search engine recognizes your website and your pages.
The trust part can take a while. But the more you publish good quality content that helps your audience, the more likely people will really engage with your content.
And the search engines will definitely notice engagement which builds trust.
The primary search engine you should care about is Google. The second and third search engines are Bing and Yahoo.
As of July 2018, Google accounts for 90% market share and handles three billion searches each day.
Well, that is A LOT of searches folks! Fun facts pulled from Wikipedia.
This is the part where you want to know if the search engines have indexed your website content.
For Google, you will leverage Google Console and Google Analytics. Google Console will help you understand what content is indexed and Google Analytics will help know how much website traffic you are getting.
Just remember, every affiliate marketer starts out with 0 traffic. So don't be bummed if you are not getting any traffic yet.
Continue to write quality solutions to people's wants and problems and the traffic will eventually come.
Recommended Tools:
Google Console and Analytics.
Wealthy Affiliate has training videos and written training tutorials on how to set these up.
Step 14: Complete Training – Finish the good training course
The fourteenth step is to make sure you complete your training.
Yes, you should be doing your training and your content schedules at the same time.
Regardless of what training you choose: Wealthy Affiliate, Affilorama, Udemy, Lynda.com or a good book.
Most training will be paid for. So make sure you get the most out of what you spend by finishing it.
Step 15: Repeat
The fifteenth and last step is to continue training, publishing content and building out solutions on your website.
You do not necessarily have to start a new website in a new niche.
When starting out, stick with one website targeting one group of people.
Ultimately, you want to see success by getting commissions from people buying from your affiliate links.
But you will always need to be researching your audience's problems to find new ones.
And always be publishing new content to help solve these new problems discovered.
The research and training processes never stop. These are steps that are always ongoing.
Once you get these basic steps down, you can move on to more advanced steps including: