Wealthy Affiliate Review – The Best Value For Your Hard Earned Money?
Is Wealthy Affiliate worth your money?
In this Wealthy Affiliate Review, you'll learn why Wealthy Affiliate wins the Best Value Award compared to other affiliate marketing training options available to you today.
We will cover everything you need to know about Wealthy Affiliate including pros, cons, frequently asked questions, claims, product details, differentiators, alternatives, the affiliate program and more.
Heads up: I get commissions for purchases made through links in this post. Read my affiliate disclaimer here.
Wealthy Affiliate Overview

Product Name: Wealthy Affiliate

Creators:  Kyle Loudoun and Carson Lim

Years in Business: 14 years

Company Headquarters: Canada

Product Features:
– Affiliate Marketing Training
– WordPress Website Builder
– SEO Keyword Research Tool
– Affiliate Programs Finder
– Community Network & Forum

Target Audiences: Beginner and Intermediate

Product Categories: Affiliate Marketing Training, Affiliate Marketing Tools

Strategies: Affiliate Authority Websites, SEO, WordPress Websites

Product Objective: To train beginners on how to build out authority affiliate marketing websites.

Price: $0 – $359/year – Mulitple payment options, Yearly is Best Value (See price section for more details)

Upsells: Jaaxy Pro or Enterprise. Jaaxy Lite is included in Wealthy Affiliate Premium Plan.
Wealthy Affiliate Review Scorecard
Wealthy Affiliate Overall Rating: 4.13 out of 5
Training = 4.5
Usability = 4
Support = 3
Performance = 4
Wealthy Affiliate Pros & Cons
If you do not want to read the full Wealthy Affiliate Review, here are some quick pros and cons you should know about:
Pros:
Doesn't cost $2,999 like other affiliate marketing trainings
Includes a completely free starter plan (No credit card required)
You can join at any time (No closed enrollment periods)
One of the most extensive affiliate marketing training libraries in one place (500+ hours of training)
Includes affiliate website hosting and management tools for up to 50 websites (No need to buy hosting separately)
Includes marketing tools for ranking in search engines and finding affiliate programs
Instant connection to a large network of affiliate marketers (1.4 million and counting)
Training, tools, and community are in the same platform (No need to manage multiple logins and different platforms)
The co-founders are active within the community so you can ask questions and interact with them
A unique Wealthy Affiliate Credits system that offers you ways to earn credits for cash (A major product differentiator from other alternatives)
Cons:
No cPanel website hosting features (Not really needed for beginners though)
In platform support options but no support phone or email available
The amount of training and options makes focus hard for beginners 
Is not DFY (Done-For-You) (Does teach you everything you need to create an affiliate business for yourself)
Informal refund policy (You can get your money back but requires some effort on your part. Tip: Just start with the free plan to see if Wealthy Affiliate is right for you before you buy.)
Wealthy Affiliate Walkthrough Video
Check out this video walkthrough of Wealthy Affiliate. You will meet the co-founder Kyle and get an inside view of everything you get access to inside this unique affiliate marketing platform.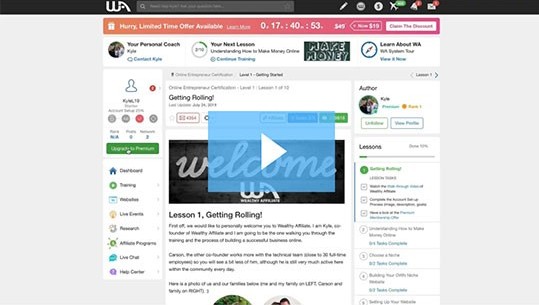 Pro Tip: You can actually preview the free training before signing up for a free account. Yeah, check it out.
Wealthy Affiliate Review Quick Links
Here's the most in-depth Wealthy Affiliate review you'll probably ever read 🙂 
Use these links to jump around to different topics you care about or read the entire article to really understand if Wealthy Affiliate is right for you.
FAQs | Claims | About | Product Details | Features | Differentiators | Examples | Pricing | Enrollment | Cancellation Policy | Refund Policy | Support | Technical | Login | Reviews | Complaints | Other Products | Alternatives | Affiliate Program | Conclusion | Know Before You Buy
Frequently Asked Questions
How does Wealthy Affiliate work?
Wealthy Affiliate offers you training and tools to become an affiliate marketer. You sign up to Wealthy Affiliate as a free or premium member to build out an authority affiliate website. You go through the affiliate marketing training, build out your affiliate website using the tools provided inside the platform, and ask help from the active Wealthy Affiliate members along the way. 

You will build out your authority affiliate website with these 4 main steps:
Choose an Interest. Your affiliate website will have a targeted topic area. (e.g. health, wealth, relationships)
Build a Website. You will learn how to build out your affiliate website over time. 
Attract Visitors. You will learn how to capitalize on a popular marketing strategy that drives free traffic to your website 
Earn Revenue. You will learn 50+ ways to monetize your website, once you start gaining traffic. 
Can you make money with Wealthy Affiliate?
A similar more recent question asked is: Can you still make money with Wealthy Affiliate in 2019?
The answer is simple. Yes. 
You can make money with Wealthy Affiliate or any affiliate marketing training program available to you today. How would I know? I have personally made money from the skills I learned from going through Wealthy Affiliate's training system this year, 2019. I can tell you from personal experience, Wealthy Affiliate works.
Disclaimer: I can't guarantee that you will make any money with Wealthy Affiliate. Wealthy Affiliate did not make the money for me. No. I made the money by working late at night after work and on weekends around family commitments. I put forth the effort and work it takes to make any money online. I didn't let work, family or just being busy be excuses to prevent me from completing the training, completing every task and sticking to it every day. Whether I had 1 hour or 5. Wealthy Affiliate gives you (and me) everything you need to be successful. But you and I have to do the work. 
(And if you read enough stories of other affiliate marketers, you will see that most started the same way…)
How do you make money with Wealthy Affiliate?
Wealthy Affiliate offers you two different ways to make money online. 
This is one of Wealthy Affiliate's unique features that you will not find in any other affiliate marketing training program.
Way 1: Wealthy Affiliate teaches you how to make money through affiliate marketing. You build websites that make sales commissions from recommending other people's products. Affiliate Marketing is not a new concept but has become popular these days because it's an easy way to get started making money online. 
You can learn the affiliate marketing concept from any affiliate marketing training program available to you today. The difference between Wealthy Affiliate compared to other solutions is the amount of training they offer, the included tools and the online marketing strategies they teach you. 
Way 2: Wealthy Affiliate has a unique "credits for cash" system built inside the platform. You can earn credits for doing things that help other members out like creating training that teaches other members how to do something and referring people to buy website domains. 
Get enough credits and you can cash them out for money in your PayPal account or use them to pay for your website domains, your own Wealthy Affiliate membership or other people's membership. 
Yep. You will not find another "credit for cash system" in any other affiliate marketing platform. (That I know of atleast 🙂
Is Wealthy Affiliate free?
Wealthy Affiliate offers a free starter plan. No credit card required.
With the free starter plan, you can build out 2 affiliate websites on a free domain name and access 10 lessons each inside two different training courses. 20 lessons in total. 
The free plan is a limited set of features to give you a taste of what you will get from Wealthy Affiliate premium. You'll see what you can achieve through the Wealthy Affiliate affiliate marketing training program, platform, and built-in tools. 
What is the Wealthy Affiliate premium membership?
Wealthy Affiliate offers a paid premium plan, in addition to the free starter plan.
With the Wealthy Affiliate premium membership plan, you can build out up to 50 affiliate websites on a custom domain name of your choosing and access all courses and member-created trainings. The 3 courses alone connect you with 130 lessons, in addition, to live weekly webinars, 300+ recorded webinars from previous weeks and 100+ member-created training on specific topics.
The Wealthy Affiliate premium membership also gives you complete access to all of the affiliate website tools, management tools and premium tools like Site Comments to generate comments for your blogs (search engines like content engagement like comments) and Site Content which helps you manage all of your content in one place and instantly connects you with 1 million+ free images to use throughout your website content. 
Who is Wealthy Affiliate for?
Wealthy Affiliate is for anyone who is willing to learn online marketing skills, try new things and put in the work needed to build out a successful online business. Once you learn how to create a profitable affiliate website, then you create more to increase your overall revenue. 
The training and platform tools are targeted for complete beginners and intermediate affiliate marketers. 
Wealthy Affiliate is not for someone who doesn't want to learn new skills, try new things or put in the work. 
If you are looking for more DFY (Done-For-You) systems, then look at ClickBank Breaks the Internet or Affilojetpack. These alternatives cost more which means you will pay more. It's the trade you make to speed up the time it takes to build out an affiliate marketing business online.

Hence, why Wealthy Affiliate is named as the best value for your money!
Is Wealthy Affiliate a good place for a newbie to learn affiliate marketing?
Yes. The Wealthy Affiliate training is designed to walk you through every step of the process. To creating your first website, to joining your first affiliate program, to making your first affiliate commission.
The training courses have built-in tasks and tracking features to teach you what you need to know, then go and do the action for yourself. 
Wealthy Affiliate is built on the "do it while you learn" principle which is known for helping you understand things faster by learning for yourself. 
Is Wealthy Affiliate a SCAM?
No. Believe it or not, Wealthy Affiliate is not a scam. Scams are programs that take your money and do not give you anything in return. 
If you can't see the value in what you get at Wealthy Affiliate by what you've read so far, then Wealthy Affiliate may not be for you.
Just be careful of the other affiliate marketing training that charges you more money and teaches you how to buy other affiliate marketing tools, using their affiliate links. 
Is Wealthy Affiliate worth the money?
Yes. Hands down, one of the best values for your dollar.
You will not find this much training content, the included website hosting, and management tools, a built-in community network to connect with other affiliate marketers and unique cash for credit system anywhere else. 
Wealthy Affiliate is a very unique place. That's a big reason why it's been around for 14 years. 
How hard is it to make a profit with Wealthy Affiliate?
Generally, speaking making money online through affiliate commissions is hard. 
Gone are the days where you just launch a 5-page website and generate a lot of free traffic from search engines. With 1 billion websites online today, you are competing with these other websites. You have to find ways to be different than your competitors, crank out comparable (quality) content and be willing to give search engines time to rank your quality content. 
Gone are the days, where you just throw up a bunch of affiliate links on social media and expect a huge return. Social media networks have gotten smart about affiliate marketing and view affiliate links as spam. You can get your accounts shut down if you are not careful and strategic about your promotions.
Since you are learning marketing skills and online technology at the same time, you will be learning a lot of information at once which makes affiliate marketing hard in general. Regardless of what affiliate marketing training you buy into. 
What do you need to make a profit with Wealthy Affiliate?
Ideally, you need to make more than $359 in one year to pay for your Wealthy Affiliate, yearly premium membership fee.
The good news is that you can earn $350 by recommending one $1000 affiliate product. (That's a 35% affiliate commission rate which exists today for high ticket product sales.) Your second $350 commission would be pure profit. 
Or you can earn $4 for by recommending $100 Amazon devices. (That's a 4% affiliate commission promoting Amazon products in this category). You would need to refer 90 sales to cover your Wealthy Affiliate premium membership cost and 91 sales to make a $4 profit. 
Did you have any success at Wealthy Affiliate?
Yes. I have personally had success with Wealthy Affiliate.
My personal notable successes are:
My blog content is ranking on first pages for targeted keywords (I learned this strategy at Wealthy Affiliate)
My product reviews generate affiliate commissions and leads for me (Taught in Wealthy Affiliate training)
My website traffic is increasing and my lead generation continues to increase (Wealthy Affiliate teaches consistency for continued results)
Disclaimer: Wealthy Affiliate alone does not make you successful. And I can't guarantee that you will be successful. I've had successes by leveraging the training and taking consistent actions. The possibility of achieving success with Wealthy Affiliate is totally possible. The actual success results you see depend solely on you. 
Now, here's the rest of the Wealthy Affiliate Review with a complete inside look at what you get for the price. Read through its entirety and you'll believe Wealthy Affiliate is the best value for your money too!
Wealthy Affiliate Claims
Here is what this Wealthy Affiliate claims vs. what is verified to be true.
"Absolutely everything you need to create and grow a successful business online"
AMI Statement verification: True
Wealthy Affiliate offers a very well thought out set of affiliate marketing training coupled with strategically designed affiliate marketing tools and a community for support, inspiration, and motivation. 
Many affiliate marketers started with Wealthy Affiliate and have grown their websites into very successful online businesses. There are too many success stories to mention here. If you are interested, check out this 2019 Income Proof List.
"A Platform Designed For Affiliate Marketers Of All Levels"
AMI Statement verification: Technically True
Wealthy Affiliate is geared more for absolute beginners and intermediate affiliate marketers. Although there is some advanced training here, many affiliate marketers will seek additional training outside of Wealthy Affiliate to learn very specific marketing strategies like crushing it on YouTube, advanced copywriting skills, landing pages techniques and paid media training like Google Ads or Facebook Ads. 
However, there is great starter training for all of these topics. Plenty to get you started, figuring out how affiliate marketing works, the different strategies you can use and generating affiliate commissions. Once you get to a point of a plateau, then have money coming in to pay for additional training to take things to the next level.
"Transform Your Ideas into Profits"
AMI Statement verification: True
We live in a world today where people need solutions. And these people will spend money for solutions. Affiliate Marketing capitalizes on this world by allowing you to recommend nearly any product (that already exists) to anyone who may be interested in buying. 
The idea is to talk about your hobby, anything that gets you excited or products you love because they work well for you. So these solutions can be turned into ideas that can generate profits. You can do this with any affiliate product and learn how to do with any affiliate marketing training. Not just at Wealthy Affiliate. 
"Build Beautiful, Profit Ready Websites (No Design Skills Needed)"
AMI Statement verification: Technically True
Notice they did not say "Profit Making" Websites. They said "Profit Ready". 
Building Authority Affiliate Websites takes time and traffic generation strategies to drive qualified traffic to the website to generate affiliate commissions. In 99% of the cases, you can't just create a 5-page website and expect it to generate loads of traffic. No. Unfortunately, websites do not work this way anymore. Thanks to the 1.5 billion websites in the web universe, you have to do more to compete with other websites. (Stats from Internet Live Stats.)
It is true that you do not need any design skills to create affiliate websites today. Wealthy Affiliate marketing tools allow you to create WordPress websites, which instantly taps you into 3,000 free website designs and even more paid ones. 
"Proven Strategies to Attract Loads of Traffic"
AMI Statement verification: True
Traffic is where the money is. You can recommend the greatest products in the world. But if your message is not reaching anyone, then you will have no sales. And no sales means no affiliate commissions. 
Wealthy Affiliate's affiliate marketing training teaches you how to drive traffic to your authority affiliate websites. The most taught strategies are Search Engine Optimization (SEO) and social media. 
What is Wealthy Affiliate?
Wealthy Affiliate is an online affiliate marketing platform that teaches you how to become an affiliate marketer. The online software combines affiliate marketing training, affiliate tools and a network of affiliate marketers in one place. 
No need to sign up for training in place 1, tools in separate places 2 and 3 and a separate Facebook Group place 4 for community connections and support. Training only solutions require you to log in and manage access to multiple places like the example listed above. 
With Wealthy Affiliate, you will learn how to launch an affiliate website, create search engine friendly website content, search for affiliate programs and monetize your affiliate website in multiple ways (all in one place).
Wealthy Affiliate is a very well rounded product offering, unlike other affiliate marketing training options available to you today.
What is Wealthy Affiliate's Secret Ingredient?
SEO.
The training and tools and help you build search engine friendly content that drives free search traffic to your affiliate website. Not paying for traffic is the beauty of SEO.
You create content that will show up in searches. You choose what affiliate products you promote. You connect your content to strategically recommend affiliate products. You can make money from driving free traffic from search engines to your website content and affiliate offers. 
You will also learn about local SEO, which allows you to sell your services to local businesses in your area, that want to found in search engines too. Some WA members have blogged about their experiences and successes in selling their SEO services to others. 
The Wealthy Affiliate platform connects you with 100+ hours of detailed SEO related training, a search engine & keyword research tool and content management software that allows you to manage your SEO friendly content. You will also be instantly connected to a pool of experienced affiliate marketers to leverage for support and guidance throughout your learning process. 
You will learn how to promote any product from any affiliate program. You will also learn other traffic-driving strategies including YouTube channels, social media, paid media, and email marketing. 
What is the truth?
Search Engine Optimization (SEO) is nothing new. This traffic strategy has been around since the beginning of the Internet in the late 1990s. 
Targeting free traffic from search engines works well because there are more than 3.5 billion searches online every single day. And more than 4 billion people who have access to the Internet. These connected people turn to the internet and search engines to search for everything, buy things, learn new information and connect with people. 
SEO gets a bad rap compared to other popular traffic generation strategies today because getting your content ranked for searches takes time. 
A basic rule of thumb is to publish 50 – 100 different pieces of content within your first year. Average time for a website to start generating a decent amount of traffic from search engines like Google is 6 months to a year, based on publishing quality content 2 – 3 times a week. Some affiliate marketers see quicker success, especially search engines like YouTube, Bing, and Yahoo. And other marketers see quicker success by utilizing more advanced marketing strategies outside of SEO, like paid advertising, guest posts and backlinks, and automated webinars. 
The reason Wealthy Affiliate teaches you about the SEO strategy is that it's a proven strategy. And because SEO is a cheaper way to get started with affiliate marketing, compared to the more strategic strategies mentioned above. 
For SEO, Google is the largest search engine in the world. Followed by YouTube. (Which Google owns.)
Incorporating YouTube videos into your blog content is recommended these days because videos are known to help your content rank. And search engines now pull content from various sources, not just websites or blogs. You'll see a mixed media of content including written content, YouTube videos, social media posts, and images returned in searches. 
Some SEO stats:
Google is responsible for 94% of total organic traffic. (Web Presence Solutions 2017) 
70-80% of search engine users are only focusing on the organic results. (MarTech 2018) 
Video content is 50 times more likely to drive organic search results than plain text. (OmnicoreAgency, 2018) 
Organic SEO is about 5.66 times better than paid search ads. (New Media Campaigns, 2018) 
Including a video in a post increases organic traffic from search results by 157%. (Search Engine People, 2017) 
(All stats from source: Hubspot Marketing Statistics)
Practically every marketer uses SEO in some form. Wealthy Affiliate capitalizes on SEO and provides training, tools, and support to teach you everything you need to know about it. 
Wealthy Affiliate Product Details
Here is what is included within the Wealthy Affiliate online platform.
Affiliate Marketing Training Courses
Wealthy Affiliate offers one of the most extensive training libraries available to you in one place, besides YouTube. The training is neatly organized in full courses or topic categories for easy access. 
You can choose from a mix of multiple-week courses, written tutorials, videos, and recorded webinars. The courses have a built-in training lesson and task trackers to keep your place as you go through training. Each lesson contains a series of tasks for you to complete before you move on to the next lesson. 
WordPress Websites
Wealthy Affiliate offers one of the most extensive affiliate websites management tools and hosting programs, in addition to their extensive training library collection. The Wealthy Affiliate Websites tools allow you to create a WordPress website and host it live on the web. 
Build one or multiple affiliate marketing websites (up to 50) to generate affiliate commissions and make money online. 
Jaaxy Keyword Research
Jaaxy is a pretty robust keyword research tool built by the same owners of Wealthy Affiliate. When you buy Wealthy Affiliate premium, you instantly get Jaaxy Lite version which allows you to find keywords for your affiliate website content. You will learn how to find good keywords to target in the training. 
Jaaxy also lets you do some cool things like analyzing website details that rank on the 1st page for the keyword you want to rank for, saving your keywords into lists for easy organization and access and monitoring the ranking of your content. 
I wrote a specific Jaaxy Review where I tell you everything you need to know about Jaaxy. (It's a good read as well. I explain how to use Jaaxy to create content that ranks and estimate how much traffic you can get from good ranking.)
Affiliate Programs Finder
The Wealthy Affiliate program finder is a recently added product tool that allows you to find affiliate programs and products to promote right inside the platform. You can search for affiliate products from multiple affiliate networks in one place.
Supported affiliate networks you can search include:
ClickBank
ShareASale
AWIN
CJ
Rakuten
You can easily explore and find different affiliate products with pre-defined categories and suggestions like popular programs, popular searches, trending, high commissions, top-rated and more. You can also find the right affiliate program for you with the search features which allow you to filter by country availability, payout options, commission rates, and more. 
Being able to search for affiliate programs in the same place you can train, learn and build is another game-changer for Wealthy Affiliate and for you!
Wealthy Affiliate Credit System 
The Wealthy Affiliate Credit System allows you to earn credits for actions that help other members. 
Actions include things like commenting on other member's blogs to help their content rank, giving feedback on newly created websites and creating training to help other members out.  
You earn different types of credits depending on the action you do. Community credits can be used for getting feedback on your website or comments on your content. Cash credits can be used to pay your Wealthy Affiliate premium membership, pay for someone else's membership or even cashed out into your PayPal account. 
Product Screenshots
Wealthy Affiliate Features
Mulitple Week Training Courses
Live Weekly Webinars
2 – 50 WordPress Websites (Free vs. Paid Plans)
WordPress Website Builder
WordPress Website Managed Hosting
Website Management Tools
Keyword Research Tool
Affiliate Program Finder
Affiliate Marketer Network
Credit System For Cash
Live  Chat
Direct Messaging
Member Rank System
Frequent New Feature Releases
Affiliate Marketing Training Course Features
Smart Training Menus
Progress Bar & Tasks Tracker
Wealthy Affiliate's training courses are:
Online Entrepreneur Certification (OEC) Course (5 Chapters, 50 Lessons)
Wealthy Affiliate Affiliate Bootcamp Course (7 Chapters, 70 Lessons)
Super Affiliate Challenge Course (16 Months)
Additional popular trainings, tutorials, and videos are:
Live Weekly Webinars on Current Topics (Every Week)
Amazon Affiliate Website Case Studies
How To Create a 6 Figure Website
YouTube Marketing 4 Part Series
Local SEO 4 Part Series
Boost Your Traffic with Pinterest Basics
Advanced WordPress Techniques/Strategies
Site Builder
Affiliate Marketing Websites Features
Site Builder
Site Manager
Site Health
Site Security
Site Speed
Site Protect
Site Domains
Site Content
Site Comments
Site Feedback
Site SSL
Affiliate Marketing Tools Features
Jaaxy Keyword Research
Keyword Lists Manager
Affiliate Programs Finder
Website Rank Monitoring
Competition Analysis
Core Skills
Skills you will learn:
SEO
Research
Writing
WordPress Websites
Skills you need:
Willingness to learn new software and technology
Some sort of drive to keep trying until you figure it out
Feature Screenshots
Wealthy Affiliate Differentiators
Wealthy Affiliate definitely has features that you won't find anywhere else. Here's makes Wealthy Affiliate different (and worth the money) compared to other affiliate marketing training solutions and tools.
1. Pay-it-Forward Community
Wealthy Affiliate is built on the pay-it-forward principle. The importance of members helping each other out is noticed all throughout Wealthy Affiliate platform. The platform has specific features that are built around getting help when you need it most and getting rewarded for helping out other members when they need it most. These features include the ability to ask questions to get help and insights from other members, the member ranking system that encourages every member to contribute to the pay-it-forward culture and the official Ambassadorship program that rewards members for their giving back actions. 
2. Wealthy Affiliate Ambassadors 
Wealthy Affiliate Ambassadors are the top 25 members within the Wealthy Affiliate community. These ambassadors are specially ranked for their activity, help, and contributions. Considering there are over 1.4 million Wealthy Affiliate members, the top 25 is a hard-earned place to be.
Here are the ways to become a Wealthy Affiliate Ambassador:
Grow and engage with your friends' network
Help people by in live chat 
Create content that helps out members
Like and comment on other members content
You will find the elite Ambassadors active in the community to help you out when you need it most. 
3. More Than a Training Course
When you are seeking to learn new skills, you usually need more than just training. Many affiliate marketing training options are just training. These "training only" courses will refer you to outside tools to use, usually with their affiliate links. So they make money off of you after you buy their training course. 
For you to be a successful affiliate marketer today, knowledge is only a small piece of what you need to succeed. You also need tools and support, in addition to the training to be successful. It's the combination of these three things that put you in a better position to find affiliate marketing success.
Wealthy Affiliate recognizes this reality. Wealthy Affiliate is different because it is not just training. You get training (tons of it), plus tools and support from a community in one place. Without ever having to leave Wealthy Affiliate. 
So next time you are considering buying a training course for affiliate marketing, consider what you are really getting. (Just training, or training, tools and support?)
4. Included Website Hosting
Most affiliate marketing training courses make you pay for tools outside of the training. Training on how to build affiliate marketing websites will usually recommend an outside hosting company to host your website.
With Wealthy Affiliate, everything is included. Not only can you host one website, but you can also host two on the free starter plan. Or up to 50 on the paid premium plan. If signing in to one place for affiliate marketing training and another place to manage your affiliate website sounds cumbersome, then Wealthy Affiliate may be for you. 
3. Simplified Website Hosting and Management Features
Another Wealthy Affiliate differentiator is the easy to use website hosting and management features. Most website hosting companies have more technical and advanced user experiences and navigation areas. 
Wealthy Affiliate's hosting is uniquely simple. No C-Panel or complicated control panels. No complicated areas to navigate just to make your websites run. The website management features are intentionally simplified to make it easy for you to build out a successful affiliate website. Simply.
One example is logging into your WordPress website. Wealthy Affiliate Websites come with this handy feature to manage your website login process for you. This handy website management feature includes generating a strong password for you that you never have to remember. 
You simply click the login button and Wealthy Affiliate logs you into your website back-end, without having to remember your username or login password. This login feature becomes even more useful when you are managing two or more websites at one time. No need to remember the information for each website. Wealthy Affiliate Website management features do all the work for you. 
6 Wealthy Affiliate Website Examples
Since Wealthy Affiliate specializes in creating authority affiliate websites, it's only right to show you Wealthy Affiliate website examples.
Looking at examples is a great way to understand what is possible with an authority affiliate website. Use these examples to understand the variety of topics a website can be about, the affiliate products they can promote and the affiliate programs that can be leveraged. 
Here are 6 real-life Wealthy Affiliate website examples. These websites were created by Wealthy Affiliate premium members who have gone through the affiliate marketing training.
Website Example #1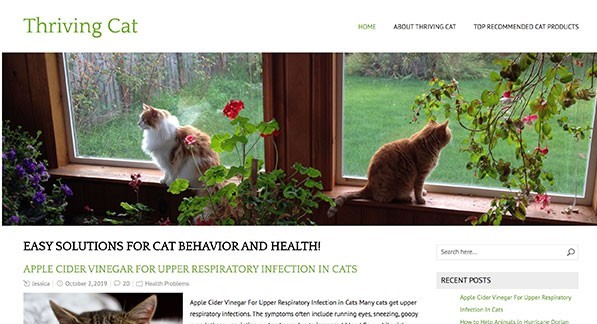 Website: Thriving Cat
Niche: Cats
Main Topic: Provides cat owners with cat health and behavior tips and product recommendations.
Affiliate Programs: Amazon, Healthy Paws Pet Insurance
Size:  280+ URLs (approx)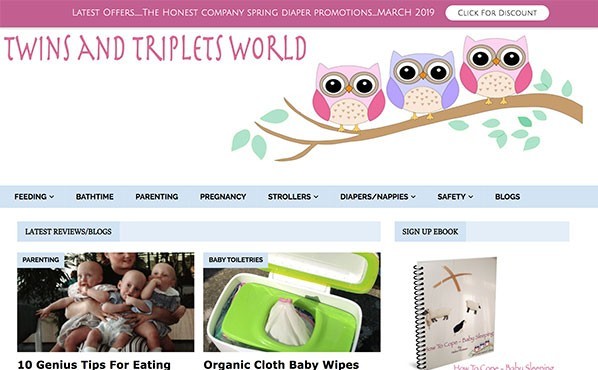 Website Example #2

Website: Twins and Triplets World
Niche: Parenting
Main Topic: Provides parents help and support for living with twins and triplets
Affiliate Programs: Amazon, Honest, CrateJoy, John Lewis, and more
Size:  100+ URLs (approx)
Website Example #3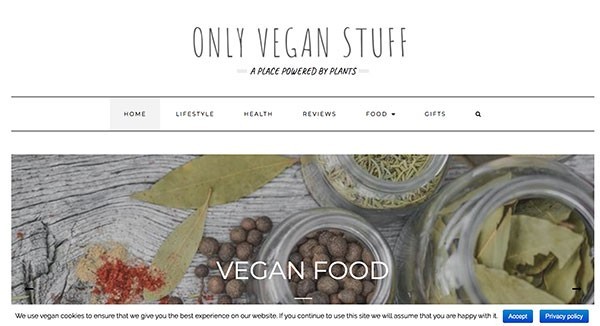 Website: Only Vegan Stuff
Niche: Vegan Health
Main Topic: Provides tips, tricks, recipes and products for eating and living a plant-based life
Affiliate Programs: Amazon
Size:  380+ URLs (approx)
Website Example #4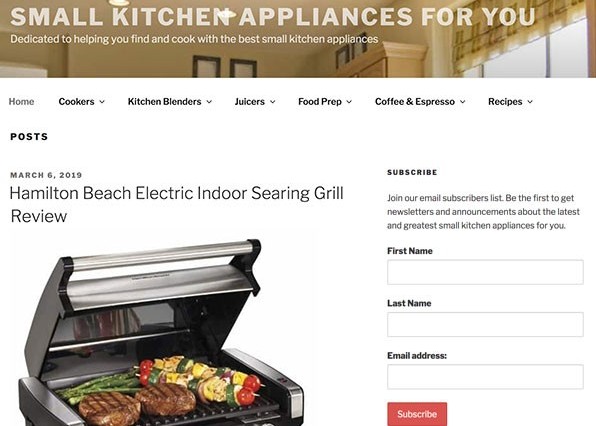 Website: Small Kitchen Appliances For You
Niche: Kitchen Appliances
Main Topic: Reviews small kitchen appliances for your home
Affiliate Programs: Amazon
Size: 200+ URLs (approx)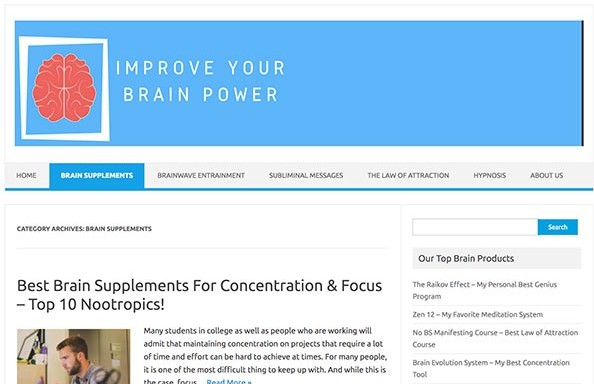 Affiliate Website Example #5
Website: Improve Your Brain Power
Niche: Mental Health
Main Topic: Provides tips and products to improve brain performance
Affiliate Programs: Onnit
Size: 100+ URLs

Affiliate Website Example #6
Website: Poly Free Planet
Niche: Planet Care
Main Topic: Provides alternative ways to live without plastic
Theme: GeneratePress
Affiliate Programs: Amazon
Size: Less than 15 URLs (approx)
Wealthy Affiliate Pricing
Wealthy Affiliate offers a variety of payment options to help you to get started with affiliate marketing. You can try Wealthy Affiliate out completely free and upgrade to a premium plan at any time. 
Wealthy Affiliate price details:
Free Trial Available? Yes (No credit card required)
Free or Freemium Version Available? Yes
Premium Version Available? Yes
Premium Consulting/Integration Services Available? No
Entry-level set up fee? No
Additional Upsells? Yes. Jaaxy Pro or Enterprise plans
How much does it cost to join Wealthy Affiliate?
The cost to join Wealthy Affiliate is offered in different plans and payment plans to give you options based on what you can afford. Here are the pricing options available to you:
Wealthy Affiliate pricing plans:
(All prices are in USD)
Starter Plan: $0, no credit card required
Premium Plan: Paid, different payment plans

Monthly: $49 per month ($588 per year)
6 Months: $234 every six months ($469 per year, saves you $120/year)
Yearly: 359 per year (saves you $229 per year)
Special Black Friday Special: $299 per year (saves you $289 per year, the lowest price you'll get)
Jaaxy upsell plans:
Jaaxy Pro: $19 per month
Jaaxy Enterprise: $49 per month
These Jaaxy rates are discounted for Wealthy Affiliate premium members. Get the full scoop here: Jaaxy Review. 
Wealthy Affiliate Enrollment
Some affiliate marketing training programs are limited-time enrollment. This means that you can only join at specific times when enrollment is open.
For example, ClickBank Breaks the Internet enrollment is currently closed. You have to wait until enrollment opens again to join.
Wealthy Affiliate enrollment is always open. There is never a "closed enrollment" period. You can join at any time. And you can try it out for free at any time.
Wealthy Affiliate Cancellation Policy
As a Wealthy Affiliate premium member, you can cancel your membership at any-time. 
To cancel membership, there's an option inside your Wealthy Affiliate account management settings. 
The billing will stop at the next month of your scheduled payment. When the billing stops depends on which pricing plan you signed up for. 
Wealthy Affiliate Refund Policy
The refund policy at Wealthy Affiliate is not as formal as other affiliate marketing training solutions. In most other solutions, you will usually see a "100% money-back guarantee within the first 30 days)". Then you will usually have a general "support" email address you can email to request your money back. 
You won't see this message within the Wealthy Affiliate premium upgrade offer. Although you can request your money back within the first 30 days, you have to contact co-founder Kyle.
The ways to contact Kyle are:
Submit a request on the contact form
Post on Kyle's profile (inside platform)
Send him a Direct Message (inside the platform – requires premium membership)
Wealthy Affiliate Support Options
Wealthy Affiliate offers a variety of digital support options for you, but they are different than most alternatives. 
Here are the Wealthy Affiliate support types available to you as a member.
For General Affiliate Marketing Guidance:
Just Ask a Community Question – Members will respond
Ask Questions in Live Chat – Members are on 24/7 to chat and answer
For Website Technical Assistance:
Site Support – In Platform Support Ticket Submission
For Account Help or Platform Issues:
In Platform Direct Message the Co-founders, Kyle and Carson
Post on their profile pages
The contact page on wealthyaffiliate.com
The two things to know about Wealthy Affiliate support options are:
No support phone number for you to call
No direct email for you to email outside of Wealthy Affiliate
Wealthy Affiliate Technical Details
Software as a Service (SaaS) 
Complete cloud-based software – no software downloads
Operating Systems: All
Mobile Support: Mobile Version (No Mobile App)
Wealthy Affiliate Login
Wealthy Affiliate has two websites.
A public website where you can learn more about what Wealthy Affiliate has to offer. And a private website where you log in to Wealthy Affiliate as a member. 
Here are the two Wealthy Affiliate websites:
wealthyaffiliate.com (public website)
my.wealthyaffiliate.com (private member website login)
Wealthy Affiliate Reviews
Here is what other people say in their Wealthy Affiliate reviews. 
Wealthy Affiliate reviews from Leadsleap.com:
5 out of 5 stars (39 Total Reviews)
"I was a blogging Guru before it was cool but Wealthy Affiliate has taught me things I was missing." – Andy Anderson
"Wealthy Affiliate is a well established Affiliate Marketing training and hosting platform." – Paul Chatwin
'Wealthy Affiliate put me in a position to finally start making money online after over 15 years of failing with company after company." – Nathaniel Kidd
"The best thing is support. If you have any problem there is always someone who will help you. You don't need to search on Google or Youtube and waste your time." – Borislav
"The training is a little outdated, it seems like it hasn't been updated for a few years." – Andy Do
"There is so much information available within the platform that many new members tend to get overwhelmed". – Lakisha Akbar
Read all 39 reviews at Leadsleap.com
Wealthy Affiliate reviews from TrustPilot.com:
4 out of 5 stars on TrustPilot.com (36 Total Reviews)
"Training is second to none." – Kash Kow
"They are honest and ethical and Wealthy Affiliate has a very supportive community. I would recommend them 200%" – Richard
"It's the real deal if you're looking to build a successful business/website/blog online. It's no good if you're wanting to make money quickly." – Josh P
"I can say wholeheartedly there isn't a better platform or service in the industry." – Iver
"Their free level is a load of junk. You'll be forced to upgrade to $49 per month if you want to learn more "advanced" stuff which I doubt has any real value." – Jason (Doesn't sound like Jason tried premium even though he's discrediting it…)
Read all 36 reviews at TrustPilot.com.
Pro Tip: Watch out for fake reviews. The fake reviews are obvious because they don't say much besides "scam" or "you'll be sorry". These reviews give you no reason as to why to they gave Wealthy Affiliate a bad review. If the negative review was legit, they would have real reasons to back it up. Unfortunately, TrustPilot has had some complaints about spam reviews being posted on there. 
My Personal Wealthy Affiliate Review
I personally use Wealthy Affiliate every day. I joined back in 2017 and have never looked back (or ever questioned the money spent). 
Here's what I personally like about Wealthy Affiliate:
The amount of training is never-ending. I can search for any topic to learn more about anything I am trying to solve that day. I will get instant access to related member-created trainings, blog posts or live recorded webinars that speak my specific problem. 
I can ask a question to the community to get help. I've asked questions about how to fix my site when I broke it. Other members ask questions like: what's the best email marketing tool or how to add affiliate links in my website sidebar.
Learning tried and true tips and tricks from experienced affiliate marketers. Many successful Wealthy Affiliate members will share what works for them, what doesn't, etc. I learn insights from these members that I may not otherwise learn. One recent example is how an affiliate marketer increased his revenue by $1,500 a month by implementing two techniques. He shares his tips here. 
Wealthy Affiliate Complaints
It's important to remember that no affiliate marketing training solution is perfect. There will always be something that someone doesn't like. 
In doing thorough research for this Wealthy Affiliate review, I have researched the legit complaints that people do have about Wealthy Affiliate. 
The most common Wealthy Affiliate complaints are:
All of the course training choices and options are overwhelming for new members
Wealthy Affiliate offers so much training that can be overwhelming for people just getting started. You see this common trend of feedback in the Leadsleap.com reviews above. 
However, all main Wealthy Affiliate courses include progress and task trackers. The idea is to just follow the course, complete in order and check off each task as you complete it. The training is designed with these features to help move you along the training as a teacher would do for you in a classroom.
Affiliate marketing training, in general, is a lot of information to take in at first. Learning any new job or skill requires persistence and willingness to keep trying until you get it. The results of learning online marketing skills can definitely pay off in the long run though. (These are highly sought after skills!)
Once you go premium, you can't go back to free and keep your premium websites
This is a real review from TrustPilot.com (and it is AMI verified true:)
"Great site and support but be warned. You can go from a free member to a premium member but once you go premium its either that or nothing…" – Columbian Catnip on TrustPilot.com
You get premium website features with the Wealthy Affiliate premium plan. If you sign up for premium and then decide to cancel your premium membership, you have 30 days to transfer your websites away from Wealthy Affiliate. After 30 days, your premium websites will be deleted. Gone forever. This policy has upset some people in the past. 
A side note: This policy applies to any website hosting company. If you quit paying for website hosting, then the company quits hosting your website. Makes sense right?
Other Products
Jaaxy
Jaaxy is another product built by the same owners of Wealthy Affiliate. It is an SEO research tool that supports affiliate marketing websites that needs to plan content, rank content and generate free traffic from search engines. 
Jaaxy Lite is included in the Wealthy Affiliate Premium plan. Additional higher priced plans provide additional features not included in the Jaaxy Lite plan.
Product Categories: Affiliate Marketing Tools
Reviews: Jaaxy Review
Wealthy Affiliate Affiliate Program
Does Wealthy Affiliate have an affiliate program? Yes. 
The Wealthy Affiliate affiliate program offers commissions for referring to new members to both the free starter and premium plans. 
Although both starter and premium members can make commissions for any sale, the affiliate commissions are higher for premium Wealthy Affiliate members. 
Here are the affiliate program details:
Commissions for Free Starter Member:
$4 1st month special offer referral
$11.75 monthly premium plan referral
$87.50 yearly premium plan referral
Commissions for Premium Member:
$8 for 1st month special offer referral
$23.50 monthly premium plan referral
$175 yearly premium plan referral
Wealthy Affiliate Alternatives
When it comes to affiliate marketing training and solutions, you have too many options to choose from. Finding the right solution for you and your budget can be overwhelming.
If you don't think Wealthy Affiliate is right for you, consider these alternatives.
ClickBank University
Solo Build It
Builderall
Conclusion
Wealthy Affiliate is the best value for your dollar. The amount of training you get access to is more than you can complete in a year's time. And with new training being added daily (WA members create training for you on various topics and a new recorded Live Webinar by WA's Training Coach, Jay, every week), they are continuously adding new training for you to learn about every angle of affiliate marketing. 
Then add on the included affiliate marketing tools and your own private social network of affiliate marketers, you won't find this value in any other beginner affiliate marketing training solution. 
What do you need to know before you buy Wealthy Affiliate?
1. Try it before you buy it. 
Sign up for a free Wealthy Affiliate account before you buy a premium plan. You have 7 days to try out most platform features to decide if Wealthy Affiliate is the right fit for you. 
2. Your time is the true cost of low training costs. 
What you don't spend in dollars, you will pay for with your time. Although you will pay less in money for Wealthy Affiliate, you will spend a good amount of time building out your affiliate website. If you can't make the time, then you should reconsider your desire to build your own business. Any new business will take work, time and money to get up and running. Affiliate marketing is 99% cheaper than opening a McDonald's store. 
3. Complete all of the training if you do buy.
Completing the training is the only way you will get your investment back. 
It's a common scenario to get all excited about learning how to make money online. So you sign up for Wealthy Affiliate or any other training program and you start going through the training. Then life gets in the way and you don't even complete 10% of one course. (Wealthy Affiliate has 3 course options to complete). Then you see no results and think to yourself, "maybe this doesn't work". 
This happens every day with new Wealthy Affiliate members. The reality with any work, is you get what you put in. If you want a paycheck, you have to work for it. 
If you decide to upgrade to Wealthy Affiliate premium, then commit to finishing a course. Create a solid timeline plan to complete a course every day (about 1 hour time to go through each training lesson. + More time to write content for your website.) And stick with it every day. Whether you have 1 hour or 5 hours. 
Some members go through a course as fast as possible and then come back to write content for their website. Other members take longer to complete the course because they write while they learn. 
Either way, if you want to work from home, work for yourself or work from anywhere, "work" is still the main key and factor in your success. So make your investment count, and complete all of the affiliate marketing training available to you. 
4. No affiliate marketing training solution is perfect. 
If you expect to find a perfect training solution, you will be hard-pressed. No option or company is perfect. What you need to decide is do you want a DIY (Do-It-Yourself) solution or a DFY (Done-For-You) solution. 
Wealthy Affiliate is one of the best DIY options available to you today. If you are willing to learn valuable online marketing skills through the experience of building authority affiliate websites, you can have the option to resell your services over time. (Many affiliate marketers sell their own training or sell their website building services to other businesses.)
Got Questions or Feedback? 
Feel free to chime in below. (Don't be shy 🙂