There are more than 500 million affiliate products you can promote as an affiliate marketer. The time to make money from affiliate marketing has never been better because of the number of products you can recommend. And there are many different ways on how to promote affiliate products on your website (once someone gets to your site).
To be a successful affiliate marketer, you need to make sales from the recommended products, so you earn affiliate commissions. And to make sales, you need people coming to your affiliate website (also called traffic) who are interested in what you have to offer.
When it comes to getting traffic to your affiliate website, you can use various external sources like search engines, social media, and email marketing. When traffic (aka a person) comes to your website, you have an opportunity to recommend solutions to them, and they have the chance to buy from your affiliate links.
So the excellent affiliate marketer questions are:
What do you do once someone is on your website?
How do you promote your affiliate products in a way that makes sales?
Where are the best places to include your affiliate links?
What are the best ways to recommend your affiliate products?
There are many ways to promote affiliate products on your website. Let's look at these 10 specific ways.
10 Ways to Promote Affiliate Products on your Website (Actual Strategies Used by Other Affiliate Marketers)
This article shows you 10 different ways to promote affiliate products on your website. You'll learn promotion strategies that help drive traffic to your affiliate links once people are on your site. You'll learn the same promotion strategies seasoned affiliate marketers use on their affiliate websites.
We'll also cover formats and templates that you can easily repurpose for your own website.
How to Promote Affiliate Products on Your Website Summary
10 how to promote affiliate products on your website strategies used by successful affiliate marketers.
Product Reviews

Write detailed reviews about your recommended affiliate products.

Product Comparisons

Compare two or more similar products together and use your affiliate links to promote all products.

How-to Content

Explain how to do "something" and recommend your affiliate products as good solutions.

Resources Page

List all of your affiliate products on one page as "recommended resources".

Internal Links

Link to your affiliate products in content throughout your website.

"Best of" Posts

List out the best 5 – 10 related products someone can buy and include your affiliate links for each best product.

Linked Images

Link product images with your affiliate links.

Sidebar Banners

Recommend your favorite affiliate products in your website sidebar.

Footer Links

Include affiliate links within your website footer.

Free Download

Recommend your affiliate products in your free download offer.
How to Promote Affiliate Products on Your Website (Templates To Use:)
Now that you've seen these ways at a high level, let's dive into the details. (Includes formats and templates to help you replicate on your website :).
Here we go with #1.
1. Product Reviews
A product review is a detailed write up that gives opinions about a particular product. Product reviews work well because they help people decide whether they should buy the product or not.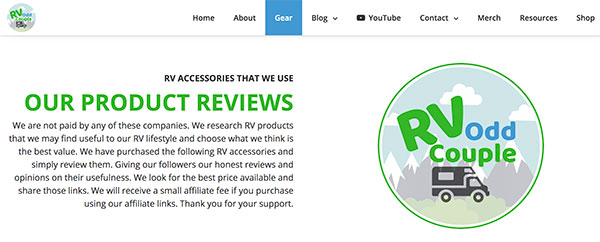 Affiliate links to the product can be placed strategically Inside the product review, to encourage the reader to buy or learn more. If the reader buys from your affiliate link from the product review, you get a commission from the sale.
Product reviews are a very popular way to promote affiliate products on your website because:
Product reviews help customers make educated purchasing decisions
Product reviews attract people who are seriously considering buying the product or similar solution
You can easily create a template for product reviews and use over and over on different products. Templates save you time and allow more time to write more product reviews.
Here's a basic product review format to follow:
Title: Product Review – The Best Solution for [Insert Problem Here]?
Introduction
Product Summary
Pros
Cons
Conclusion
You can add additional sections and categories that are appropriate to your product. If your product is sold on multiple websites, you can add a section titled "best place to buy" that connects the buyer with the best buying options.
Here are a few product review examples I've created here:
(Notice the additional sections in my reviews…)
TIP: A tip to writing good product reviews is to provide enough detail on the product, so the reader doesn't have to go to another website for more information. You want them to be satisfied with your review and buy from your affiliate links. When possible, add links to comparable products and reviews to allow someone to research all of their options on your website. The more you satisfy their information requests, the more likely they will buy from you!
2. Product Comparisons
Product comparisons are considered another type of product review. In this case, you actually talk about two or more affiliate products and compare them to each other. Usually, the products are similar and solve a similar problem.
An example would be comparing an iPhone smartphone to a Google Pixel or a Samsung Galaxy smartphone. They are both products in a similar category and fulfill a similar need. But they are both different products that can be promoted through affiliate programs.
Another example would be comparing to similar drones that are good for taking aerial photography photos, as shown in the picture above. Affiliate links are sprinkled strategically throughout the product comparison.
Affiliate links can be strategically placed within the product comparison for each product. Or the comparison can link to individual reviews of each product that contain the affiliate links.
Here's a basic product comparison format to follow:
Title: [Product 1] or [Product 2] – Which One is Best For You?
Introduction
About Product 1 & Product 2
Feature A Differences
Feature B Differences
Feature C Differences
Which Product Is Better
Once again, you want to provide thorough information on each product. Give the reader a good understanding of the affiliate product similarities and differences. The more you answer their questions, the more likely they are to buy from you.
3. How-to Content
How-to content is content written on a very specific topic that tells people how to do or achieve a specific thing. Like, "how to create a website" or "how to start affiliate marketing". The content you are reading right now is a "how to" style article.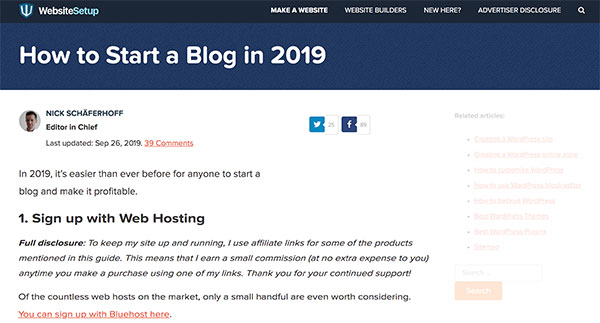 When it makes sense, affiliate product links can be included in the content to help the reader achieve the "how to".
For example, a:
"how to start affiliate marketing" can include an affiliate link to an affiliate marketing training course
"how to make a healthy smoothie for breakfast" can include an affiliate link to a blender to use to make the smoothie
Here's a basic how- format to follow:
Title: How To [Do Something – Insert Here]
Introduction
How to Step 1 (Link to a product solution)
How to Step 2
How to Step 3
How to Step 4
Conclusion (Another Link to a product solution)
Keep in mind that every "how to" post may not include an affiliate link. Only include affiliate links when it makes sense to do so. And make sure the recommended affiliate product is related to the task you have written about.
You always want to keep your affiliate products relevant to the content you are including them in. (You do this for many reasons including gaining the trust from readers and search engines like Google.)
TIP: Don't over stuff your site with affiliate links. Websites with more affiliate links than helpful content is considered spammy by search engines. Search engines strive to help the searcher find the info they are looking for. A bunch of affiliate links without helpful content is less likely to be ranked organically. You always want to strive to have quality helpful content with affiliate links strategically placed here and there.
4. Resources Page
A resources page is a page that contains a list of favorite products or recommended tools. This website page could list all the tools you use to do your daily job or the products you use throughout your daily life. With each product listing, you add the related product affiliate link.
Resources pages are great because they provide a central place for multiple recommendations. You can easily reference website visitors to your resources page from your website navigation menu, your sidebar, footer links, and individual posts.
Here is a good format to follow for a resources page:
Title: Resources or Tools I Use
Introduction
Affiliate Product Name 1

Product Description
Product Affiliate Link

Affiliate Product Name 2

Product Description
Product Affiliate Link
An introduction is good to have on a resources page too. You want to tell the reader what to expect from the page, how these products related to each other
5. Internal Links
Internal links are just as the name implies. They are links on your website that link to other pages on your website. Hence, why they are called internal links. (External links link out to another website 🙂
Internal links are super for promoting affiliate products on your website. For product reviews, you link them in other content on your website when relevant.
For example, for each product review, create 3 – 5 additional articles related to the affiliate product. In each article, link to the product review page.
Notice how I linked to several product reviews in the product review section mentioned earlier in this post.
I used those links to show examples of what product reviews can look like to promote your affiliate products. This is one example of internal linking.
Product reviews and internal linking work well because you can link back to them often, or use them to link to your other product reviews.
Comparisons are also great for internal linking. You can do a review for Product 1 and a separate review for Product 2. Then write a third post comparing them and "internal" link to each affiliate product review.
The format for an internal link is very simple:
Type in words like "Product Review" and link those words to the product review page.
6. "Best of" Posts
Best of Posts are similar to comparison posts. However, best-ofs usually compare 10 or more products at a time, compared to 2 or 3 products in a comparison post. Each product listing can contain an affiliate link to promote that affiliate product.
Best of Posts are really common for promoting affiliate products from large retailers such as Amazon, Walmart, eBay, Target, etc. You can take any category such as couch covers, compact toaster ovens or blenders and turn it into the best of post recommending different options.
Here's the best of post format:
Title: Best [Insert Product Name Here]
Introduction (Short 300 word description)
A Short Buying Guide (3 Things to Consider When Choosing This Type of Product)
Product 1

Product 1 Description
Product 1 Affiliate link

Product 2

Product 2 Description
Product 2 Affiliate link

Continue to list 8 – 13 more products (feature 10 – 15 best products total)
Best of Posts work well because they are very thorough in content and reviews. They give readers a good idea of all the products available to them in the same category. If you provide enough compelling information, best of posts can convert really well.
Some good example best of posts are:
Best of posts can be easily linked from other content on your website. But Best of Posts can also bring in traffic on their own from search engines. If your best of post ranks for searches within Google, you can get traffic to your affiliate products that way too.
7. Linking Images
Linking images is linking the affiliate product link to a picture of the product or related image. When someone is reading your post, they can easily click on the image to buy the product or learn more info.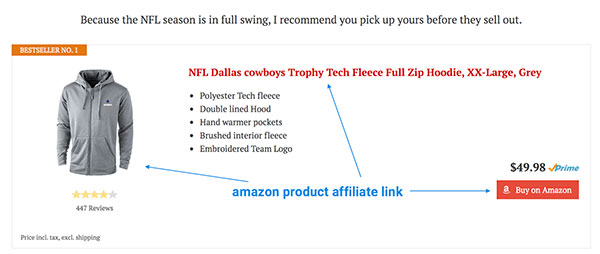 Linking an image is commonly included within a product review and comparison posts. The post will contain some written information about the product and an image of the product linked to the affiliate product link.
Here's a basic format for including images:
Content
Image (Linked to product affiliate link)
Call-to-Action (CTA) (linked to a product affiliate link (e.g. click here to buy, click here to see price, etc.)
Linking the image is just another way to help your website visitor go where you want them to go. (To your affiliate product link 🙂
8. Sidebar Banners
Sidebar banners are mini ads for your affiliate products, that link to your affiliate product links. You can use banner images provided by the product affiliate programs or create your own.

A sidebar is a separate column displayed to the left or the right of the content on the web page. Sidebars allow the same information to be displayed on every page and every post across the entire website. Another words, the content for each page will change but the content in the sidebar stays the same.
Sidebars are a common place to promote affiliate products on your website because your affiliate product shows up on every website page. This is why sidebars and affiliate product sidebar banners are commonly used on affiliate marketing websites.
Here are basic formats for website sidebar banners:
Sidebars are usually 250 or 300 pixels wide
Square banner format (Usually 250 x 250 or 300 x 300 pixels wide)
Horizontal banner format (Usually 250 x 500 or 300 x 600 pixels wide)
Image of product (Linked to affiliate product link)
Text and product image (Linked to affiliate product link)
If you build a website with WordPress, sidebars are easy to create and fill with your favorite content. This content can include affiliate product sidebar banners with affiliate links, your website most popular content, recently published content, recent comments, etc.
9. Footer Links
Footer links are links at the bottom of your website. These links are commonly used to promote affiliate products.
A footer is a common area on all websites. The footer contains information that lives on the bottom of the website. This content is viewable when a website visitor scrolls down to the bottom of your site.
The footer is a good place to link to privacy policies, required affiliate disclaimers, FAQs and copyright statements. Many affiliate marketers use the footer links to recommend affiliate products related to website building.
Here is a basic format for recommending website building affiliate products:
This website hosted by [Insert Website Hosting Company Name and affiliate product link]
This website is designed by [Insert WordPress Theme or Design Company Name and affiliate product link]
10. Free Download
Inserting affiliate links in free downloads is another way to promote affiliate products on your website. The idea is that you offer a free download of some worthy information in exchange for a person's email address. Inside the free download, you include affiliate links to products relevant to the content.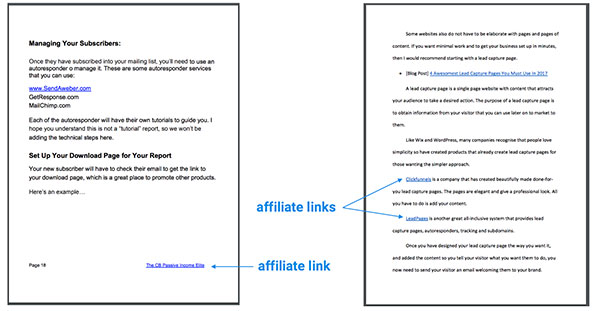 Free downloads are a great way to offer your website visitors detailed, helpful information around a topic. These downloads are usually how-to guides or detailed case studies that are longer than a typical website page. And inside these free downloads, you are not shy about recommending product solutions with affiliate links (where appropriate).
Free downloads are popular because they are easy to make. Just research a topic and write the details in a word doc. Then save it as a PDF. Done 🙂
Here's a basic format for a free download with affiliate product links:
20 – 30 page guide of detailed information on a topic
Affiliate product links used when a product is mentioned as a solution
Save as PDF format for easy distribution
TIP: Use the sidebar banner concept to promote your free download. Just add some words to a box, create a custom image or include an email opt in form to encourage people to get your free download (which includes your affiliate links for people to click on so you make affiliate commissions 🙂
And That's How to Promote Affiliate Products on Your Website
I hope you enjoyed these 10 ways on how to promote affiliate products on your website. Use these strategies together to increase your chances of sales and earn affiliate commissions.
Happy affiliate marketing 🙂
Got Questions?
Got questions or comments? Fee free to leave them below. Thanks 🙂