The purpose of this content is to explain the FTC Affiliate Marketing disclaimer.
And provide affiliate link disclosure example templates for your affiliate websites. (Free templates can be found at the bottom of this post : )
So what is the FTC and why does it matter?
The Federal Trade Commission (FTC)
An independent federal agency of the United States government established to protect American consumers from unfair and deceptive acts or practices.
The mission of the Federal Trade Commission also referred to as the FTC, is to protect consumers and promote competition.
The federal agency enforces federal consumer protection laws that prevent fraud, deception and unfair business practices in the digital and commerce spaces.
If you are a consumer living in the United States, you are protected by the FTC.
If you are an affiliate marketer living in the United States, you have rules to follow enforced by the FTC.
If you violate the FTC rules, you could face serious trouble and fines.
The FTC Affiliate Marketing Rule
The affiliate marketing rule is part of the FTC Endorsement Guide for online advertising and marketing.
The guide requires all endorsements to be transparent, honest and not misleading.
And the act of promoting another company's product for a commission (aka affiliate marketing) is considered an endorsement.
This means the FTC requires that you to disclose when you endorse a product and get paid through affiliate links.
Readers must be able to understand your connections and decide whether they buy through your links or not.
All product reviews must have a clear disclosure of your affiliate link.
The disclosure must be placed in a clear and conspicuous place within your product review. The closer it is to your recommendation, the better.
If the affiliate link is embedded in your product review, a single disclosure may be adequate.
But if the disclosure and affiliate link are separated, the readers may not make the connection and this may not be adequate.
To read the full FTC Affiliate Marketing guidelines, click here.
Affiliate Link Disclosure Example Placements
As you browse different affiliate websites, you will find many different examples of affiliate link disclaimers or disclosures.
The words disclaimer and disclosure are used interchangeably when it comes to acknowledging your endorsements with companies in exchange for commissions for sales.
Ideally, to be safe, you should have various disclosures for various cases throughout your website.
Legal Disclaimer: This is not legal advice. As an affiliate marketer and business owner, you should always consult with an attorney for legal advice and to make sure you uphold your law requirements.
A few places you should disclose your affiliate links are:
Add your primary affiliate disclosure statement in the footer of your website
Add links to your privacy and affiliate disclaimer pages in the footer
Add an affiliate disclosure statement within blog posts
Disclosure Statement Examples
For your website footer:
Amazon Associates Affiliate program US, provides an affiliate disclosure you are required to use if you recommend affiliate products from Amazon. This disclosure will go in your website footer:
yourwebsite.com is a participant in the Amazon Services LLC Associates Program, an affiliate advertising program designed to provide a means for sites to earn advertising fees by advertising and linking to Amazon.com and it's partner websites.
For within blog posts:
An affiliate link disclosure example provided by the FTC in their guidelines is:
"I get commissions for purchases made through links in this post."
Some other examples used by other affiliate marketers are:
As seen on footballsnackhelmets.com:
"Some of the links within this post are affiliate links of which I receive a small compensation from sales of certain items."
As seen on mattmcwilliams.com:
"Disclosure of Material Connection: Some of the links on this page above are "affiliate links." This means if you click on the link and purchase the item, I will receive an affiliate commission. Regardless, I only recommend products or services I use personally and believe will add value to my readers. I am disclosing this in accordance with the Federal Trade Commission's 16 CFR, Part 255: "Guides Concerning the Use of Endorsements and Testimonials in Advertising."

As seen on highpayingaffiliateprograms.com:
Disclosure: The operator of this website is a 3rd party marketer with a material connection to product/service providers appearing on this site in that we are compensated for sales made through our affiliate links. If you have any questions please contact me (Bill) at beachroulette @ gmail.com.

As seen on smartpassiveincome.com:
[Full Disclosure: As an affiliate, I receive compensation if you purchase through this link.]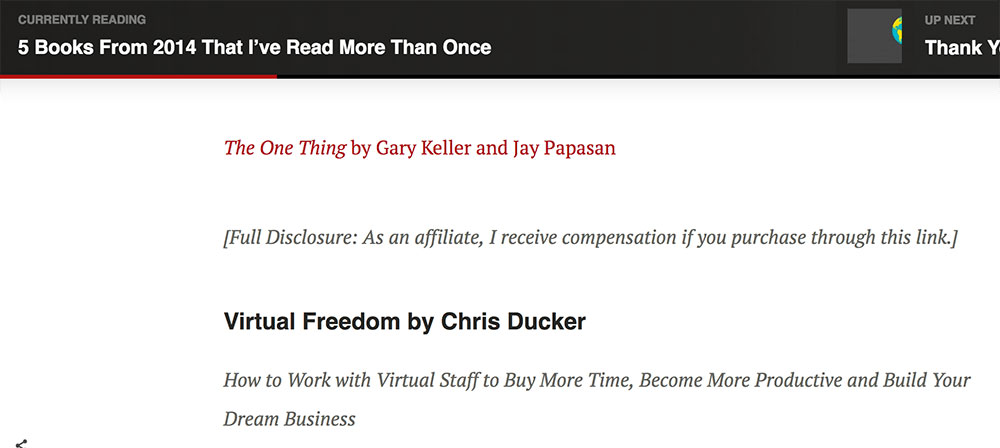 Free Affiliate Marketing Templates
Wealthy Affiliate provides you with free affiliate marketing templates including:
Privacy Policy
Affiliate Disclosure
About Me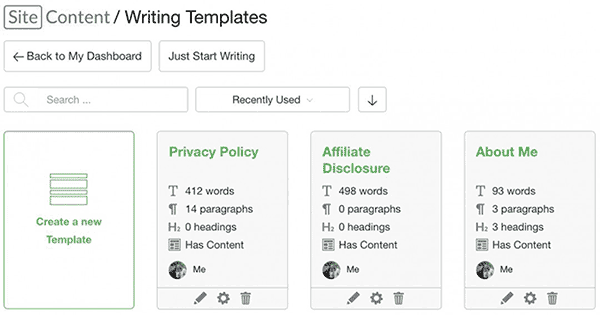 In true affiliate marketing fashion, this link above is an affiliate link. This means if you click on the link and buy any products, I will receive an affiliate commission at no extra cost to you. Click to learn more: affiliate disclaimer.
The link above will take you to a blog article explaining how to access the templates.
Hope these affiliate link disclosure examples are helpful.
Got questions?
Feel free to leave comments and questions below.