You do not just buy a website domain name for your business.
You buy a name for your brand. You buy a permanent name for your website.
This name distinguishes you from all of the other businesses out there.
So before you make a purchase, learn how to buy a website domain name and:
choose the right name for your brand
really understand the domain name buying process
understand how this permanently affects your business brand going forward
avoid these common mistakes that could cost you more money
What does brand have to do with a website domain?
A brand is used to make your business, products or information unique.
Domain names are used to make your website unique. A brand name and domain name go hand in hand together. They both work together for the good of your business and website.
brand
A brand is a name, term, design, symbol, or other feature that distinguishes an organization or product from other similar companies. Brands are used for business, marketing, and advertising.
Just like you have a business name, you have website name.
If you have a business or company, you want to have your website name the same as your business name. This helps to promote consistent branding of who you are.
If you are choosing a website domain for an affiliate marketing website, then first read how to choose what products to recommend.
When you have a clear idea of what your business or website is about, then you are ready to buy a domain name. And essentially name your online business.
How to Buy a Website Domain Name in 9 Steps
Here is how you choose the right domain name with this 9 step by step guide.
1. Explore what website domain names are available
Domains can only be owned by one buyer at a time. Just like a buying a house or renting an apartment.
Domain names are bought for 1 year at a time. The 1 year timeframe is a standard buying cycle for every domain name purchased.
So, you want to choose your domain name wisely. Take the time to do some research. Do not rush this step. And avoid common mistakes that can cost you more money.
2. Start with a domain name generator
A domain name generator will tell you what domain names are available for you to buy. And give you ideas on what name possibilities you have.
Two very common domain name generators are:
Each domain name generator has unique quality features. Ideally, use both of these generators to discover many possibilities and ultimately find that perfect website name.
Name Mesh offers various categories of domain name variations and ideas. Some good categories to use for name discovery are:
common – the domain name you want in available extensions (.com, .net, .org) and hyphenated versions
similar – similar words and variations of the domain name
SEO – specific keywords that help users know what your website or business is about
Here is an explanation of all Name Mesh categories.
Lean Domain Search will add one additional word to the words you enter into the search box. You can enter in just one word for ideas and choose to start or end with your search term. This will give you ideas of other domain names variations you can use.
In both domain generators, start by entering in a keyword, product or your business name in the search box.
For example: "blenders".
For affiliate marketing, you could build a website that promotes the best blenders a person could buy. In order to brand what your website is about, you could include the word "blenders" within your domain name.
Name Mesh provides these options:
bestofblenders.com
getblenders.com
101blenders.com
blenders101.net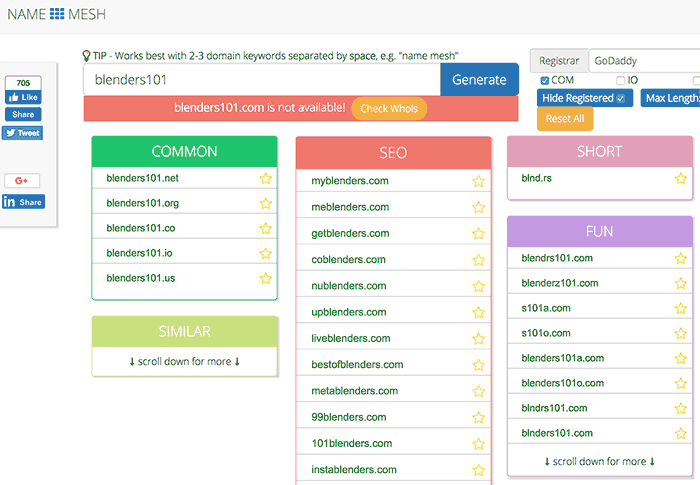 Lean Domain Search provides these options:
MyBlenders.com
BlendersBlog.com
BlendersWorld.com
BlendersInfo.com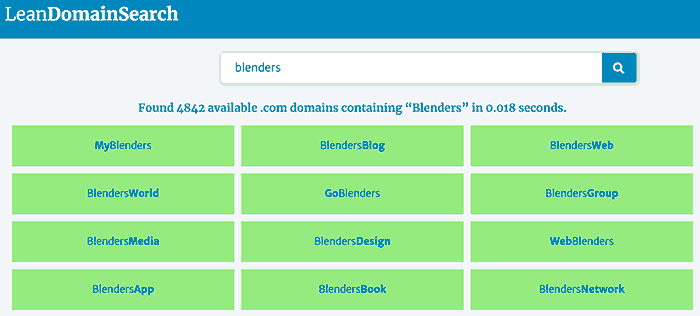 BTW – These are great domain names for a website making affiliate commissions from recommending blenders!
3. Apply basic domain name rules
There are some do's and don'ts when it comes to buying a website domain.
Here is what you should do:
Choose a name that is relevant to what your business or website is about
Buy a brandable name that is memorable – something easy to remember
Short and catchy (examples: apple.com, amazon.com, target.com, walmart.com)
Stick with .com, .net or .org domain name extensions
Consider what names are available on social media networks (ex: Facebook, Twitter, Pinterest)
Here is what you should NOT do:
Do not include hyphens or spaces
Do not force keywords
Do not include registered trademarked names or products
For what you SHOULD do, you should buy a .com, .net or .org extension because these are well known and recognized extensions. They have the most branding as people commonly see these. And they have the most trust with search engines and tend to rank better than other extensions you may see like .biz, .site, .online, etc.
For what you should NOT do, yes. You will see all of these "do not do" scenarios. But NONE are recommended best practices.
You will see website names with hyphens. But you are essentially making the domain name longer to type in if a person chooses to do so. Also, this is not a great branding experience.
If your business or brand name does not include hyphens (ex: My Blenders), then why should your domain name include hyphens (ex: my-blenders.com). It looks tacky and you are enforcing slight differences in your overall brand appearance.
Do not worry about having keywords in your domain name. A keyword is: "blenders". I personally would choose this keyword because it brands what my site is about. Blenders!
But you may read in places that having keywords in your domain name has SEO (Search Engine Optimization) advantages.
The search engines have gotten smart and will not rank your website for just keywords. They rank your website for good and relevant content.
So choose something that is brandable and relevant for your website. But do not stress over having keywords included.
An example of this would be choosing 101Blenders.com or. BlendersInfo.com. Both of these are great domain names. I would choose either of these because when a potential buyer for blenders sees these names, they will know that this website includes information about blenders.
People would be more likely to read content on these websites to learn more about what blender they should buy. And the more people buy from my blender affiliate links, the more commissions I can make.
So include words and phrases for branding, not to game the SEO system.
And do NOT include trademarked names. This could get you sued. Learn more in the next section.
4. Avoid these costly mistakes
A few mistakes to avoid when buying domain names.
1. Avoid buying a domain name that is spelled wrong
Once you buy a domain name, you can not change it. You own it for 1 year.
So if you misspell a word or change your mind, NO. You can not change the domain name after you buy it. You have to buy another domain name and pay more money for that domain name too.
2. Do not include trademarked company names, products or services
You can get sued, pay high fines and even face jail time. Yep. This is serious.
When you buy a domain name, you claim ownership of it. So legally, you cannot claim ownership of something that is already owned by someone else.
For example, you would not buy a domain name that includes the word "vitamix". Vitamix is a registered name for a specific blender. So if you have a bright idea to promote "Vitamix" products, you need to promote them with pages or blog posts called "Vitamix Product Reviews". And not with a domain name like bestvitamixblender.com.
Before you buy a website domain, always check to make sure you do not infringe on any trademarks or service names that are registered and protected under certain trademark laws.
You can do this in 2 ways:
Visit websites of the names you are considering. You will usually see TM or R with a circle if the name is registered in any way.
Within the US, do a search through the United States Patent & Trademark Office's (USPTO) Trademark Electronic Search System (TESS).
5. Research the demand
Before you launch any business or affiliate marketing website, it is always important to confirm demand. If no one wants what you have to offer, then should you sell it?
An easy way to confirm demand is by using a keyword research tool. A keyword research tool like Jaaxy helps you understand what people are searching for and what problems they are trying to solve.
Sticking with the "blenders" examples, I can tell from Jaaxy that there are 9,907 approx. searches a month for the word "blenders". In addition, people are searching for different types of blenders such as stick bleners, high speed blenders and vitamix blenders.
This confirms that there is demand for information about blenders. If I build it right and find a way to compete with the competition, I could tap into this demand and make commissions from my blender affiliate links.
6. Research the competition
Once you have a few ideas of domain names, you want to research in Google. You can also research competition in a keyword research tool like Jaxxy.
Search for the domain names to see what comes up. Check out what websites come up and compare them to the direction of your website or business.
Some of the results may be competitors. Some results may be completely unrelevant to your plans. The goal is to see who is your competition and who is not.
For example: Blenders World is a fast food restaurant in Carson, California.
The company name does not appear to be registered and they do not have a website. This is where you would decide if you would want to buy a domain name (ex: BlendersWorld.com) that could compete with a company that already exists.
Another example would be: Blenders101.com or BlenderReviews.com.
These domain names on .com are already taken and have live websites with reviews on blenders. These two sites are your competition if you decide to get into the blenders niche.
This step should help you decide whether you want to choose blenders101.net or blenderreviews.net to compete with these existing websites.
Ideally, if you can not offer something different or better than your competition, then you shouldn't compete with them.
This research step is the step to help you narrow down the possibilities to the final domain name you choose.
7. Choose who to buy the domain name from
You have three requirements in order to make a website live on the World Wide Web (www):
Website Domain Name
Website Hosting
Website Content
When you buy a domain name, you will buy it from a particular type of business. These businesses are called domain registrars.
Domain Registrar
An organization that manages the reservation of domain names for the internet. A domain name registrar must be accredited and operates in accordance with the guidelines of the designated domain name registries.
When you choose a particular domain name registrar company, you will be married to this business for as long as you own that domain name with them. This requires you to sign up for an account with them and keep login details to maintain your domain name as needed.
At the end of the year, you can choose to let it go if you did not use the domain name. Or you can keep the domain name forever and automatically renew every year.
The only way to change the company who has your domain is to transfer the domain name to another domain registrar. This requires a few steps and also requires new payment of the domain name with new company.
And, if you want your website live on the internet, you will need website hosting too.
You can choose to use one company for both the domain name and website hosting or different companies for each. Some companies that are domain registrars do also offer hosting options.
The benefit to using one company for both is to manage all of your website details from one place.
8. What you can expect to pay
Pricing for website domains vary from each domain registrar company. The average price for a .com domain name is $.99 – 15.99. Plus, any additional features you add onto your domain.
Popular domain registrars are:
Wealthy Affiliate
GoDaddy
Bluehost
1&1
Namecheap
WordPress.com
Wealthy Affiliate domains provides a .com domain name for $13.99 each and includes domain features that are normally sold for additional costs.
Buy all of your domain names from Wealthy Affiliate and get free private domain name registration and unlimited email addresses included with EVERY domain name.
GoDaddy Domains usually run a $.99 special for the first time you sign up with them. If you already have an account, expect to pay standard $11.99 per domain.
Bluehost and 1&1 will give you a free domain name for the first year if you buy website hosting at the same time.
All of these domain name registrars also offer website hosting.
For basic website hosting, you can expect to pay average about $70 a year. But you WILL be prompted to add on additional features such as private domain name registration, email addresses and SSL certificates which help secure your website.
Just keep in mind, the more features you add, the more you will pay per domain name. Read our tips for buying a domain name and learn what features you really need.
9. Buy a Website Domain Name
Once you decide on your perfect domain name, you are ready to actually buy it. The buying process is very similar regardless of who you choose to register your domain with.
The general steps to purchase a domain name are:
Click the Buy Now or Register Now
Indicate whether to buy just the domain name or hosting too
Choose how long to buy domain name for (ex: 1 year, 2 years, 3 years)
Choose whether to add on additional features (ex: private domain registration or SSL Certificates)
Enter in your contact details – this info is used to register the domain to you
Pay for the domain name
Our Personal Recommendation To Buy Domain Names
We personally buy domain names from Wealthy Affiliate Domains.
Because we are affiliate marketers.
In one place, we can buy domain names, build multiple affiliate marketing websites with included website hosting, online marketing training and connect with 1.4 million members for constant support.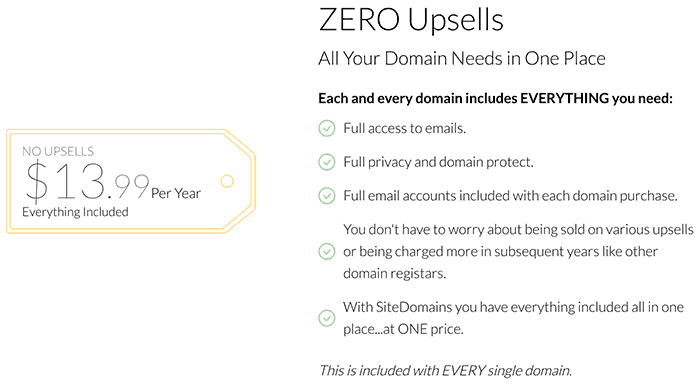 The cool thing with Wealthy Affiliate is you will learn how to build a website that makes money through affiliate links and connect all of these dots (ex: domain name, hosting, email addresses, website content and so much more).
And you have a place to get help, ask questions from the community and get general guidance as you learn. See how domain prices at Wealthy Affiliate compare with other companies.
Ready to Buy?
If you are ready to buy a domain name, then follow these step by step instructions for different registrars:
5 Tips for Buying a Domain Name
Or learn how to answer these questions:
Which domain add ons do I choose?
What features do I really need?
What is worth my money and what is not?
5 Tips for Buying a Domain Name Which Features Do You Really Need?
Another Reason to Purchase Domain Names
One reason to buy a domain name is to use it for your own website. Another reason is to make money through resells.
Yes, there are people who buy up domain names and resell them for a higher cost. And yes, this is such as thing. You can make money with this technique, if you do it right.
Buying the right domains that will sell later is always a bet and has risks. But because domain names are so cheap to buy, it can usually just take one good domain name sale to make your money back and more.
Got Questions?
Feel free to comment below.