Welcome to my ClickBank University 2.0 Review.
If you are here, then you may be looking to find the best affiliate marketing training. Perhaps, you've already heard about ClickBank University and want more info.
If you are asking questions like:
Is ClickBank University worth the money?
Can you make money with ClickBank?
Is ClickBank University the right training for you?
You are in the right place. I will answer all of these questions and more. 
This ClickBank University 2.0 Review will take a very in-depth look at everything you need to know, including what you need to know before you buy.
Ready? Let's go 🙂
ClickBank University 2.0 Review
What is ClickBank University?
ClickBank University is a digital training course to teach you how to use ClickBank, a well known digital product marketplace.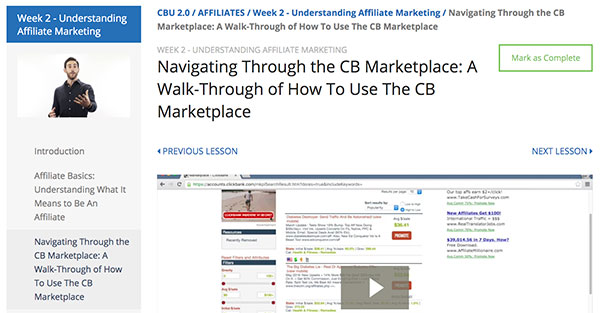 At ClickBank, people can buy any product. Affiliate Marketers can recommend any product for a commission. And product creators can create products to be sold on ClickBank for affiliates to promote and consumers to buy.
ClickBank University 2.0 is the second version of the training course, which was updated a few years after the first-course release. 2.0 included updates to the strategies and methods used for promoting ClickBank products today.
This training product focuses on how to:
Make affiliate commissions from ClickBank products as an affiliate marketer
Create and sell products on ClickBank as a product creator
For more general information on ClickBank, check out: What is ClickBank Affiliate Marketing?
ClickBank University 2.0 Review Overview
Product Name: ClickBank University

Product Creators: Justin Atlan and Adam Horwitz, co-founders of ClickBank University

Product Categories: Affiliate Marketing Training, Affiliate Offers, Digital Product Creation Training, ClickBank.com

Strategies: Landing Pages, Sales Funnels, Facebook Ads, Email Marketing

Product Objective: To help people learn how to make money from ClickBank.com

Product Features:
– Affiliate Marketing Training
– Digital Product Creation Training
– Community Network & Forum
– Landing Page Builder (Additional Cost)

Price: $47 per month for just the CBU 2.0 training

Free Trial or Free Version: No

Upsells: Yes. ClickBankBuilder $594, Advanced Training $97, + More

Similar Tools: Wealthy Affiliate, Affilojetpack
Pro Tip: I got a coupon to get 50% off my first month of CBU 2.0. Keep reading below to find out how. (While the coupon lasts.)
ClickBank University 2.0 Review Scorecard
A rating from 1 – 5 (1 it sucks, 5 its awesome) 
Training = 4 – There's plenty of training for the price
Usability = 3.5 – Mulitple logins and the need to unlock training
Support = 4 – Plenty of ways for you to get support
Performance = 5 – All training loads quick, no access issues
Introduction Video
Want a break from reading?
Check out this 1-hour introduction video for ClickBank University. You will learn more about how Justin and others use ClickBank to generate income.
(But fair warning, you don't really get to see the product…)
ClickBank University 2.0 Product Details
What do you get when you purchase the ClickBank University training? And is it worth the cost?
When you purchase ClickBank University 2.0, you get a good size library full of products. Here is what is included in this product training set. 
CBU 2.0
CBU 2.0 is the first product you'll see when you buy ClickBank University. ClickBank University 2.0 is the main starting place for your training that includes two separate training courses.
8 Week Affiliate Track course

The Affiliate course is an 8 week ClickBank Affiliate Mastery training course. In this course, you will learn everything from the basics of how affiliate marketing works on ClickBank to specific traffic strategies to send targeted people to your ClickBank affiliate offers. Choose this training if you are new to affiliate marketing and you do not want to create your own product yet. 
12 Week Publisher Track
The Vendor course is a 12 week ClickBank Product Publishing training course. In this course, you will learn everything from the basics of how digital product creation works to how to get your finished product published on ClickBank. Choose this training if you create your own information publishing business and leverage ClickBank affiliates to promote your product for you. 
Pro tip: Ideally, you eventually take both courses and execute both strategies to maximize your revenue potential from ClickBank.com
Here are additional training courses and support products, in addition to the CBU 2.0 training.
Market & Customer Research
The Market & Customer Research is a dedicated crash course for doing market research. You will learn how to define who your ideal customer is, what their pain points are and what they want. Do this step right and you will help drive more affiliate commissions to your pocket!
Facebook Ads Course
The Facebook Ads Course teaches how to use Facebook Ads to make money online. In this course, you will learn how to set up a Facebook ad, incorporate Facebook pixels for retargeting, create Facebook audiences and scale ad campaigns. You will learn the basics of how to drive traffic to your affiliate product offers by using Facebook. 
Copywriting Guide
The Copywriting Guide is a downloadable report that reveals the hidden secrets to getting people to do what you want them to do. Copywriting is the art of getting someone to do what you want them to do. In this course, you will get a downloadable 77 tips guide to teach you how to create compelling, high converting copy that can help you get more sales. 
Pro Courses Traffic Vault
The Crash Courses are 12 mini-course strategy sessions presented by top ClickBank affiliate marketers and vendors. Each course covers a specific strategy in detail. The course presenters are from various people who the strategy to support their ClickBank success. You will learn tips and techniques from these one-hour bite-sized mini-courses.
Toolkit
An entire section of tools for you to use throughout your affiliate and vendor journey with ClickBank. Each video trains you how to do a specific task with a specific tool. You'll find a variety of tools and use cases here. Everything creating your own custom graphics with Canva to creating sales letter videos with Camtasia.
CBU Forum
The CBU Forum is ClickBank University's private member forum area. Use the forum area to get help, feedback, and advice from other CBU members. You can easily find information in specific categories or search for a custom topic to find information and help when you need it most.
Weekly Live Q&A
Each week, the CBU team hosts a 1 hour long live Q&A session. You can get your questions answered and learn from other people's questions. Each week is recorded so you can view it when it's convenient for you. 
Features
7 Training Courses
Downloadable training support materials
Weekly Live Q&A Sessions
Live Training Webinars
Recorded Webinars
Private members support forum
Access to the Private Facebook Community
Discount to paid ClickBank events
Core Skills You'll Learn
The core skills you will learn with this training product are:
Affiliate Marketing with ClickBank products
Digital Product Creation on ClickBank
Facebook Ads to drive traffic to your offers
Landing Pages and Funnel Creation
Email marketing to build trust your own fanbase
Copywriting skills to create copy that converts
Buyer conversion techniques to increase sales
ClickBank University Pros & Cons
Pros
Step by step training video modules
Organized in easy to follow micro-steps and goals
Strategies taught by different experienced marketers who know strategy well
Good for learning how to leverage ClickBank's affiliate program
A significant amount of training for the price
Cons
You will be hit with many upsells when you sign up
You have to manage 4 separate accounts (CBU Training, ClickBank.com, CBU Forum, and ClickBank Builder require separate logins)
The CBU 2.0 training weeks 4 – 12 are locked. But you can request to unlock them 🙂
Using Facebook Ads require additional out of the pocket expense
Facebook Ads can be expensive at first until you learn how to create profitable ads 
You will likely lose some money in the beginning with any type of paid ads
Frequently Asked Questions
Can you make money with ClickBank?
Yes. I have personally made money from ClickBank as an affiliate. As with any "make money online" opportunity, you will need to learn how to drive traffic to your affiliate offers. But I'm living proof that making money from ClickBank is possible.
Is ClickBank University Free?
No. ClickBank University Traning is not free. The training requires a monthly fee. What is free is promoting ClickBank products as an affiliate. There is no money required to promote their products.
Is ClickBank University a Scam?
No. ClickBank University is not a scam. It is a legit digital marketing training course. You will get multiple training courses, step by step training video modules and downloadable resources all for the price you pay.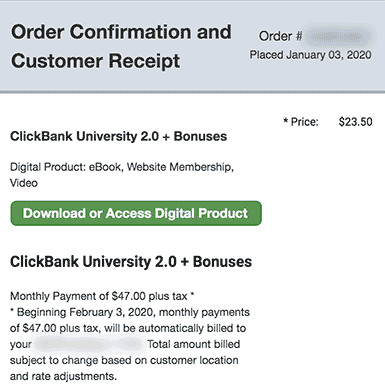 I personally paid for the course and can verify it is a real training course. I even got a discount : )
(I tell you how to get the discount details in the pricing section below.)
Is ClickBank University Worth it?
Yes. It's worth trying ClickBank University out (without the upsells) for a month or two to see if it's right for you. The monthly training only cost (without adding the ClickBank Builder tool or advanced training) is low compared to other training courses that require one time payments of four figures or more. 
Claims vs. Truths
Here is what ClickBank University claims vs. what is actually true. 
$3.5 Billion, 100,000 People, 1,000 Millionaires – ClickBank
I have no reason to believe these claims are not true. These metrics will only be available from ClickBank, as the owner of this data. These are pretty impressive numbers. Most other training products do not offer this type of data insight. 
Your First ClickBank Sale… a Reality. It all starts with one sale. Just ONE. – ClickBank
It is true that money can be made with just one sale. The ClickBank University training will teach you how to make money with ClickBank.
The reality of making sales is totally dependent on you. You will need to take action on what you learn in the training, in order to make any sales.
Now with ClickBank University 2.0, we're training you in how to be a 6, 7, even 8-figure earner.  – ClickBank
There are many claims of people making 6 to 7 figures from ClickBank.com. Most of these people sell digital products on ClickBank.
A few of these people are Patric Chan, Robby Blanchard, John Crestani, and CBU co-founders Justin Atlan and Adam Horwitz.
What Makes ClickBank University Unique?
What is ClickBank University's Secret Ingredient? In other words, what makes this training different than all of the other training?
ClickBank University is created by the ClickBank team. 
If you want to learn ClickBank, this is training is worth considering. (Because this team knows ClickBank inside and out…)
Since ClickBank offers you two ways to make money (as an affiliate and vendor), the training teaches you both ways. Learning both ways gives you more ways to make money from ClickBank as one source of income. 
(Keep in mind, you will have to put in the time to go through the training and learn the skills.)
How Much is ClickBank University?
Here are the ClickBank University 2.0 price details you should know before buy. 
Price: $47 per month (Estimated cost of $564 per year for 12 months)
Free Trial Available? No
Free or Freemium Version Available? No
Premium Consulting/Integration Services Available? No
Entry-level set up fee? No
(But there's a cheaper way to try out CBU for your first month. More details below.)
Additional Upsells? Yes.
ClickBank Builder: $594
Advanced Training: $97 
Facebook Ads University Advanced Training for $997 1 time payment or 3 payments for $397
Additional Costs to be prepared for:
Facebook Ads to drive traffic to your ClickBank products 
Yearly estimated costs: (Roughly $3250 dollars!)
12 months of CBU 2.0 + ClickBank + Advanced Training = $1255
All products above + Facebook Ads Unversity Advanced Training = $2252
+ $1,000 minimum spend on Facebook Ads = $3252
These costs are estimated and will vary for your particular spending. But this estimate gives you an idea of what this course can cost if you were to buy everything they sell.
Paid ads require out of pocket investment until you figure out how to create ads that make your money back. Although Facebook Ads can be very profitable and faster than the SEO strategy, the trial and error learning process can be expensive in the beginning. 
Learn Free Traffic Sources First
ClickBank University Enrollment Period
Can you join ClickBank University 2.0 anytime? Is the enrollment always open or for a limited time only? 
For example: 
ClickBank Breaks the Internet is another ClickBank Product. Enrollment is currently closed. You have to wait until enrollment opens again to join.
Wealthy Affiliate is a similar alternative to CBU. Enrollment is always open. You can join at any time. And they have a free trial so you can try it out for free anytime.
For ClickBank University 2.0:
Enrollment status: Always Open
Availability: You can join anytime
ClickBank University Refund Policy
Does CBU offer a refund policy? Yes.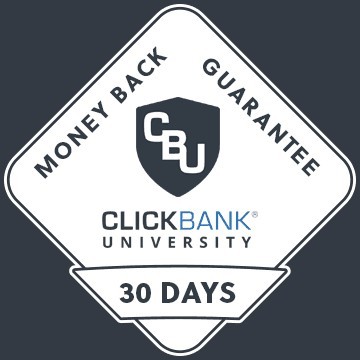 ClickBank University offers a 30-day money-back guarantee.
If you decide CBU 2.0 is not right for you, you can request a refund within 30 days from your purchase.
Once the refund is processed, you will immediately lose access to the training and membership area. To request a refund, email: cbu@clickbank.com.
ClickBank University 2.0 Cancellation Policy
Does CBU offer a cancellation policy? Yes.
Since you pay monthly, you can cancel the membership at any time.
The good thing with monthly services is that there's no major money commitment upfront. 
CBU Support Options
You will have various types of support options with CBU.
Phone: No
Chat: Yes
Email: cbu@clickbank.com
Community: CBU Forum
Webinars: Weekly Q&A sessions
ClickBank University Login
Since ClickBank has a bunch of separate logins, here is the specific login for ClickBank University. 
This is handy to bookmark if you buy CBU 2.0. You must be a paying member to access.
ClickBank University Reviews (From Other People)
When it comes to any affiliate marketing training products, people will have their own opinions. Here is what other people say about ClickBank University. 
ClickBank University Reviews on Leadsleap.com
5 out of 5 Stars (3 Reviews)
Walter – Likes the ease of use, explanations, user-friendly interface, and video walkthroughs
Georges – ClickBank University had a lot of good features so he decided to give it a try
Ed – One of the best in my opinion – providing proven strategies, principles, tactics, tools and techniques for increasing your profits
In addition to the training program, here's what people say about using ClickBank as an affiliate. 
4.9 out of 5 Stars (4 Reviews)
Joani – likes that it is user-friendly and easy to find the specific information she is looking for
Kiss – Easy to join, and they pay on time every week
Billy – loves the process of finding affiliate products to promote, selecting the product and creating a sales funnel to drive traffic to receive commissions
CB & CBU Complaints
General complaints about ClickBank.com are:
Low-quality products. The ClickBank team does not vet all products that are approved. Some people complain that the products are crap. I have personally found (and purchased) quality training programs on ClickBank. Research before you buy it!
Support. Some people have had trouble getting refunds and/or getting charged and not getting the product delivered. 
General complaints from the CBU Forum:
Most of the complaints in the forum area from CBU members are not about the training. They are about not getting traffic strategies to work for them to make affiliate sales. 
Here are a few examples:
Losing money on Facebook Ads. Some people have mentioned they've spend $400 – $600 dollars on Facebook Ads with no leads or sales. It takes some time to learn the skills needed to make FB ads profitable. I have personally lost $250 with Facebook Ads and Google Search Ads. (It usually happens before you make money back.)
Suspended Facebook Ad Accounts. Many CBU members complain about Facebook shutting down their ad accounts. The statement from Facebook is that the ad violates Facebook's policies. In most cases, these members copy ads and use pre-created landing pages as is. (So multiple people are using the same content over and over again…) Members having success (per these conversations) take the time to write their own ad copy and change the landing pages. The recommendation is to be persistent and patient. Try out a few different angles.
How to Save $5,624 with Wealthy Affiliate
Other ClickBank Products
Other products offered by ClickBank.
ClickBank.com
ClickBank is a marketplace for buying digital products and an affiliate program for promoting digital products. People can buy products, affiliates can make affiliate commissions off of products and motivated people can create products to sell. (The ClickBank University training is designed to show you how to do this.)
For more information, check out: What is ClickBank Affiliate Marketing.
ClickBank Builder
When you sign up for ClickBank University, you will be asked to buy the ClickBank Builder product too. The ClickBank Builder is a landing page creator tool used for creating funnels. 
You can create your own product pages with your affiliate offers and opt-in pages to build your email list.
You can go through the CBU 2.0 training without ClickBank Builder. 
And you can use cheaper landing page builders such as Elementor or Thrive Architect. 
ClickBank Breaks the Internet
ClickBank Breaks the Internet is a bundle of products packaged together in one price. It's a combination of tools and training designed to help you make money from promoting ClickBank affiliate products. Includes WebinarX which is currently only available in this product bundle.
ClickBank Breaks the Internet is more of a campaign name being used to get your intention. An example of marketing in practice. 
For more information, check out ClickBank Breaks the Internet Review.
CBU 2.0 Affiliate Program
ClickBank University 2.0 does offer an affiliate program. If you are in the affiliate marketing or Make Money Online (MMO) niche, you can recommend CBU for affiliate commissions. 
Here are the CBU 2.0 affiliate program details:
Commission rates are estimated and may change anytime without prior notice.
Alternatives to ClickBank University
My #1 recommended alternative is Wealthy Affiliate. For the same price (or cheaper if you pay yearly), you can get more training, more tools and less out of pocket costs. 
WA teaches you how to make affiliate commissions with SEO over Facebook ads at first. You learn about paid ads in later training, for no additional costs 🙂

Other affiliate marketing training programs to consider are:
Affilojetpack. Another Kinda-DFY (Done For You) option that focuses on SEO and email marketing
The Cheaper Way to Try ClickBank University 2.0
If you want to try out ClickBank University, you can use the coupon I used to get my first month 50% off.
You still have to pay for something, but you get a discount for the first month. (While the coupon lasts. Can expire anytime without prior notice.)
Conclusion
Hopefully, this ClickBank University 2.0 review has given you a good inside look into CBU.
The result is, $47 a month is a good price for the amount of training that comes with ClickBank Unversity 2.0.
The $47 per month cost is inexpensive compared to other training that requires you to pay a one time fee of $997 – $2499 USD upfront.
You can stop paying the monthly fee when you finish the training. 
However, keep in mind this training will teach you how to buy Facebook Ads for traffic. Facebook Ads can be difficult for absolute beginners to learn, without losing a few hundred bucks first. Thousands if you are not careful. 
My Recommended Path For You
I personally do not recommend Facebook Ads traffic strategies for absolute beginners. 
There is enough to learn about affiliate marketing in the beginning with how it works, how to sign up to and manage affiliate programs and how to use digital technologies and tools just to launch an affiliate website or landing pages.
Adding the complexity of paid ads can take more time to learn and prolong the time to make your first affiliate commissions. 
I personally made my first affiliate commissions with an authority website, using search engines to drive free traffic to my site. If you are an absolute beginner, I recommend this route for you too. 
Once you get comfortable with the basics, you will naturally learn things like paid ads and sales funnels to increase your sales. There's a time for that, but not in the beginning. 
Just my personal opinion from experience. The decision is ultimately yours. 
Join Me Here and Get Free Trial
(This is where I learn affiliate marketing, the easier way.)
Disclaimer: ClickBank University does not own or operate this website and is not responsible for its contents. It is owned by Affiliate Marketing Informant, an independent marketing affiliate.