Buying a domain name may seem complicated.
These tips for buying a domain name will prepare you for what to expect and make the whole buying process a whole lot easier!
First, you want to research your domain name. Then you want to buy that domain.
If you do not know what to expect, the buying process can be completely overwhelming.
You will be prompted to add on 100+ MORE FEATURES to your domain name purchase.
Okay, maybe not 100 options. But sometimes it feels like too many…
This is a marketing strategy called upselling. Where domain registar companies try to get you to spend more money by adding on more features.
This is what the domain buying process looks like:
You go to buy the domain
Then you are presented with tons of extra features to add on

Just for an additional…
$7.99 a year, you can add private domain name registration
$11.99 a year, you can buy a .net domain name extension
$18.00 a year, you can buy 3 more extensions and save 70%
$1.99 a month, you can add an email address using your domain name
You were ready to spend that $11.99 – 15.99 a year for one domain name.
But you were NOT ready for all of the other options!
Now you are completely overwhelmed! Your $11.99 purchase will now cost you $44 a year?!
At this point, you are thinking:
Which domain add ons do I choose?
What features do I really need?
What is worth my money and what is not?
5 Tips for Buying a Domain Name
1. The Reason You Buy Defines What You Need
Why are you buying the domain name?
For your own website
For someone else's website (e.g. friend, customer, etc.)
To sell the domain for profit
The most important you thing need is a domain name.
You want to buy the domain name as soon as possible, so that no one else buys it before you.
Because once a domain is purchased, it belongs to that owner for as long as they hold on to it. For 1 year or many years.
You can not have a website without a domain name. Without a domain, you can not sell it later for a profit.
So, buying a domain is priority #1.
To really know what additional features you need, you should first understand why you are buying the domain name.
This reason will help define what features you actually need.
For a website, you will need:
domain name
website hosting
website builder
email address
But when you will build the website?
If are not ready to launch a website, then you do not need need website hosting or a builder immediately.
You can add on hosting at anytime in the future. A website builder is usually included within hosting.
To resell a domain later for a profit, you need:
Domain name
You may want:
Private domain registration
But you do not need the website hosting, builder or email address.
Sometimes, you may be prompted with a special offer for add ons. But in most cases, the costs are the same.
Most importantly, just buy the domain name. Only spend the $11.99 – $15.99 now.
Buy additional features later, depending on what you need and do not need.
Domain buying tip
You get free private domain registration and email addresses from Wealthy Affiliate domains.
2. Buying Additional Extensions Buys Out Competitors
Should you buy other domain name extensions? And how many extensions should you buy?
.com
.net
.org
.co
.online
.us
.uk
etc…
The most popular domain extension is .com. We are all programed to type in: websitename.com.
Other popular alternatives are .net, .org, .gov, etc.
This is because the domain extensions have been around since 1998. History about domain name extensions.
The reason you would buy additional extensions is to prevent other companies from buying them later. These companies and websites could become your competition!
For example:
If I just buy affiliatemarketinginformant.com, someone else could buy affiliatemarketinginformant.net.
Then they could build a similar website on this .net extension. There would be two websites with the same domain name and just different extensions.
Then I would have competition with the same website name as mine! Um, NO!
That won't happen for this website. I personally buy .com, .net and .org extensions to keep other people from buying them.
So yes, a domain name purchase costs me $46 instead of $13.99.
Those potential competitors will just have to be more creative and come up with their own original domain name.
3. Buy 1 Year and Still Own For Many Years
How many years should you buy?
etc…
You buy domain names for 1 year at at time. That's just how the buying process works.
So, you will be prompted to buy multiple years. So the domain registrar company can make extra money off of you.
But you do not need to buy for more than 1 year at a time.
You can buy a domain name for 1 year and still own it for many years. You just renew it every year.
Most companies will automatically renew the domain for you. And just bill you when the domain renews.
As long as you pay for the domain name, no one else can buy it from you.
If you let your domain name expire, then your domain name comes back available on the market.
Only then, can someone else buy your domain and take it away from you.
4. Yes, You Want Private Domain Name Registration
Why do you want private domain name registration?
If do not like telemarketers calling or emailing, you want private domain name registration.
When you buy a domain name, you register it in your name for 1 year.
You will provide all of your personal details such as your:
name
mailing address
email
phone number
This information is required as part of the domain name registration process. This is what keeps the domain yours as you long as you decide to own it.
If you do not add on private domain registration, your contact details are stored in a massive database.
Companies access this database and start trying to sell you on their services.
Because they can.
Afterall, you just added your contact details into this massive domain registry database of contacts.
These businesses will call you. They will email you. They will try to sell you website services and anything else they can.
But you can hide your details with private domain registration.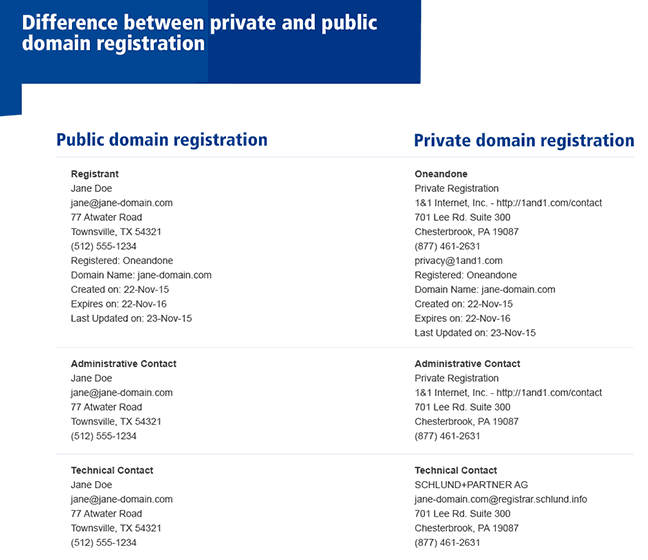 Buying private registration will replace your details with general details from the domain name registrar.
And prevent your details from being displayed.
So, this feature is A MUST HAVE in our opinion!
And trust me, I've done without the privacy before, just to save a few bucks.
But I regretted this decision. Because once those companies have your contact details, they always have it.
This is why I buy all of my domain names from Wealthy Affiliate.
I get private domain name registration and unlimited email addresses included for no additional cost.
5. Be Professional With a Custom Email Address
Do you need custom email addresses for your domain name?
If you want people to contact you, you need an email address.
If you want to look like a professional, you need a custom email address.
A custom email address looks like this:
kim@affiliatemarketinginformant.com
help@affiliatemarketinginformant.com
info@affiliatemarketinginformant.com
Yes, you can give out your free gmail address but this is not recommended.
The recommended approach is to use your gmail address to forward all of your custom email addresses to. So you get all emails in one inbox.
But promote your custom email address. Because it is more professional.
Honestly, which email looks more professional to you?
kim@affiliatemarketinginformant.com
or
affiliatemarketinginformant@gmail.com
And, how many email addresses do you really need?
Just 1 for yourself? Or do you have a team of folks that need email addresses too?
For affiliate marketing websites, it is standard to have 1 – 2 custom email addresses.
A personal contact email and and a general email to send inquiries:
kim@affiliatemarketinginformant.com
info@affiliatemarketinginformant.com
And, when you do need the email address?
If want people to email you before your website is built, then add on an email address.
But once again, you can add email addresses anytime in the future.
Or you can choose Wealthy Affiliate for domains.
Wealthy Affiliate includes unlimited email addresses for no additional cost of $13.99 a year for .com or $15.99 a year for .net and .org extensions.
Step by step instructions on how to buy a domain name from Wealthy Affiliate.
How To Avoid Costly Mistakes
If you have not read our how to buy a website domain name guide, then you should read this to learn how to:
choose the right name for your brand
really understand the domain name buying process
understand how this permanently affects your business brand going forward
avoid these common mistakes that could cost you more money
Ready to Buy?
If you are ready to buy a domain name, then follow these step by step instructions for different registrars:
Got Questions? 
Feel free to comment below.