If you are here, you may be searching for Affilorama or AffiloJetpack reviews.
You may have already read another AffiloJetpack Review.
If you want to learn how to become an affiliate marketer, then you will naturally research the best affiliate marketing training options available to you.
There are a million and one ways to start affiliate marketing. And thousands of reviews of every training marketing platform out there.
Why Read My AffiloJetpack Review?
I am a current paid member of Affilorama. On July 24, 2018, I paid $747 for AffiloJetpack.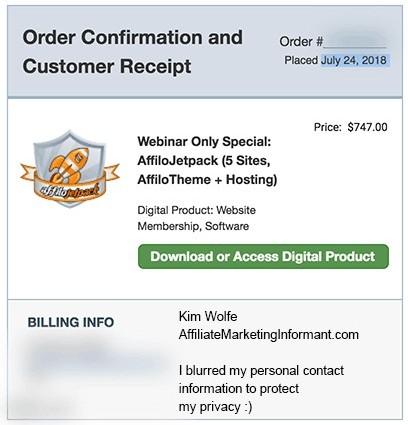 Yep. Most people will call me crazy. But…
I am a #digitaljunkie and online shopaholic.
I have an obsession with learning through digital products, trainings and online networks. #seriously
So learn from my wins, money sucking mistakes and save yourself from wasting money 🙂 .
I was really excited when I bought Affilorama Jetpack.
Affilorama's marketing was very convincing that this was going to be the best affiliate marketing tool solution yet.
I had high hopes and expectations.
I forked out my money. I setup my first AffiloJetpack website.
3 months later…
I quit AffiloJetpack. 
I went back to my previous affiliate marketing training, tools and support platform.
I even moved my website hosting to the other affiliate marketing platform.
And better yet, I screwed up the website transfer process.
The website transfer hindered my traffic performance for about a month. Yay. #sarcasm.
The website transfer screw up was my own fault. The way I did it was bad.
But I learned from this process. And it still hurts a little.
So why did I quit Affilorama Jetpack?
My overall review of Affilorama is not bad.
But Jetpack did not work to my initial expectations.
Hence, my very honest, tried and true AffiloJetpack review.
Before we get into what I didn't like, it is important for you to know what I do like about Affilorama.
My Personal Review of Affilorama
(Tried & True)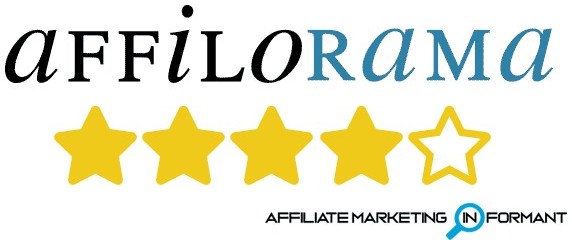 I rate Affilorama 4 out of 5 stars.
Affilorama is not a scam. I repeat, they are not a scam.
Affilorama is a legit Software as a Service (SaaS) solution for affiliate marketers.
Like I said, I'm a paid affilorama member. So I would know if it is a scam.
What is Affilorama?
Affilorama is a designated training, tool and support platform for affiliate marketing.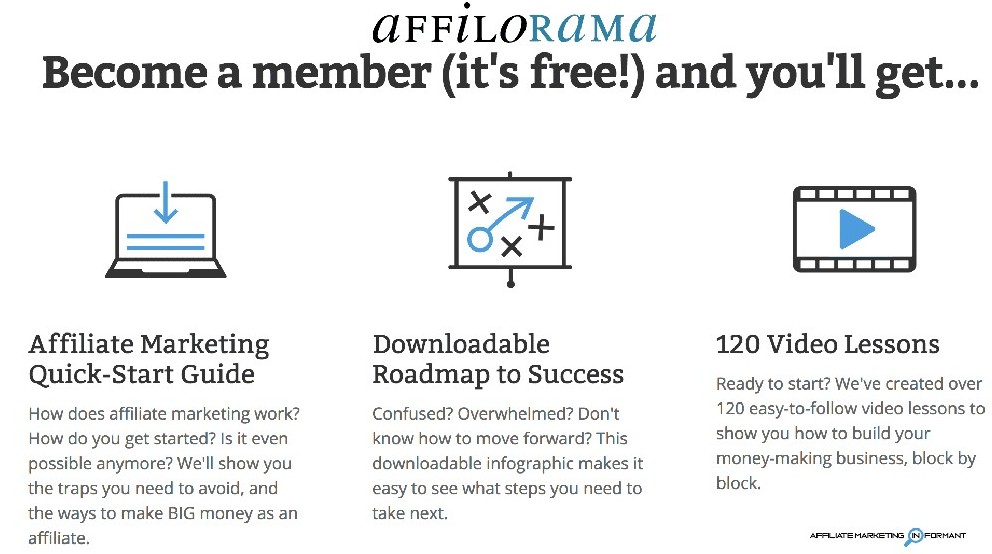 The goal of
Affilorama is to teach you how to be an affiliate marketer
or help you advance your online marketing skills.
"Learn how to make money online as an affiliate." – Affilorama
The idea behind affiliate marketing is to make money by promoting other people's products.
And who doesn't want to make money? I think making money is a one thing we can all agree on 🙂
Affilorama is designed to train you how to make money with websites by using affiliate marketing and online marketing strategies.
Throughout Affilorama, you will find tons of free and paid affiliate marketing related content, videos and information to help you be an affiliate marketer.
Check out this quick video of what Affilorama is about: (watch time: 2 minutes)
So, for this reason, I give Affilorama 4 stars.
What is AffiloJetPack?
Affilorama Jetpack is an *Almost* Done For You (DFY) affiliate marketing website and marketing template package set offered by Affilorama.
Instead of just taking training courses and building out an affiliate marketing website yourself…
you get 5 pre-made websites setup with content templates and a basic marketing plan.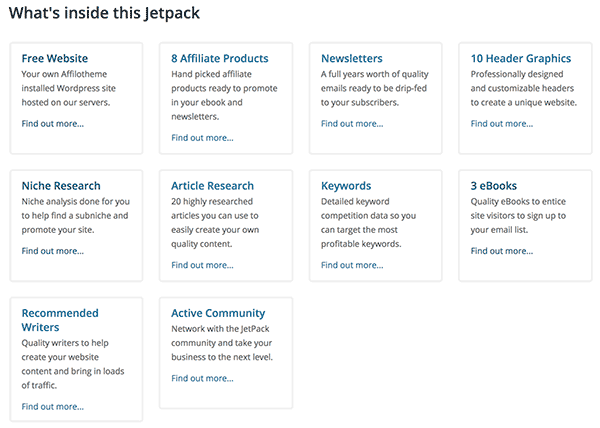 The idea behind AffiloJetpack is to help build affiliate marketing websites faster. Which can lead to making money online faster.
You still have to do the work.
But the goal of Jetpack is to reduce the amount of total work you need to start making affiliate commissions.
Inside Affilorama Jetpack, you will find:
WordPress website installation
Different header graphics to use
Recommended affiliate products
A pre-built newsletter campaign
Niche research and analysis information
Article Templates (No real copy provided, just outlines)
Keyword list for the supported niche
3 eBooks that you can modify as needed (and use to promote email sign ups)
Recommendations for Writers you can use, if you decide not to write your own content
A Jetpack specific forum area for AffiloJetpack related questions and answers
Affilorama Products
Within the Affilorama platform, you will find a collection of products. Most are paid for products.
Affilorama Product Features
Free Affiliate Marketing Training Modules
Paid Affiliate Marketing Training Modules
Website Hosting
Search Engine Performance Monitoring
Member Community Support
Company Support
What's Unique About Affilorama?
TONS of Free Affiliate Marketing Training & Content
The best part about Affilorama is the free content on how to learn affiliate marketing.

We are not just talking about 10 or 20 free training lessons or 1 free PDF training guide.
We are talking about 100 free lessons and multiple free guides.
The free training covers a wide variety of affiliate and internet marketing related topics.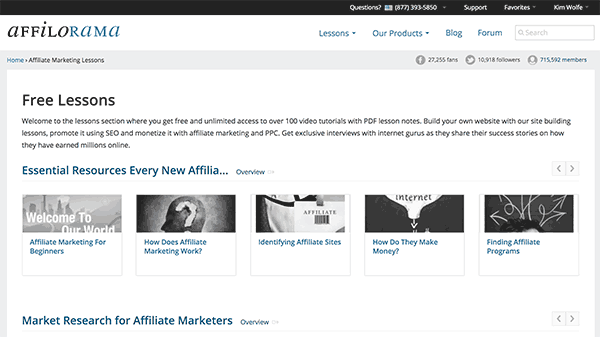 And yes, it really is completely free.
No credit card required. No trial period.
Just a quick sign up for an Affilorama account.
And you will be able to access all 100+ lessons for nothing more than your email address.
And FREE GUIDES & TRAINING WEBINARS:
In addition to the training videos, you can access EVEN MORE free training here. (Just click any of these links below for more free information.)
So, What is the Catch?
Perhaps you are now asking me this question, "so what is the catch Kim?".
Because you know there is one, right?! Unfortunately, most things in life are not free.
Especially when it comes to affiliate marketing training and expertise.
These skills are a highly marketable and sellable. There is a lot of value you can put on marketing skills because not everyone can do marketing successfully.
But these videos really are free! The free videos are the freebie which bring you in the door to Affilorama.
The catch is…
Once you sign up for free, you will be added to their email marketing funnel campaign which will introduce you to all of their paid products.
You will receive constant upsells and communications to buy an affilorama product or multiple products.

Affilorama uses the email marketing technique and they are very good at it!
Affilorama even teaches you how to do email marketing for your own affiliate marketing campaigns, as part of the free training and the AffiloJetPack ready sites.
And because they do email marketing themselves, they have experience in teaching you how to do email campaigns in a way that works.
The amount of free affiliate marketing training is why you can easily like Affilorama.
The free training is what totally got me to sign up!
And their highly targeted email campaigns convinced me to pay for AffiloJetPack 🙂 I know. #sucker
So, free is really great. Just be prepared to be tempted to buy AffiloJetPack with all the future emails coming your way.
AffiloJetPack Review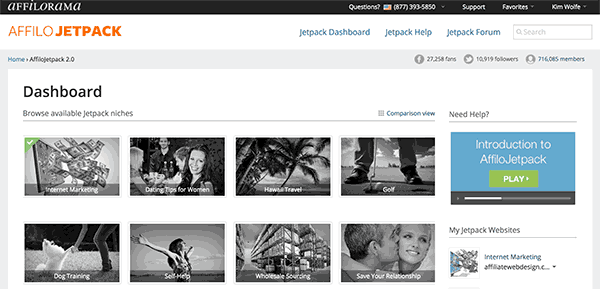 "Get the system for building money-making machines that earn you an income on autopilot. – Affilorama JetPack
Product: AffiloJetPack
Price: $997
Description: 5 *Almost* Done For You (DFY) Websites with 1 Year Hosting to Build Affiliate Marketing Websites
Features:
5 Niche Websites (Choose from 17 Pre-Defined Niches)
WordPress Website Builder
AffiloTheme
Integrated Email Marketing Campaigns Per Website
Free eBook Giveaways
Content Cheat Sheets
Keyword Lists
Bonuses:
Traffic Strategy Workshops
AffiloBlueprint
1 Month of Fluttermail Email Marketing Tool
25% Off Discount (Limited Time Offer)

True Costs:
$951 for first year. $804 for every year after?

$997 for AffiloJetpack – 25% Discount ($747)
+ $17 a month for Fluttermail email marketing service ($204 per year)
+ website hosting costs after the first year

Could be as much as $67 per month. $804 per year?
The exact cost for additional years hosting is not clear.
How AffiloJetPack Works:
"AffiloJetpack gives you all the material you need to build 5 high-performing affiliate sites using the same proven model that every big marketer uses." – Affilorama
AffiloJetPack websites are started for you websites with integrated marketing strategy templates.
Honestly, the jetpack idea is brilliant!
Why just buy training when you can get training AND almost ready-made websites too.
Watch this video to see exactly how Affilojetpack works: (watch time: 5 minutes)
The AffiloJetpack Process Looks like this:
Choose the market of people to target, i.e. niche
Select the affiliate products to promote
Find a domain name for your website
Choose whether to use Fluttermail or a different email campaign tool
Setup Fluttermail or email campaign
Complete The Initial Jetpack Website setup
Build out the website content with the content templates
Drive traffic to your website
Get people to sign up for your free eBook download
Market your affiliate products to your email list
Get commission sales for every affiliate product you recommend
Continue driving traffic to your website for more email sign ups and more sales
Build out 4 more websites with the same process
I keep saying *almost* and *started for you* because these websites are not completely done.
Affilorama Jetpack claims to do 80 – 90% of the work for you. But you still have to do some work.
So is 80 – 90% really done for you? Leaving you to only do 10 – 20% of the work to get your website off the ground?
Keep reading and I will answer this question shortly.
Choose From 17 Niche Categories:
When building an affiliate marketing website, you will need to choose which groups of people to target.
With AffiloJetpack, you can choose from the 17 categories below:
Dog Training
Muscle Building
Weight Loss
Green Energy
Dating Tips for Men
Wholesale Sourcing
Self Help
Golf
Learn to Sing
Save Your Relationship / Get Your Ex Back
Dating Tips for Women
Survival
Natural Health
Pregnancy/Fertility
Diet/Nutrition
Hawaii Travel
Spirituality/Alternative Beliefs
The idea is to build content and affiliate offers around related topics in each of these categories.
Because affiliate marketing is known to work better when you narrow down your audience of people to a set of similar problems and needs.
Who is AffiloJetPack For?
The Affilorama website says it is for everybody.
New affiliate marketers
Affiliate marketers who have tried with no success
Successful marketers who want to scale their earnings faster
I personally would recommend AffiloJetPack for absolute beginners and marketers who have not had success yet.
Experienced affiliate marketers will likely have higher expectations and want full control of every aspect of their websites. Including where they host their websites, which email marketing product to use, etc.
Remember, that ready-made for you will have its own set of limitations.
What makes AffiloJetPack Unique?
Niche Analysis – a done for you analysis on the supported niche
Sub Niche – a list of sub-niches (e.g. smaller categories) of the main niche
Authority Blogs – a list of authority blogs in this niche
Authority Forums – a list of forums that relate to this niche
Affiliate Products – a list of recommended affiliate products to promote in this niche
Pre-written Newsletter emails, eBooks to offer for email sign ups, Site Header Graphics, Content Ideas, Keyword Data and Link Finder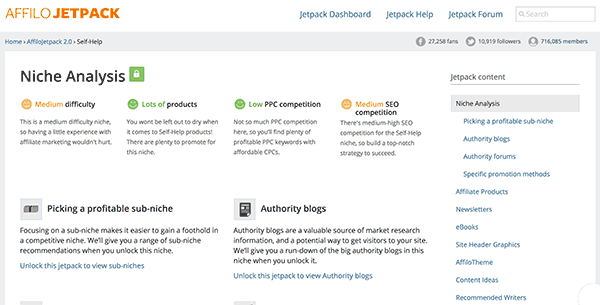 AND…
As of right now, AffiloJetPack comes with all Affilorama products:
(Buy Jetpack and get +):
AffiloBlueprint – 90 premium training videos with tasks to complete
AffiloTools – SEO tracking tools for your website
AffiloTheme – Specific affiliate marketing WordPress theme designed by Affilorama
While AffiloJetpack is its own product (i.e. the ready-made niche websites), you also get all other Affilorama products too for a complete Affilorama package.
So in other words, buy Affilorama with the current bonuses and get:
5 Setup Niche Websites
1 Year Hosting For The 5 Websites
AffiloJetpack Training Course
AffiloBlueprint Training Course + 1 Year Hosting For 1 Website (6 Hosted Sites Total)
Traffic Strategy Training
AffiloTools For 1 Website
AffiloTheme For all 6 Websites
What To Watch Out For:
Watch out for the true costs of the total offer.
Website hosting is only included for 1 year.

After the first year, hosting is $67 per month or $97 a year per website. (I honestly can't find confirmed pricing on Affilorama website hosting plans.)

Your email marketing is additional monthly costs.

Fluttermail is the email software used to collect email addresses and send automated emails. Fluttermail is only included free for the first month to get you started. After the first month, Fluttermail is $17 a month for up to 1,000 email subscribers.

Only 1 Website Can Use AffiloTools.

You will need to upgrade your plan to have all 5 websites use AffiloTools.
Cost ranges from $17 – $97 per month depending on how many websites you want to track.

Outsourcing are additional costs.

Outsourcing content writing is a recommended path if you are not comfortable writing content for your website. Although you will receive content cheat sheets, these are just outlines for content. You still have to fill in the content to publish to your website or hire someone to write it for you. Because search engines will punish websites with duplicate content so you need to have unique content on your site.
AffiloBlueprint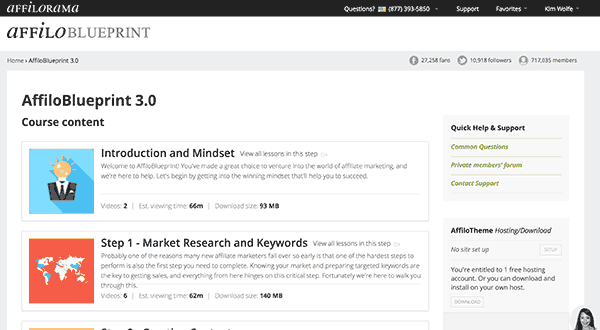 "The foolproof blueprint for building profitable affiliate websites." – Affilorama
Product: AffiloBlueprint (Included with AffiloJetpack)
Price: $197
Description: 90 Lesson Paid Affiliate Marketing Training Course to Learn Affiliate Marketing
Features:
90 Paid Training Lessons
1 Year Hosting For 1 Website (The Training is a one time cost)
Bonuses:
Includes a WordPress Website Builder Theme called AffiloTheme
1 Month Trial of AffiloTools
True Cost:
$197 + website hosting costs after the first year. The exact cost for additional years hosting is not clear.
How AffiloBlueprint Works:
"AffiloBlueprint is a step-by-step "how to" course that will show you how to build money-making websites using the system I've developed over 14 years as an affiliate." – Mark Ling
AffiloBlueprint is a training course to learn affiliate marketing. And it is pretty solid training.
The course is designed to be a step-by-step course to guide you through everything you need to do.
The AffiloBlueprint course contains 13 sections and 90 steps based on 3 parts:
Research and build a website
Learn marketing strategies to drive traffic to the site
Monetize your website
Each step contains a video to watch, downloadable notes to read, and tasks to complete.
The course is designed to teach you how to become an affiliate marketer.
You will actually need to do the work to make your website a success. This course does not do the work for you.
What To Watch Out For:
Watch out for the true costs of the total offer.
Website hosting is only included for 1 year.

After the first year, hosting is $67 per month or $97 a year per website. (I honestly can't find any pricing on this.)

1 Month Trial of AffiloTools.

Cost ranges from $17 – $97 per month depending on how many websites you want to track.
AffiloTools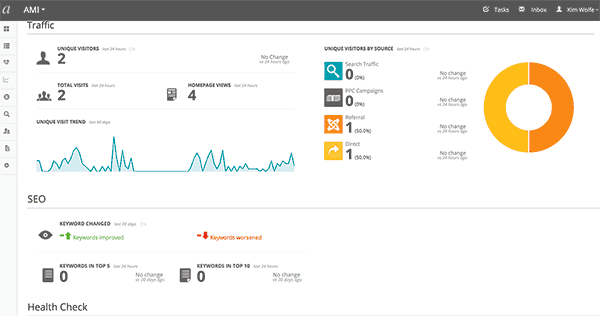 "AffiloTools is "whole picture" web stats for online marketers" – Affilorama
Product: AffiloTools (1 Site Included with AffiloJetpack)
Price: Free – $97 per month
Description: Suite of Online Marketing Tools to Track Website Performance
Features:
Dashboard Website Tracker
Keyword Manager
Health Checker & Traffic Sources
SEO Analysis
Social Management & Discovery
Keyword & Backlink Research
Pricing Plans:
Basic – Free for 1 website, 10 Keywords monitoring, 2 Search Engines Monitoring
Bronze – $17 per month, 3 websites, 30 Keywords monitoring, 3 Search Engines Monitoring
Silver – $47 per month, 5 websites, 50 Keywords monitoring, 4 Search Engines Monitoring
Gold – $97 per month, 10 websites, 100 Keywords monitoring, 10 Search Engines Monitoring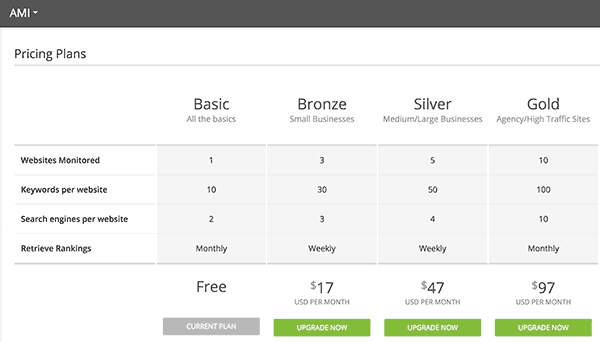 Bonuses:
Get Free For 1 Website when you buy AffiloJetPack.
True Cost:
These costs are very clear. There are no additional upsells that I can see.
AffiloTheme
"Affilotheme is a WordPress theme that helps affiliate marketers build stylish, successful affiliate marketing websites." – Affilorama
Product: AffiloTheme (Included with AffiloJetpack)
Price: $97. Comes Included with AffiloBluePrint or AffiloJetPack.
Description: A WordPress Website Theme Designed by Affilorama that you use to build a website.
Features:
Pre-configured website setups
Custom Header Tool
6 Templates
Squeeze/Opt-in Creator
Pop Up Form Generator
Bonuses: None.
True Cost: These costs are very clear. There are no additional upsells that I can see. Bon
Pathway To Passive Guide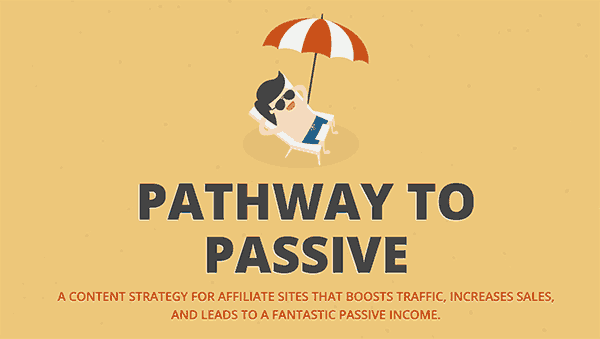 Product: Pathway To Passive
Price:$37
Description: The Pathway To Passive is a paid eBook guide to learn specific affiliate marketing tips and tricks.
What is Good About Affilorama & AffiloJetPack?
After all the thorough explanations listed above, here is a summary recap of what is really good about Affilorama & JetPack.
100 Free Training Lessons, Guides and Member Content – The Most in One Place Besides YouTube
Super Responsive Support Team – You can easily access support help from every page throughout website
Good Content From Members – Other affiliate marketers share great content, tips and advice all the time
Good Marketers – The Affilorama Team Are Good Marketers So Learn From People Who Know What They Are Doing
What is Not Good
Expensive Compared To Competitive Solution Like Wealthy Affiliate – $997+++ vs. $49 per month or $359 a year
Constant Upsells – You will always be encouraged to buy more and more and more!
Outdated Top Posts – Watch out for top posts that were published 5 to 6 years ago. Post snippets do not include the year it was published, just the Month and Day.
Outdated Training Material – You will find top posts that offer outdated strategies. This can happen with any website though as internet marketing and affiliate marketing techniques can change pretty fast.
AffiloJetPack Questions & Answers
The Affilorama support team has compiled a number of questions and answers related to buying AffiloJetPack and what you will get.
The list is quite extensive. I mean there are 70 Q&A's. Um, yes.
You can view all 70 questions here. No sign in required 🙂
But keep in mind, these are produced by Affilorama. So they are going to naturally convince you that the AffiloJetpack is worth the cost.
However, there are forum questions asked by Affilorama members, who do not work for the company. Members ask the community to answer their questions related to buying AffiloJetpack.
Here is a mix of questions created by Affilorama support and members.
1. Can You See AffiloJetpack Site Examples? (Support FAQ)
Yes. But they are just sample mock ups likely created by the Affilorama team. These sample websites are not real websites from Affilorama members using AffiloJetPack.
And only 2 of the 3 examples work.
2. How Much Money Can You Make From AffiloJetpack Sites? (Support FAQ)
While the Affilorama team cannot guarantee you will make any money due to FTC regulations, they suggest you can make $4000 a week after 6 months.
"It usually takes 4 to 8 weeks to make that first sale, and around 6 months to get to USD $1000 a week. Some people start earning from their sites fairly quickly, while others take longer."
I am not saying any amount of money is impossible. However, I can personally tell you that how much money you make depends on how much SEO work and traffic you get to your sites.
No traffic = no sales.
And traffic doesn't just happen because you launch a website. There are currently over 200 Million active websites on the world wide web (www). Traffic is competitive.
You have to work for website traffic and Affilorama will suggest ways for you to pay for traffic as well.
3. Has Anyone Ever Made Money Through AffiloJetPack? (Forum Question)
A member of the Affilorama community asks, "I have done a lot of research but everyone seems to be beating around the bush when it comes to the question " Does AffiloJetpack really work or not? Can someone PLEASE advise if it is worth spending $1000 in to something where there is no concrete proof of whether it works or not?".
What is interesting is that within the entire thread of 17 replies, only 2 members (12%) replied with a "Yes", they made money with Affilorama Jetpack.
And 4 of the replies (24%) are from the Affilorama Staff members. Here is how one staff member replied:
"The Jetpack course works for as long as you also work hard on it. The success differs from everyone. Some achieved their success immediately while some struggled and achieved their success after so many mistakes and learnings. Just like any other course online, the Jetpack is your guide and ladder to creating your own affiliate business the proper way. But you do not just depend your success on this course. You need to read a lot of other blogs and forums online, find your own marketing strategies, stick to the ones that work well for you, then rinse and repeat the process."
Read the full thread here.
4. Does AffiloJetpack Come With AffiloBlueprint? (Forum Question)
Yes, AffiloBlueprint is one of the current bonuses for buying Affilojetpack.
You get free access to this course including the one-year free hosting for one site in AffiloBlueprint. This hosting is on top of the hosting for the 5 websites that you will have in Affilojetpack.
So technically, you can host up to 6 websites for 1 year on Affilorama. Just keep in mind, that this bonus may not be offered forever.
The AffiloBlueprint bonus is not offered in the regular AffiloJetpack sales page. You must buy through this special link to get the AffiloBlueprint bonus.
5. AffiloJetpack or AffiloBlueprint? (Forum Question)
Several members have asked which one should they buy, AffiloJetpack and AffiloBlueprint?
A response from the support team:
"AffiloBlueprint shows you how to integrate your autoresponder to your opt-in form, upload your newsletter, etc. It covers everything to do with getting started on your newsletter series. With Affilojetpack, it's different. The video lessons serve as guides instead of in-depth lessons like in AffiloBlueprint. This is because much of the site building and newsletter setup is done in the background. Unless you decide to self-host your site, everything from site setup to uploading your newsletter sequence (if you choose Fluttermail), is done for you."
So, it really depends on how much money you want to spend and how closer to self-serve do you want.
AffiloBlueprint will teach you what to do. And AffiloJetpack will do about 50% of the work for you.
Read the full thread here.
Why I Quit AffiloJetPack Review
Well, I was already using a competitor affiliate marketing platform called Wealthy Affiliate.
AffiloJetPack just did not work for my expectations compared to Wealthy Affiliate. Perhaps, you will think differently.
The Jetpack idea is FANTASTIC!
Brilliant actually.
I mean who doesn't want a done for you system to make money?!
But, when I started building out my JetPack website, here are 3 reasons why I didn't like it.
1. No Easy Website Sign In Option
With Affilorama, you have to remember the information to login into your website.
Somewhere, you need to write down the website login details needed including the link to access your website backend, username and password.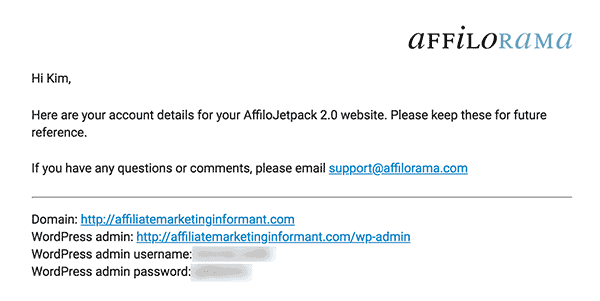 I hated this process. Because Wealthy Affiliate makes this process so much easier.
With Wealthy Affiliate's website manager, I just click a button to sign in to my website without entering any login info.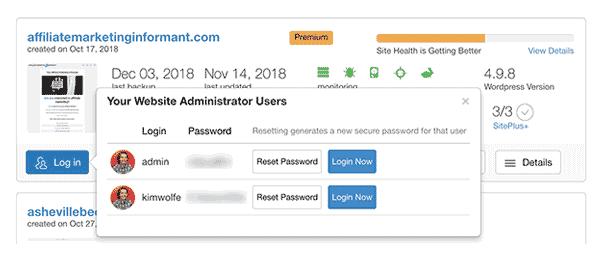 Wealthy Affiliate does that work for you.
A little feature that may seem small but makes a big difference when managing multiple affiliate websites.
2. Limited Customizations with AffiloTheme
When designing my website layout, I wanted an image to fill up the entire header.
You can't do this with AffiloTheme. I contacted support who confirmed that I had to fit within the parameters of the theme header creator system.

Since I am a graphic designer, I didn't want my headers to look small, boxy and ugly IMO.
I had a design in mind and I wanted that design. And I could not build it using Affilorama's AffiloTheme.
Although all the marketing copy will lead you to believe that you can customize the theme however you want, there are limitations to their claims.
But, the good news here is that support was extremely fast with their response.
I had this response in 24 hours which meant I did not wait long at all.
3. No Built In Commenting System
Once you build your affiliate marketing website, you need traffic for sales.
People leaving comments on your new website can help get the search engines to recognize your site which can help with website traffic.
Affilorama and AffiloJetPack do not offer a built tool or way to get comments on your website. But Wealthy Affiliate does with a very easy to use, Site Comments tool.
And I'm spoiled with this tool as it makes getting site comments super easy.
Affilorama does recommend some commenting plugin but I can't seem to find that article right now. Hopefully, I will find it soon so I can link it here.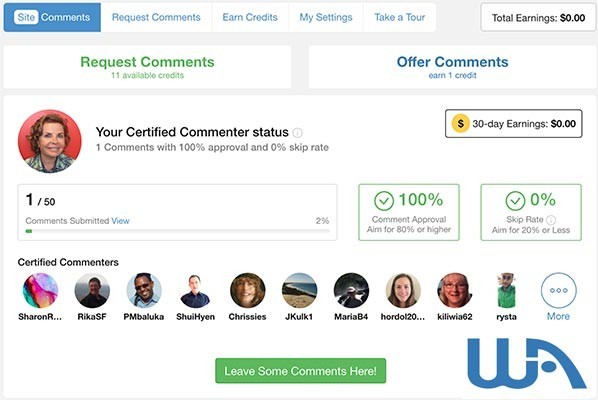 Will I Try AffiloJetpack Again?
To be completely honest, Yes.
This AffiloJetpack review provides why I quit Jetpack. But, I will try it again.
I have already paid for it. Technically, I have paid for 5 total websites.
The more I poke around in Affilorama, the more content I find to help connect the dots to make Affilojetpack sites work.
But I am an affiliate marketer. So the content makes more sense to me.
You will need to learn any training platform or software to maximize its worth.
This is part of the learning and training process. And there really is a ton of great content on Affilorama.
So, I will eventually give Affilorama Jetpack another try and possibly another review.
Should You Buy or Not Buy?
I do not recommend buying any Affilorama product or any affiliate marketing product without testing out the free stuff first.
Look:
I've been here. There is no other reason to take my advice.
It is just advice.
I recommend you make your own decision.
At the end of the day, your decisions are the one thing that no one else can take away from you.
So this decision is yours. All yours!
Your goal should be to get the most value out of whatever option you choose.
In order to get the most bang for your buck,
I suggest you follow this plan:
Start with the free Affilorama training before you buy: Introduction and Market Research.

This will give you a good feel if you think you can build an affiliate marketing website yourself or if you want more help.

If you like what you are learning, complete all 100+ free lessons at Affilorama.
Then start with the free Wealthy Affiliate training.
Complete the 10 Wealthy Affiliate lessons.
If you decide to buy a training and tool package, choose Affilorama or Wealthy Affiliate

Affilorama Blueprint $197 or AffiloJetpack $997 ($747 with discount)
Wealthy Affiliate $49 / month or $359 /year

If you decide that AffiloJetpack would the easiest way for you to get started, use my special link to get 25% off and the AffiloBlueprint training bonus.
Rather take a quiz?
Answer a few questions to find the best Affilorama product based on your answers. Try the quiz out here.
Next Steps?
Check out the free training at Wealthy Affiliate. And learn why Wealthy Affiliate gets the Best Value Award.
If you are looking for other DFY options, check out ClickBank Breaks the Internet. It costs 3x as much but does more work for you.
Got Questions?
Feel free to comment below.