Getting started as an affiliate marketer can be fun!
It can also be a complete disaster!
Especially when it comes to joining affiliate programs.
Affiliate program disasters include:
Getting your affiliate account shut down
Having your affiliate commissions held for more than a year…yea – this really happened to me : (
Not making any commissions because you promote the wrong products to your audience
So before you choose an affiliate marketing program, here are 9 things you need to know before you join!
These will keep you as a happier affiliate. And help you avoid these affiliate marketing disasters mentioned above.
1. What Taxpayer Identification Number will you Use?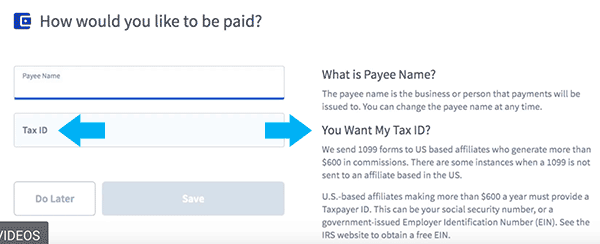 By law, every affiliate in the US must report earnings over $600 to the IRS.
In other countries, there are likely laws you need to follow, as well.
Pro tip: Research your government sites to understand your specific requirements and make sure you are legally compliant.
Because of these requirements, every affiliate marketing program requires a taxpayer identification number.
You have the option of using your:
Personal Social Security Number (SSN)
Or an Employer Identification Number (EIN)
The recommendation is to use an employer identification number instead of your social security number.
Using a business ID number protects your personal information and is a more professional step in your affiliate marketing business.
So take the time to get this in order before you sign up for any affiliate program.
Pro Tip: Once you have your taxpayer identification number confirmed, you will use this same number for every affiliate program you join. For US affiliates, request an EIN from the IRS website. (It's free : )
2. What is the Affiliate Program's Specialty?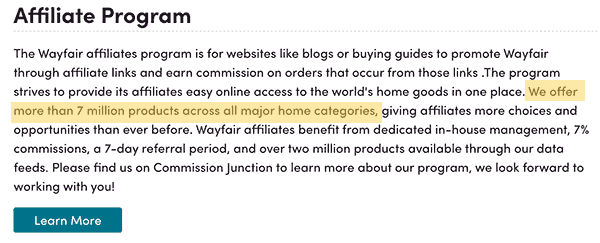 And how does the specialty align with what your website is about and what your audience wants?
Each affiliate program has its specialty of products or services they offer.
Some affiliate marketing programs offer:
Specific niche related products (e.g., Vitamix Affiliate Program specializes in promoting blenders, which usually targets the health niche).
Digital products (e.g., Clickbank and JVZoo affiliate programs specialize in selling digital products: training, software, digital templates for wealth, health, and other niches.)
Connections to millions of products through giant retailers (e.g., Amazon, HomeDepot, Target, Walmart, Wayfair, and eBay affiliate programs offer many products in a variety of niches.)
Pro Tip: Choose the affiliate program that aligns with the type of products your audience wants to know about and buy.
3. What Does it Cost to Join?
Most affiliate programs are free. But some are not.
Some affiliate programs have tiered programs where they offer lower commissions for free. And higher commissions for some type of fee.
Example #1:
Awin requires a $5 registration fee charged to your credit card.
They do this to keep fake people (also referred to fraudsters) out of the network. Because fraudsters will do anything to hide their identity.
The good news with Awin is you get your money back.
Once your application is completed, approved and the charge goes through, the money is placed in your account.
You will get the $5 back with your first commission payout, once you've made an affiliate product sale.
Example #2:
Both Wealthy Affiliate and Legendary Marketer affiliate programs have tiered levels.
With Wealthy Affiliate, you can make commissions as either a free member or a paid premium member.
However, you will receive 100% higher payouts if you are a premium member. (Which you have to pay for).
Legendary Marketer offers a similar setup.
As a pro affiliate, you can earn up to 100% higher commissions by paying a monthly fee.
If you do not want to pay for higher commissions, you can earn smaller commissions as a basic affiliate.
Pro Tip: Try out the free affiliate program tier to see if the product resonates with your audience. Upgrade to the paid tier after you get a few sales to know that you can cover the program costs.
4. How do the Commission Rates Compare?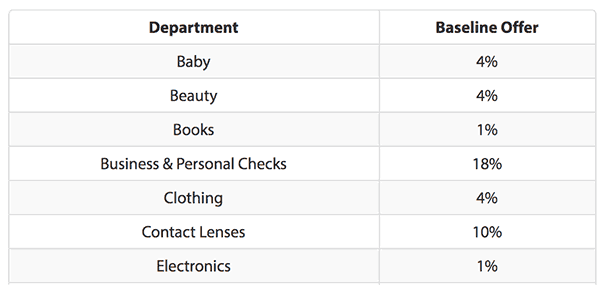 Some products can be found in multiple affiliate programs. In some cases, the commission rates may be the same.
In other cases, you may receive higher commission rates from one affiliate program compared to another.
Let's say you have a recipe website where you create healthy meals for your audience.
You could recommend the Vitamix blender as one of your must-have appliances that make the recipe creation easier.
For example, you can leverage any of these affiliate programs below to make commissions for Vitamix blender sales:
Vitamix affiliate program – 3 – 8%* commission rates
Amazon affiliate program – 1 – 4%* commission rates
Walmart affiliate program – 4%* commission rate
Wayfair affiliate program – up to 7%* commission rates
*Disclaimer: Commission rates vary per program and change over time. The commission rates listed here may be different than what you see, depending on when you join the program yourself.
(There may even be more affiliate programs that I'm not aware of…)
As you can see, your end goal is to recommend purchases of the Vitamix blender, where you will make a commission for each sale.
But you have options on which affiliate program you join to create your affiliate tracking link for the blender. (So you get credit for the sale.)
Pro Tip: Choose the affiliate program that offers you the most product referral options in one place. This will provide you with easier management of a few affiliate programs and affiliate links.
5. How Long Do You Get Credit for the Referral?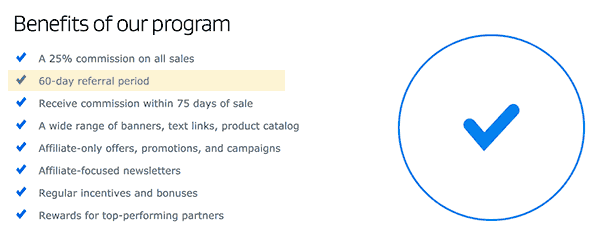 A referral period is the length of time you get credit for the sale.
Your affiliate link includes a tracking ID that links any referrals and sales to you.
Some affiliate programs refer to this as "the referral period". Other affiliate programs refer to this as "the cookie duration".
Your affiliate referrals are tracked by technology called a "cookie".
When someone clicks on your affiliate link and goes to the product you recommended, a cookie is placed on their web browser.
The cookie code sits on that person's web browser and tracks any sale to you when (and if) that person makes a purchase.
So the question to ask before joining any affiliate program is:
How long is the referral period?
How long is the cookie duration?
These time periods vary greatly across various affiliate programs.
For example:
Amazon affiliate program offers a 24 hour cookie period. But if a person adds an item to their cart, this cookie tracking will be extended to 89 more days.
So, if they buy that product from their cart within 90 days, you get the sale. If they don't buy anything or add anything to their cart within 24 hours, you get no commission.
Other examples:
Wayfair affiliate program offers a 7 day referral period
Commission Junction affiliate network offers a standard 30 day referral period
Wealthy Affiliate program offers a lifetime cookie
Pro Tip: Don't put money before your audience. It's ok to choose a program with a smaller referral period for a product (from an affiliate program) that serves your audience really well. (You will see better results if you always put your viewers first.)
6. How Many Products Can You Promote From One Program?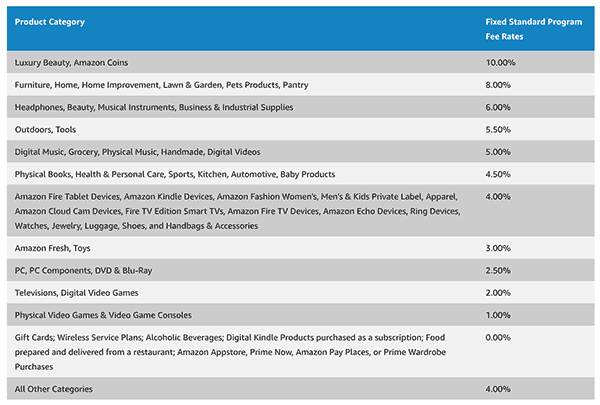 Managing affiliate programs and links can be time-consuming.
So, having the option to promote more products from one affiliate program is always a benefit.
There are two ways to tap into large marketplaces of products from one program:
1. Choose a Large Retailer
You can save time and make it easier on yourself by choosing large retailers like Amazon, Home Depot, Walmart, Target, and Wayfair.
These large retailers connect you with a large marketplace of products under one program.
Not only can you recommended Vitamix blenders, but you can also promote other blenders like the NutriBullet, Ninja, and Oster blenders.
All from one program, instead of having to sign up for and manage different programs.
Pro Tip: An easy way to promote all of these blenders is to do comparison articles and guides. Compare each blender to each other and list your recommendations (e.g., Best Buys) based on your research.
2. Choose an Affiliate Network
You can tap into very large marketplaces of different types of products through affiliate networks.
Affiliate Networks house many affiliate programs from one place.
They make it easy for any company to launch an affiliate program by providing them with the management and tracking software they need.
Pro Tip: Many of the large retailers use affiliate networks to manage their affiliate programs. Look for mentions of signing up to an affiliate network from these retailers' affiliate program pages.
7. What Promotional Tools do they Offer?

Most affiliate programs offer pre-packaged content to help you promote the affiliate offer.
Pre-designed content helps you to start promoting the affiliate product faster.
Because you do not have to think up what to say or design the content yourself.
Promotional content can include:
Banner Ads (images you can place in your headers, sidebars, etc.)
Pre-designed landing pages (done for your landing pages to link to)
Email swipe files (done for your email content to email to your audience)
Demo videos (product demonstrations to include in your reviews, blog posts, etc.)
Pre-designed funnels (usually include an email opt-in to get subscribers and a pre-recorded webinar to help close the sale)
Early access to products (to try out beforehand)
Pro Tip: Offering promotional content is pretty standard these days. If you come across an affiliate program that doesn't offer you any pre-written copy or designs, then consider how long it will take you do develop this all yourself. You may be better off choosing another affiliate program.
8. Do You Get Reoccurring Sales?

The idea behind reoccurring sales is: what happens if your referral buys something else down the road?
Do you make an affiliate commission from that sale too?
Unfortunately, there is no real standard here.
Some affiliate programs offer you continued sales. Some don't.
For example:
The Amazon affiliate program gives you credit for one sale.
If the customer goes back to Amazon at a later date and buys more products (most consumers do…), you do not get credit for those sales unless they clicked on your affiliate link before they make the purchase.
However, the Wealthy Affiliate program gives you credit for every sale that customer buys during the lifetime of their membership.
If a customer signs up for the free membership account, you get credit.
If the same customer decides to upgrade to premium monthly, you get credit for the sale.
And you will earn commissions on everything (every month or yearly membership) that the customer buys from Wealthy Affiliate.
So, how do you decide?
It really should come down to what makes the best sense for the audience you are serving.
Pro Tip: Before you commit to the affiliate program, research whether another affiliate program offers the same product with continued sales. If no and the product is a good fit for your customers, then promote it anyway.
9. What are the Terms and Conditions?
Knowing the rules is the BIGGEST area of investigation you need to do before you sign up to ANY affiliate program.
You need to read all the rules, guidelines, policies, conditions and restrictions!!!
These will be presented to you at the time of sign up.
Usually, they will make you "agree" to various agreements before you can process the request to become an affiliate.
However, you can usually find these policies before you sign up.
Search on the affiliate programs website for these details. And read them thoroughly. Even take notes!
For example:
The Amazon Affiliate Program requires that you:
Don't have your family purchase from your affiliate links. Or your affiliate account can be shut down.
Not include affiliate links in any materials other than your approved website. Or you your affiliate account can be shut down.
So you CANNOT include your Amazon affiliate links in:
Downloadable PDFs
Emails to your email subscribers
Anything other than your approved website
Read all of the Amazon Affiliate Program rules here.
Pro Tip: Most affiliate programs state that you cannot use your affiliate link to buy a product. Buying a product and getting an affiliate commission at the same time (therefore reducing the amount you paid for the product) is considered fraudulent and will get your affiliate account shut down.
How I Learned the HARD WAY (Another Example)
What happens when you don't read the rules first?
You get surprised. And usually not in a good way.
Seriously, don't take this step lightly.
I can't stress this enough, hence why this one tip is longer than the other 8 tips.
Here's how I learned this advice the hard way…(and how you can avoid making the same mistake…)
I signed up for a new affiliate program.
I was excited because I had written a review on a product that I purchased, and this affiliate program allowed me to promote the product as an affiliate.
In the review, I included my affiliate link, so if someone decided to buy the product too, I would make a commission.
This was a great idea in theory.
Here's what actually happened…
I ended up having to wait a year to get my $1000+ in affiliate commissions from the affiliate program.
Why?
Because I didn't read all of the affiliate program policy requirements.
So, I missed a REALLY IMPORTANT REQUIREMENT that prevents payment until you reach a certain number of sales.
Yep.
And from personal experience, this sucks.
And it gets worse.
Not only do you have to wait to get the commission, but the affiliate program also starts taking out $1 each month after 5 months of not cashing out your commissions.
They start penalizing you for holding your money.
But there is no way to get your money until you meet the minimum sales requirement.
(Insert more suckiness here!)
Why were my commissions held?
Because of the CDR policy, specific to the ClickBank affiliate program, I joined.

The ClickBank Customer Distribution Requirement (CDR) requires getting five unique sales from two separate payment methods before you can get paid.
The CDR policy is put in place to deter affiliates from using their accounts for the sole purpose of fraudulently collecting rebates or discounts on their own promotions.
(So it makes sense why it exists in the first place.)
As a newbie affiliate, you have to wait until you generate 5 sales because you have no history of trust with the affiliate program yet.
This rule only applies when you first sign up.
Once you make those 5 sales, the affiliate program will no longer hold your commissions.
What would I have done differently?
Had I known about this requirement, I would have adjusted my promotion strategy.
Since I relied on SEO, free organic traffic from search engines, to send traffic to this one review, I had to wait for 5 sales of this one affiliate product from this one traffic source.
(Which took me over a year since it was a high-cost product. Not everyone was interested in spending that amount of money.)
Pro Tip 1: Prepare a solid promotion plan around the requirements before you sign up for any affiliate program. You have to know the requirements before you can develop a plan around them.
Pro Tip 2: Promotional Strategy Idea #1: I could have considered adding paid ads to increase traffic to this review to get more sales faster.
Pro Tip 3: Strategy Idea #2: Another idea I could have tried is to promote more products from this one affiliate program. I could have written a series of 5 different reviews from 5 different products (under this one affiliate program.) Then it would have only taken me 1 sale per review to meet the requirements.
Conclusion
KNOW THE RULES BEFORE YOU SIGN!!!!
Affiliate Marketing is a business. An affiliate authority website is a business.
So, think like a business owner. And leverage these tips before you sign up for any affiliate program.
9 Questions to Answer Before You Choose an Affiliate Program Checklist
Use the checklist below to help you remember all the steps to ensure your affiliate marketing success. You can download the PDF to refer to again and again.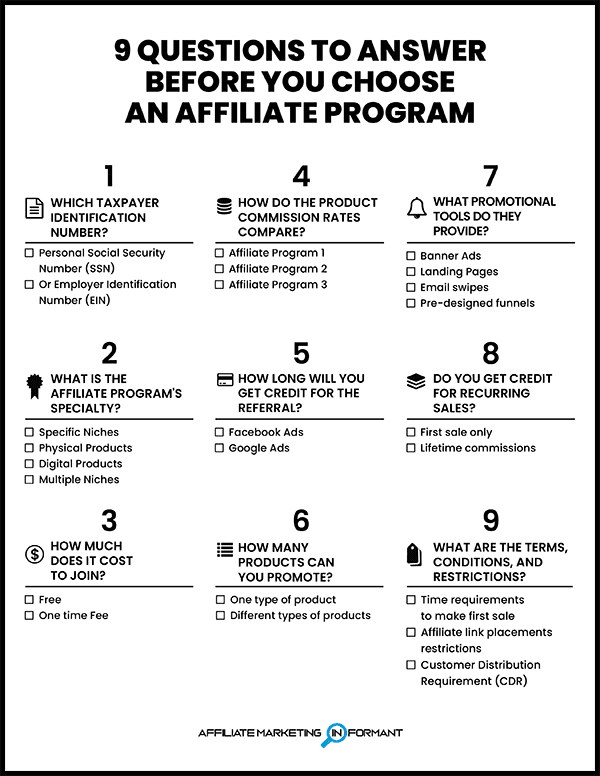 Got Questions?
Feel free to ask questions or provide tips based on your own experiences.