Heard of ClickBank yet? If you haven't, you eventually will. You can't be an affiliate marketer and not know about ClickBank. So what is ClickBank affiliate marketing? And why should you care?
What is ClickBank, Exactly?
ClickBank is an Affiliate Marketing Network.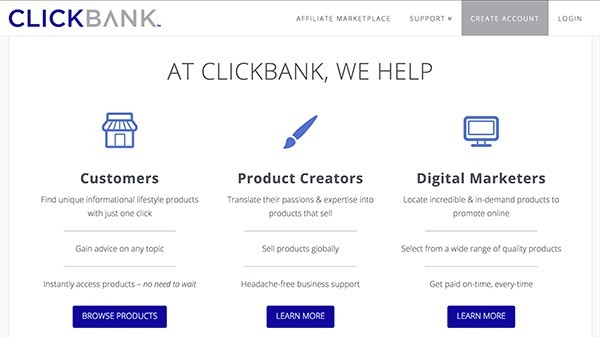 ClickBank is one of the many affiliate networks for you to find affiliate products to recommend. This network acts as a middle man between affiliates like you and companies with products.
With the help of ClickBank, you will be connected to 6 million products from one place. That is what an affiliate network does.
On ClickBank:
Customers (i.e. buyers) can shop on ClickBank directly.
Product creators can add products on ClickBank for these customers.
Affiliate marketers can promote any ClickBank product for sales commissions.
So, What is ClickBank Affiliate Marketing?
ClickBank affiliate marketing is recommending products from the ClickBank marketplace and getting paid commissions for the sales you generate. This is affiliate marketing.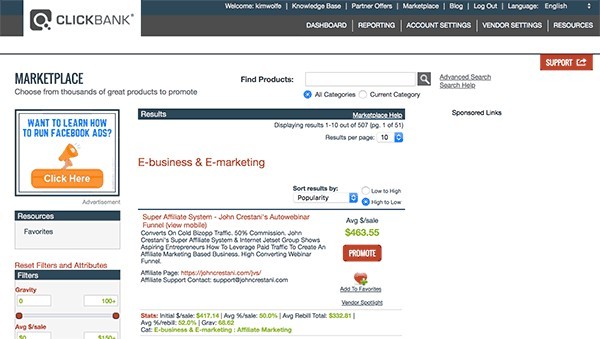 You become an affiliate of ClickBank and you promote the available products. And you just generate sales for the products. You do not own these products. You do not manage product creation or support. You recommend people buy products from other companies and then the companies do the rest.
ClickBank Affiliate Products to Promote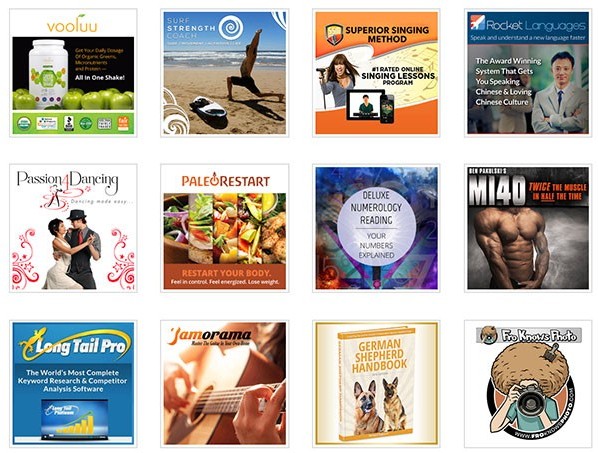 ClickBank connects you with millions of digital lifestyle products to promote. You will find products categorized into 24 different categories.
Some of the popular ClickBank product categories are:
Health & Fitness – 1,278 products
Self-Help – 831 products
Business & E-Marketing – 502 products
Business / Investing – 344 products
Betting Systems – 157 products
Some lifestyle skills you can learn from buying ClickBank products are:
Oil painting
Dancing
Playing Guitar
Excel skills
Survival Guides and Tips
Making money as house sitters
And the list goes on and on.
The way you choose which products you promote as an affiliate is by recommending products that target your focused niche.
Related: What is a niche for affiliate marketing?
What Makes ClickBank Unique?
Every affiliate network is unique in its own way. Whether it is the types of products the network promotes or how high the affiliate commission rates are.
Here is what makes ClickBank affiliate marketing unique.
Sells Digital Lifestyle Products
What makes ClickBank unique is that they sell digital lifestyle products. Digital lifestyle products are products such as ebooks, software, and membership programs that focus on lifestyle niches such as getting fit, buying cooking healthy recipes or getting dating advice. You can find physical products too like healthy protein shake mix. But ClickBank is known for its large selection of digital products.
High Affiliate Commissions
ClickBank offers high affiliate commissions to you as the affiliate marketer. Commission rates average 50 – 75% of the total purchase price. Also, some ClickBank products are reoccurring with a monthly fee. Monthly subscription fees mean you get a percentage of the monthly revenue as well. The maximum commission you can earn on a single sale of a ClickBank product is $150.
Commission Rate Comparison
Affiliate commissions on ClickBank are high compared to other affiliate programs. With ClickBank products, you can make up to 75% maximum commission on a product sale. Compared to Amazon's affiliate program which only offers up to 10% maximum affiliate commissions.
How Much Does it Cost to Join ClickBank?
If you are joining ClickBank as an affiliate, ClickBank is completely free to join. You will pay no fees to promote products from the ClickBank Marketplace of products.
Where do the ClickBank fees come in?
You only need to pay money if:
You are adding a product to sell on ClickBank, as a product creator.
Or you purchase a product from ClickBank, as a customer.
For product creators, you can leverage the ClickBank network to connect you with sales of your products. After some initial setup fees, you will pay ClickBank 7.5% of each product sale you incur through the network.
For customers, you just go to the ClickBank Marketplace and shop their products. When you buy a product, you will enter in your payment details like would buy from any other website.
Is ClickBank safe to use?
There is a bit of debate on whether ClickBank is safe to use or not. The answer depends on who you ask.
If ClickBank was an outright scam, then this network would not be around today. Our consumers do not tolerate businesses that do not deliver. So, ClickBank is not a scam.
But back to the original question, is ClickBank safe to use? Once again, it depends on who you listen to.
Poor Ranking on TrustPilot
ClickBank has a 2-star review (out of 5 stars) on TrustPilot.com. The latest reviews complain about unsatisfactory experiences with ClickBank. Out of 8 reviews, 88% give ClickBank a bad rating and only 13% give a good rating. Consumers complain about terrible customer service, bad website usability, and unexpected charges.
Poor Ranking on Consumer Affairs
ClickBank only has two 5-star reviews on ConsumerAffairs.com. Out of 145 reviews, ClickBank's total rating is 2.5 stars. The latest reviews complain about unexpected charges and horrible customer service when buying products from ClickBank. You want to watch out for selling crappy products. This will hinder your brand and reputation.
Successful Affiliate Promoters
Then you have very successful affiliate marketers like Gael Breton of Authority Hacker and Mark Ling of Affilorama who highly recommend ClickBank affiliate products. However, they both will tell you there are crappy products on ClickBank. As with any product you promote as an affiliate, you need to thoroughly research every product you decide to recommend.
For finding good ClickBank products to promote, you will look for:
Good product reviews.
High gravity score (signifies products that convert well).
And low refunds.
The reality is crappy products are everywhere. Not just ClickBank. Research every product you buy or promote!
Can You Make Money from ClickBank?

Yes. You can make money from ClickBank.
You can make money promoting any affiliate products. Regardless of whether the products are on ClickBank.com, Amazon.com, Walmart.com HomeDepot.com, Target.com,
Once again, the key is to only promote quality products. If you recommend good solutions to people's problems and drive traffic to those products, you can absolutely make money. That is the beauty of affiliate marketing.
And ClickBank offers higher commission rates than other programs, which allow you to make more money on the sales you refer.
How do You Become a ClickBank affiliate?
To become a ClickBank affiliate, you just sign up! At no cost to you.
You will create an account and provide some information about yourself, your website and where they should send your affiliate commissions to.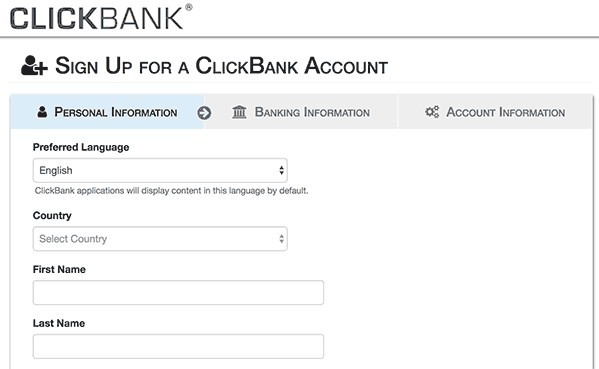 Here is what the ClickBank signup process looks like:
Sign up for a ClickBank account

accounts are free for affiliate marketers

Enter your personal information

Your name, where you live, your language preference, etc.

Enter in your banking information (and tax ID information if you live in the US)

You need to tell ClickBank where to send your commissions

Account information

Your Clickbank username and password login info

Start finding products to promote
And that's it. The sign up process is quick, easy and straightforward.
How To Promote ClickBank Products
The way you promote products on ClickBank is by creating HopLinks. A HopLink is just a link with the product destination and your affiliate link. A HopLink is what tracks the sales from you vs. another affiliate marketer.
You use these ClickBank HopLinks to track your affiliate sales. When someone clicks on your HopLink, payment will be disbursed to the product creator and the commission will be paid to you as the affiliate.
To create HopLinks, you just:
Choose a product you want to promote
Use the HopLink to generate your specific HopLink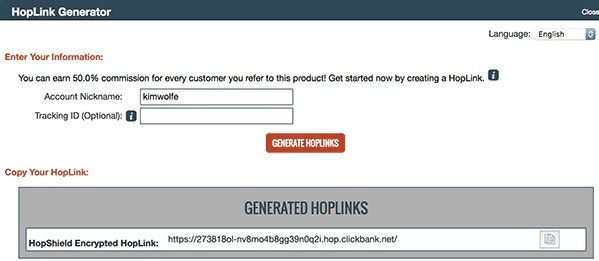 ClickBank Affiliate Resources
The good thing about ClickBank is their investment in resources. As an affiliate, ClickBank provides helpful guides for you.
Here are a handful of helpful resources to help you along your ClickBank affiliate marketing journey.
Got Questions?
Hopefully this helps answer the question, what is ClickBank affiliate marketing!
Feel free to leave comments or ask questions below.