If you already have a website, leveraging affiliate marketing is a great way to add more revenue. It's a great way to make money online because you don't have to create your own products. But how do you do this? Here's how to sell affiliate products on your site with ways that work in 2020.
This is part 1 of a 3-part series on how to make affiliate marketing work for you. 
How to sell affiliate products on your site (You are here)
How to Sell Affiliate Products on Your Site in 2020
BE SURE TO DOWNLOAD THE FREE PRINTABLE CHECKLIST BELOW
1. Figure Out What to Sell
Before you figure out how to sell affiliate products on your site, you need to figure out what to sell. The best way to decide is to understand what products your audience wants. Your audience is much more likely to buy what you have to offer if you sell products that interest them.
To figure out which affiliate products to sell, clearly define:
What your audience wants
The problems they want to solve
The best types of solutions for their problems
2. Set Yourself Up as an Affiliate
Once you define who you are selling to, then you can move to the next step of how to sell affiliate products on your site.
Step two is become an affiliate. 
Here's what the affiliate setup process looks like, step by step.
Here are the steps explained in more detail.
Research Affiliate Programs
There are hundreds of affiliate programs for you to choose from. Take the time to research your options. 
It's important to choose affiliate programs that offer the best products for your audience. Also, choose programs with fair commission rates and longer tracking times. E.g. 30 days, 60 days, etc. The longer the tracking period, the more time you have to make affiliate commissions.
This is an important step. For more info, check out these 9 Questions to Answer Before You Choose an Affiliate Program.
Sign Up to Affiliate Programs
Once you find a program with good affiliate products for your following, you are ready to sign up.
Start with one solid program or network. Sign up. Get your affiliate account setup. Don't make the mistake of signing up for 100's of programs at once. You want to get your affiliate links from the first program implemented on your site. 
Once you've completed the steps for one program, you can add more affiliate programs over time. 
Add Your Affiliate Links to Your Site
Once you are approved, you become an affiliate of your chosen affiliate program. 
Congrats on this step, BTW! It's a great feeling when you get accepted into an affiliate program. You become an exclusive club member with other affiliate marketers. 
This is the step where you get a special link. This link is for you, and only you. Every affiliate gets their own, unique links so companies know who's selling what. 
Your link is the only way you make affiliate commissions. Otherwise, someone else gets the commission. You don't want that to happen!
Disclose Your Affiliate Links
If you are an affiliate in the United States, you must disclose that you use affiliate links to make commissions. These guidelines are set by the Federal Trade Commission (FTC). This organization strives to protect you as consumers of businesses. 
Per the FTC, you need to display a message on every page that includes affiliate links. You also need to have an affiliate disclosure on your site. 
You can get fined if you do not follow the rules. For all affiliate marketers outside of the US, check your local government's rules.
If you need help finding disclaimers to use, check out these affiliate disclaimer examples.
Earn Affiliate Commissions
Once you have your affiliate links and disclaimers on your site, you are ready to start earning commissions. Yippee!
3. Choose On-Site Promotion Methods
At this step three, you are ready to start promoting. The ultimate goal s to make as many sales as possible. But you can't be too promotional or too salesy. That's the quickest way to NOT make sales. 
If you want to increase sales, you need to be strategic on how you promote your affiliate products on your site.
In reality, there are "101" different ways to do this. To make this easy for you, here are 11 of the most common methods used by pro affiliates today.
11 Ways to Sell Affiliate Products on Your Site
Product Reviews
Product Reviews are one of the most popular content strategies for affiliate marketers. Reviews are highly searched for because they are designed to help people make an informed decision before they buy. 
And reviews tend to convert pretty well because people searching for the reviews are actively seeking a solution. They are closer to the buying stage than someone who is just starting to do research.
A good product review will be honest and list out the pros, cons, and opinions of other people who have used it. And it will include your affiliate link for people to buy the product from your affiliate link 🙂
Check out some of my product reviews here. My Affiliojetpack Review has made me four figures! (That's just one product review folks!)
And if you really want to get fancy. You can use WP Product Review to make your reviews look prettier than mine 🙂
Product Comparisons
Product Comparisons are a type of product review. But instead of reviewing one product, you compare similar products to each other. The ultimate goal of a Product Comparison is to help someone buy the right product for them. 
Once again, product comparisons are popular for affiliate marketing because they work. People who search for these types of reviews are farther down the research phase. They are usually really close to buying. They just need some final peace with the product they want to buy.
The two most common types of product comparisons either:
compare two similar products 
or offer short many reviews on 5 – 10 similar products
The latter is referred to as a "roundup article".
Once again, you will include your affiliate links in these. Whether you just mention two products or 10. Affiliate link. Affiliate link. You get the idea. 
How-to Articles
How-to articles are another popular place to include affiliate links on your site. I mean, how recently did you use the internet to figure something out. I personally do this daily. Probably 20 – 30 times a day. 
How-to articles are in-depth tutorial guides. They help someone solve a particular problem. 
These guides are very detailed and strive to be a valuable source of information. And when the content solves the problem, the consumer is more likely to buy your recommended solution included in the content. 
An example is the how-to article you are reading right now. If you found this from search, it was because you wanted to know more about selling affiliate products on your site.
Notice, I did not write some light, fluffy, unhelpful content. My goal was to help you understand this topic in full detail. And show you exactly what steps you need to take.
Pro Tip: Include the same affiliate product throughout multiple how-to posts. Doing this reduces the number of affiliate programs you have to manage. But you do need to make sure your product is relevant to your content. Example: Don't recommend a baby stroller in content that shows you how to build an affiliate website. Instead, recommend products that support the topic of your content.
Embed YouTube Videos
YouTube videos embedded in content work well because they provide people with an engaging way to learn. They tap into different senses and emotions than reading. And, videos help people stay engaged on your content longer. (Which Google loves BTW!)
The way to use videos in your content is to embed them within your product reviews. And product comparisons. 
Videos work well in this type of content because they show a product (or products) in action. Through videos, people understand the product better. And get to know you better. 
The more they learn of your product expertise and knowledge, the more they will trust you. The more they trust you, the more likely they will buy what you have for sale. 
Link Your Images
Images are an effective way to communicate. People tend to process emotions from images faster than blocks of text.
When you include images in your site content, link them to your affiliate product link. However, be sure to only do this when appropriate. 
The most common linked images are product photos. It's natural to include a product image and link it to an affiliate link to buy it.
Include Coupon Codes
Everyone wants a good deal. "Product Name + Coupon" searches are on the rise. Why not incentivize your audience to buy from your affiliate links. Instead of someone else's.
Including coupon codes with your affiliate offer, will do just that. They make people want to buy from your link, because you are giving them a good deal. 
Look for special coupon codes you can use from your affiliate program. If you don't see any special offers, reach out to the company and ask. Companies are usually very supportive of affiliates. They want affiliates to succeed so they (the company) succeed. 
Add Banners to Your Site Sidebar
Adding affiliate product banners is one of the "oldest tricks" in the book. Using your website sidebar to call attention to special affiliate products you are promoting. 
The sidebar provides ample space to put whatever you want. In every case, sidebars are used to find content they may not find otherwise. 
Although sidebars are a great place for navigation menus, they are an even better place for affiliate product promotions.
Create a Resources or Tools Page
A resources or tools page is another common tactic. It's simply a page with a list of helpful resources and tools for your audience. 
The typical format is to list a product or tool name, an image and brief description on why you like. Then include a link to the product using your affiliate link.
Do this over and over again where you have listed 5 – 10 useful products or tools listed. All with your affiliate links. 
Then link your resource page in prominent places on your site. Like your main header navigation bar. 
In many cases, resource pages have been known to generate thousands of dollars for the site owners. 
Create an Affiliate Store
Creating an "affiliate store" is a more advanced technique. 
You simply create a page (or whole site) where you have a bunch of product images listed. Like a shopping catalog page you'd see on Amazon or any other online retailer. Each product is linked to your affiliate link. 
It's the same idea as what Amazon does. It's just a page with multiple affiliate products on it.
But, you don't have to deal with the product shipping or support. Because you are not actually managing the process. You are just referring your audience to other companies to buy 🙂
An affiliate store page takes more work to set up. You will want to use a page builder or a plugin like WooCommerce.
Use Bridge Pages
You can create a special bridge page to help sell more affiliate products. 
A bridge page is a web page that comes before the affiliate product sales page. These pages bridge the gap between your audience's problems and your affiliate product solution.
The purpose of a bridge page is to prepare your audience for what to expect when they go to the next page. These types of pages work well because they warm your audience up to what you have to offer. Before you send them to the offer.
Free Downloads
You can add affiliate links inside free downloads from Your site. These are used as lead magnets where you exchange a free download for an email address. 
Free downloads are a great place to include your affiliate links. Write helpful content. Provide tips to solve some of your audience's problems.
Pro Tip: Confirm your affiliate program allows you to include affiliate links inside downloads. Some affiliate programs, like Amazon, do not allow this. Learn more about the Amazon Affiliate Program here.
And that is how you sell affiliate products on your site. Do one or all of these recommendations and you'll be well-positioned to make affiliate sales.
How to Sell Affiliate Products on Your Site Checklist
Use the checklist below to help you remember all the steps to ensure your affiliate marketing success. You can download the PDF to refer to again and again.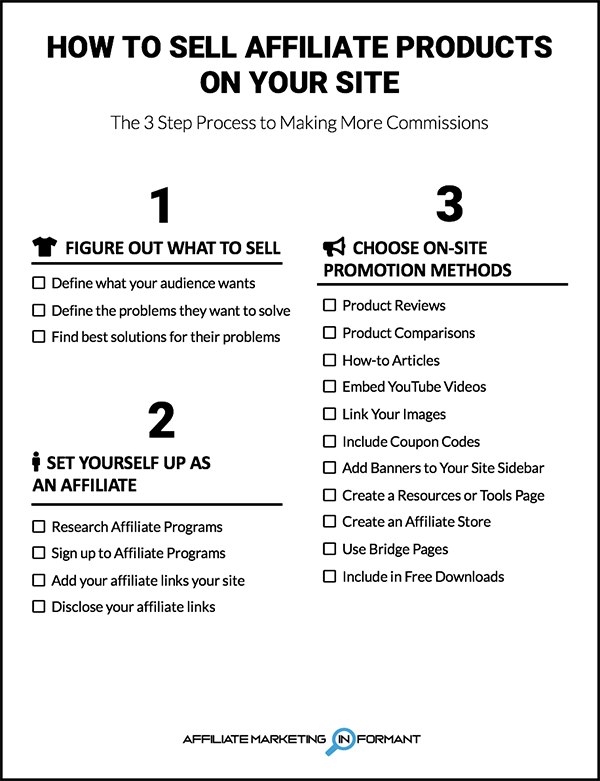 Questions?
What do you think of this how to article? Did I answer all of your questions and set you on the right path to get started? Comment below and tell me about it.