If you are looking to achieve success with affiliate marketing, you are in the right place.
This is part 3 of a 3-part series on to make affiliate marketing work for you. 
If you haven't read part 1 or part 2 yet, go read those first.
How to succeed in affiliate marketing (You are here)
Before you focus on these affiliate marketing tips to succeed, you should have:
Affiliate products set up your on-site so you are ready to promote them
A few traffic sources chosen to drive traffic to your affiliate offers
Once you've done these affiliate marketing steps, you are ready to succeed with affiliate marketing.
Here are 17 tips you need to know to be a successful affiliate marketer. 
How to Succeed in Affiliate Marketing 2020
1. Treat it Like a Business
Affiliate Marketing is a business. Not a hobby.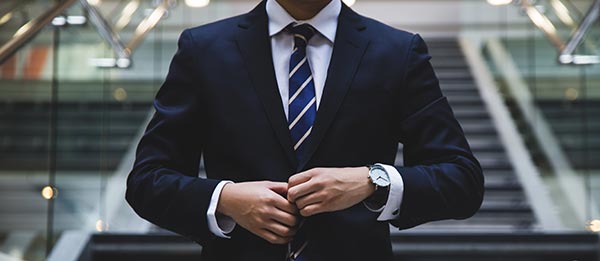 Treating affiliate marketing as a business is the only way you will succeed as an affiliate marketer. 
When you take your online business seriously, you will be more likely to:
Tips for succeeding with an affiliate marketing business:
Stay away from quick fixes (not usually legit)
Understand traffic doesn't happen overnight unless you pay for it
Know that a quality business takes time
2. Forget about Magical Overnight Solutions
Forget about magical overnight solutions. 
Magical successful overnight solutions with no work don't exist. Despite the many claims you see on every affiliate marketing technology solution.
If you are only looking for overnight solutions, affiliate marketing is not right for you. 
Don't Chase Unrealistic Dreams
You will lose money buying cheap products that promise you overnight success. And you will be no closer to success than the day before you bought the product. 
You will just have less money than the day before because you wasted it on a silly product.
Once you forget about magical overnight solutions, you can:
Focus on what affiliate marketing is really about…helping.
Provide valuable information to help people who are seeking helpful information
Build trust with people over time who you will be more likely to buy your recommendations
Learn advanced strategies over time where you can make 4 or 5 figures at a time
3. Put Your Audience First
Always put your audience first. Always.
That's what every successful business does. 
It's no different from succeeding in affiliate marketing.
When you put your audience first, you will always: 
Add value first
Recommend a solution as a second value add
Build trust which will lead to sales over time
4. Be Human
Don't forget to be human.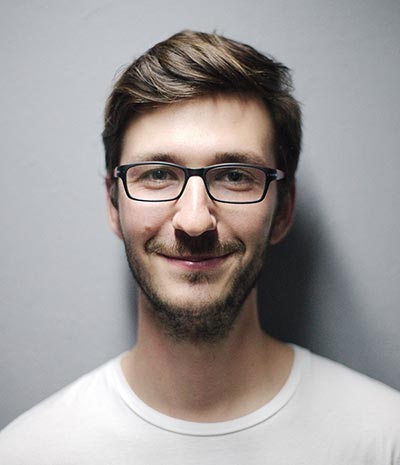 You are a person. Like no other person on earth. 
Your personality, differences, imperfections, and stories are powerful in affiliate marketing. 
They are what set you apart from every other affiliate marketer out there. 
Your humanness is what people will relate to. It's what they will connect with. 
Remember to be a human affiliate marketer so you will:
Incorporate relatable experiences into everything you create
Tell personal stories that people will relate to
Gain people's trust because you are human
5. Only Recommend Valuable Products 
Don't recommend just any products as an affiliate marketer. (This is what gives affiliate marketing a bad reputation.)
Only recommend products that help your audience solve specific solutions. 
This is the only way you will succeed as an affiliate marketer in the long run. 
Otherwise, people will not buy from you again if you sell them a crappy product the first time. 
Don't recommend:
Crappy products to your audiences
Unrelated products to what your audience wants
Products you wouldn't use yourself just to make a quick buck
Tips to make sure you only recommend valuable products:
Would you recommend the product to your friends? If no, don't recommend it to your audience
Would you use the product yourself? If no, don't recommend other people use it just so you make a commission (i.e. bad affiliate marketing)
See if the product owner offers free trials or products to try it out before you recommend it
Get Unstuck With This FREE 12 Step Action Plan For Affiliate Marketing =>
6. Offer Content With High Value
Write great content that helps your target audience. This is considered as offering high-value content. 
Content that helps people understand a specific topic is a good start. Content that goes above and beyond to help your audience is considered valuable. 
Offer quality content to people and those people will remember you later. Quality leads to trust and trust leads to income when it comes to affiliate marketing.
Tips for offering highly valuable content:
Answer your target audience's questions clearly and thoroughly
Include actionable steps to solve a problem 
Incorporate real-life examples and success stories
7. Use Real Case Studies
Incorporate real case studies and usage examples in your content. 
Case studies add to the value of your content and your reputation as an affiliate marketer. 
Because they give people inside views of how the product works and the results it can produce. 
People are not just looking for product features and price information. They also want to know how the product helps other people. 
They want real use case examples and life examples. Case studies are great for showcasing how a product really helps people out. 
Tips on how to incorporate case studies in affiliate marketing content: 
Create your own case studies by using the product yourself 
Share other people's experiences if you don't use the product yourself
See if the product owner has case studies you can incorporate into your content
Look for customer testimonials displayed on the main product page
8. Start with One Traffic Source First
How to get traffic for Affiliate Marketing mentions 13 popular traffic strategies. All used by successful affiliates today.
Don't focus on all 13 when you are just starting out. Always focus on one traffic source at a time. 
Get it going. Learn to automate it. Then add in another one. Repeat steps.
Otherwise, you may become overwhelmed and lose focus on the quality of traffic.
Tips to succeeding with traffic sources:
Start with one traffic source that interests you the most
Learn the ins and outs of how the traffic source works
Master it without distractions
Don't try to learn every traffic source at once
Estimate 3 – 12 months to build each traffic source (depending on the traffic source) 

Some sources like social media may provide faster results 
9. Only Focus on Quality Traffic
Quality traffic is a must. 
You need quality traffic to build a long-term business. If the traffic isn't quality, it's not worth your time and effort. 
Quality traffic is the only traffic that will bring you sales as an affiliate marketer.
So, watch out for "fast traffic" promises. Fast traffic options are not usually high quality.
Sometimes these traffic sources can do more harm than good. 
Tips for focusing on quality traffic only:
Do not spam links on blogs, forums, FB groups

This tactic usually provides very low conversion rates or results and can upset blog owners. Then you ruin any chance of potential blog collaboration and/or guest posting opportunities. 

Do not buy cheap traffic

This type of traffic is usually not quality traffic. If the people are not interested in what you have to offer, it won't provide affiliate sales. 
10. Build a Website
Not every affiliate marketer thinks you need a website. But I do. 
I've tried the "no website" strategy which entails creating a simple landing page. These are called one-page websites. 
One-page websites have no long term content value. They are used as a way to capture email addresses. 
You give something away from free. 
Collect mails. 
Sprinkle your affiliate offers within the email campaign. 
Then use paid traffic to drive email signups which lead to your affiliate sales. 
My 5 paid campaigns have been a bust so far. No sales.
I've personally made more affiliate commissions from writing good content that gets ranked in Google. Like the content you are reading right now.
A website is the best way to build a long term business. Because they build up your credibility. 
Writing continuous content on a subject makes you a subject matter expert. 
They establish you as someone who knows what you are talking about in a specific topic area.
Build your website traffic up enough, and sell it for a profit. (Yep, people buy affiliate content websites all time.)
Tips for succeeding with an affiliate website:
Publish quality content on your website often (5 – 20 times a month)
Rank content in search engines for traffic (SEO)
Use website to capture email addresses so you can build your own email list (and your own personal community)
Create specific bridge pages to affiliate offers for traffic sources that do not allow direct affiliate links
Create ad retargeting audiences from your website visitors
11. Add Star Ratings to Your Google Search Results
Adding star ratings to your search results is a popular strategy to get more clicks on your content. 

Since you are not the only affiliate marketer online, more clicks are always a good thing!
Star ratings are commonly used for product reviews. These ratings distinguish your product review from every other product review.
The stars add a visual element that prove to capture more attention and drive more clicks. You can add other ratings like point and percentage ratings too. 
Good product reviews can make you thousands of dollars. (That's my personal success story.)
Tips for succeeding with rich snippets and star ratings:
Use a WordPress plugin like WP Review, to create rich results with star ratings to your ranked posts in Google. 
12. Create Catchy/Grabbing Headlines for Your Content
Your headlines matter. 
The title headline you use for Google. And the post headline you use on your website. 
If your headlines are boring, people will not click to read your content. 
If people are not reading your content, they are not seeing your value added affiliate offers. 
If no one is buying from your affiliate links, you are not making any affiliate commissions. 
So you need to create headlines that engage viewers to read your article. Headlines can make or break your content and affiliate sales. Don't take this step lightly. 
Tips for creating attention grabbing headlines that get more clicks:
Know your audience's pain points, emotional triggers and desired outcomes
Use Kickass Headline Generator to generate catchy headline ideas
13. Cloak Your Affiliate Links
Affiliate links can be long, as they contain a bunch of numbers and unique identifiers.
Cloaking your affiliate links is a way to make them shorter, more appealing, and easier to share. 
Cloaked links allow you to:
Incorporate your brand names
Make the links short and catchy for social media
Manage within affiliate cloaking tools available to you today
Cloaked affiliate links keep you looking professional, branded, and organized.  
Tips for cloaking your affiliate links:
Incorporate your website URL for building your brand
Keep the links short and to the point
Manage cloaked affiliate links with Pretty Links or Thirsty Affiliate
14. Promote Multiple Affiliate Products (more than one)
There is no limit to the number of affiliate products you can promote. So, promote multiple affiliate products that will solve your audience's needs. 
Promoting multiple affiliate products helps your audience out. And adds additional revenue streams for you. 
Keep in mind that multiple affiliate product links require management. 
The more products you promote, the more you need to keep track of. Example: each affiliate product requires its own cloaked affiliate link.
The more affiliate programs you join, the more programs you will manage over time. 
Tips for succeeding with multiple affiliate products:
Only promote products that are relevant to your website topic and your audience needs
Setup one affiliate product at a time
Don't join too many affiliate programs, will get hard to keep track of over time
15. Diversify Affiliate Link Placements
Diversity the placements of your affiliate links. 
This just means to put your affiliate links in multiple places. Doing this maximizes the visibility of your affiliate offers and increases the amount of commissions you can make.
There are so many places you can include your affiliate links today. Part 1 and Part of this series covers many of these options. Or see a short quick list below. 
Tips for succeeding with diversified affiliate links:
Include your affiliate links multiple places for maximum visibility
The places include (but are not limited to):

Product Reviews
Website Sidebar Banners
YouTube Videos
Social Media Posts
Email Campaigns
Free Downloads
Your Email Signature
16. Offer Special Bonuses
Offer special bonuses with your affiliate offers. 
Bonuses are a great way to encourage people to buy from your affiliate links. And not others. 
Bonuses help make your affiliate offer stand out from the crowd and increase your sales. 
They can be anything that helps your customers get results faster. Some good example bonuses are:  
Templates
Cheatsheets
Free Training
Case Studies
Tips for succeeding with bonuses:
Offer complimentary & high quality bonuses
Make them unique to your offering to make your offer better than others
Include things that help your customers get results faster (Saving them time is a great motivator to buy from your link!)
17. Be Active On Social Media
Social Media can be a great way to drive traffic to your affiliate offers. But only if you are active. 
First, decide which social media platforms are best for the people you are trying to reach. Then create your accounts and make them part of your regular routine.
Unfortunately, just having an account, page or group is not enough. 
Tips for succeeding with affiliate marketing on social media:
Only focus on 2 – 3 platforms in the beginning
Pick the correct platforms for your audience and industry
Be consistent and post regularly (e.g., daily, weekly, etc.)
Use content curation tools to easily push content to social
How to Succeed in Affiliate Marketing Checklist
Use the checklist below to help you remember all the steps to ensure your affiliate marketing success. You can download the PDF to refer to again and again.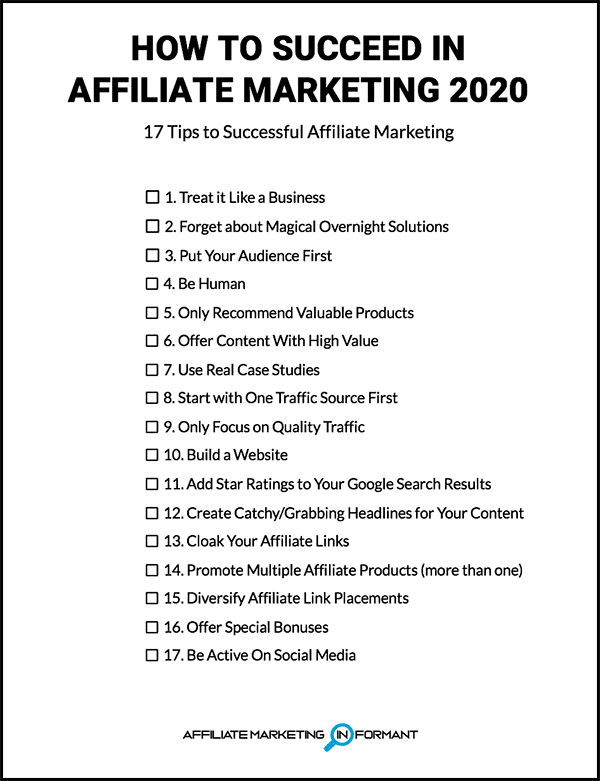 Get Unstuck With This FREE 12 Step Action Plan For Affiliate Marketing =>