What is the Amazon Affiliate Program exactly? And why should care?
With the number of affiliate programs available online these days, no program is more well known than the Amazon Affiliate Program.
Officially called the Amazon Associates Program, the affiliate program for Amazon is one of the largest independent affiliate programs that exist today.
It connects you and every other affiliate marketer to more than 500 million products to promote from one place.
Just about any product. In any niche.
Although the Amazon Affiliate Program works the same way as other affiliate programs do, Amazon has its own rules you need to know about.
This what is the Amazon Affiliate Program review will break everything down for you, so you avoid surprises and worst-case scenario, getting your affiliate account shut down.
Here is everything we will cover here for you:
What is Amazon?
Well, Amazon really needs no introduction.
I mean, Amazon is responsible for disrupting the retail industry with the ease of online shopping and 2-day shipping.
They are the reason many large onsite retailers have closed stores, reduced overhead, and some have even gone out of business.
Amazon is also the reason you can get 2-day shipping from retailers including Walmart and Target. Because Amazon has set such as standard in how we shop today.
Amazon was founded in 1994 as a web-based marketplace for books, before expanding to the sales of electronics, apparel, software, gadgets, toys, food, furniture and more.
Today, Amazon is a technology company that powers the internet with e-commerce, cloud computing, digital distribution, retail, artificial intelligence, and consumer electronics. 
It was founded by Jeff Bezos and is currently headquartered in Seattle, Washington.
The company is also popularly known for its subsidiaries, namely, Amazon Prime Video, Amazon Music, Amazon Publishing, Audible, Amazon Studios, and Amazon Web Services.
What is the Amazon Affiliate Program?
The Amazon Affiliate program is officially called the Amazon Associates Program.
Amazon Associates was one of the first online affiliate marketing programs launched in 1996.
Simply put, it is the program that allows anyone, you and me, to recommend anything on Amazon.com for a commission of the sale.
This process makes you an affiliate. Basically, a referrer of what to buy on Amazon.
Joining the Amazon Affiliate Program taps you into millions of products to promote. Which makes Amazon one of the largest affiliate programs today.
Most in-house affiliate programs do not offer this number of products from one program. Only affiliate networks can tap you into these many products.
Amazon is often referred to as an affiliate network. (Which connects you to a bunch of products from one place.)
The Amazon Affiliate Program is great for bloggers, website owners and specialists who can recommend specific types of products and brands from Amazon.com.
This makes Amazon a desirable program for both new and professional affiliates.
And it's probably one of the easiest to join and be accepted.
However, Amazon does have a lot of rules you must follow as an affiliate.
Break any of these rules and your affiliate commissions can be suspended. Worst case scenario, your affiliate account can be shut down.
Amazon DOES HAVE a reputation for banning and closing affiliate accounts once they violate agreements set by the company.
(This can cost you a lot of money if Amazon becomes you a good revenue stream for you.)
And every product commission is not created equal. There are tips to follow when deciding which products to promote from Amazon.com
We'll review all of the restrictions and tips you need to know about later in this article.
Amazon Affiliate Program Overview
Product Name: Amazon

Affiliate Program: Amazon Associates Program

Program Cost: Free 

Commission Structure: 1-Tier

Commission Rate: Ranges from 0% to 10% depending on the product category

Commission Payout Source: Direct Deposit, Gift Certificate, Check

Affiliate Tools: SiteStripe, Product Links, Banners, Link Checker, Product Advertising API, Link Your Account (Associate Central), OneLink, Link Builder for WordPress Plugin

Promotional Collateral: Yes

DFY Sales Funnels: No

Affiliate Bonuses: No

Who is it for? Great for anyone just starting to learn affiliate marketing and who wants to build an Amazon affiliate website. (It's a good entry affiliate program to get into.)
Amazon Affiliate Program Introduction
To get a feel for the Amazon Affiliate Program, check out this video tour to see how you can earn as an associate (aka affiliate).
What Makes the Amazon Affiliate Program Unique?
If you are a seasoned marketer, you know that affiliate marketing programs offer a single product or brand to promote.
In some cases, the affiliate program may branch out to other products of the same company.
This is where the Amazon Affiliates Program differs from the others.
One of the Largest Affiliate Programs Available Today
It's one of the largest affiliate product marketplaces under one single affiliate program.
As an Amazon associate, you get the chance to promote over 500 million products from Amazonz.com.
Using your personal Amazon affiliate link, you just refer people to buy from your link. (No need to build custom product pages, landing pages or that havoc.)
Once the link from your website generates a click, that user is automatically redirected to the Amazon website or an Amazon seller's page within the platform.
Then, the user you brought to the Amazon website can just read off the professionally written product description and legit customer reviews to help them decide which product to purchase.
Great for Beginners
This is also one of the reasons why the Amazon Associates Program is great for beginners in affiliate marketing.
It's very straightforward.
You just need to follow the operating agreements set by Amazon, and you're good to go.
Also, the Amazon Affiliate Program supports hundreds if not thousands of niches.
Related: What is a Niche in Affiliate Marketing?
This means that you are bound to find products and services to market that would perfectly fit your business or personal niche.
It's even better if you have more than one website with different niches because you can find everything on Amazon.
And you can leverage your same affiliate account for all of your different affiliate websites.
How Does the Amazon Affiliate Program Work
The Amazon Affiliate Program works when you publish your unique Amazon link on your website.
It may either be a link the redirects your reader to Amazon's landing page or to an Amazon affiliate seller's product page.
Either way, you earn a commission once the user you redirected to the Amazon webpage makes a successful purchase. Or you even have a chance to make a commission when the person adds an item to his or her cart.
This is only a general explanation of the process.
Here's how the Amazon Affiliate Program works step by step:
Say a reader visits your website and clicks on your Amazon Site link.
That user will automatically be redirected to an Amazon page where he may either make a direct purchase or add an item to his cart to be checked out at a later date.
You would think that automatically entitles you to a commission, right? Well, not yet.
According to Amazon's operating agreements, you will be entitled to a commission if a user who clicks on your Amazon affiliate link makes a purchase within 24 hours.
It doesn't matter if the customer purchases a different product from what your affiliate link is promoting.
If it falls within the 24-hour timeframe, it will count towards your commission.
You have to keep in mind, though, that the session ends once the customer finalizes the purchase.
So, if that same customer buys something else in the future, that is no longer part of your affiliate sales.
At the same time, the session ends if a reader from your website re-enters the Amazon platform using someone else's affiliate link.
Another way to earn as an Amazon Associate is through the Add to Cart button.
This works when a customer clicks on your affiliate link and instead of directly purchasing a product within the 24-hour session decides to Add to Cart instead.
You will earn a commission if the customer finalizes the order within 90 days from the time they clicked your affiliate link.
It's important to note that you won't be entitled to additional commissions if a customer adds another item to their cart along after the first 24 hours.
This is unless, of course, they click on your affiliate link once more.
Amazon Affiliate Program Tools & Features
Being a tech company, it is no surprise that Amazon has many tools you can use as an affiliate. After all, your goal is to capitalize on their money-making strategies.
These are some of the tools and features you can take advantage of when you join the Amazon Associates Program.
SiteStripe
The Site Stripe toolbar allows you to easily add links and get a quick view of your Amazon earnings. It gives you access to the links of any Amazon product page and lets you capture the link directly from the page you are viewing. It also permits you to build short links from the toolbar.
Site Stripe also enables you to post to your Facebook and Twitter pages with a link to the Amazon page without having to exit the platform.
Product Links
Within the platform, you can generate links to a specific Amazon product as well as additional information about the item. On the upper left side of a product page, you can find options for product links whether you prefer to get a text link, an image link, or a link for both text and image. You also have the option to choose the size of the image — small, medium large — to display on your page.
Easy Links is also another way to enhance the product links on your website, especially if you want to include product previews for your readers.
Banners
The Amazon Associates Program has a repository of promotional materials that all affiliates can peruse. These banners contain links to various Amazon products and categories but in the form of stylish graphics.
You can select from a variety of standard banners and sizes all guaranteed to be consistent with Amazon's branding guidelines. There are also special occasion banners such as Mother's Day, Back to School, or Black Friday.
Product Advertising API (PA API)
Product Advertising API is for more advanced advertising where you include product descriptions, images, pricing, reviews, and suggestions for similar products.
With this tool, members of the Amazon Affiliates Program gain real-time access to several product attributes as well as searching and sorting functionality.
Link Checker
The Link Checker tool basically checks your links and verifies that a URL is properly linking to Amazon.com and that it is tagged correctly. This ensures that you are earning through your Associate ID or Tracking ID when users click on your link.
OneLink
Amazon's OneLink tool is greatly beneficial for marketers who have international readers because it redirects your Amazon links to the user's local Amazon marketplace. Say you're based in the US, for example, and a user from Japan clicks your link, that reader will be redirected to Amazon.co.jp.
A challenge with OneLink would be if the product is not available in the user's locale. What you can do instead is set redirect preferences to Close Match or Exact Match. Better yet, check if a product is available in certain geographies by entering the URL in OneLink's "Check matching products" section.
OneLink also automatically localizes the shipping information, so plus points for your website.
Link Your Accounts (via Associate Central)
The Link Your Accounts resource was actually designed specifically for the Associate Central, which you can use to link your Amazon Affiliate account across a variety of geographies. This also lets you maximize the use of the OneLink tool, which redirects a user to their local Amazon page.
Link Builder Plugin for WordPress
Amazon Affiliates whose websites are built on WordPress would benefit greatly from the official Amazon Associates Link Builder WordPress plugin.
More than just a tool to build HTML shortcodes for your content, it also helps you build and display more complex content such as image carousels and product grids. Plus, you can add real-time geo-targeted product info on your content even without advanced coding skills.
Amazon Affiliate Program Requirements
As with other Affiliate Programs, there are certain rules you must keep follow if you want to make money from the Amazon Affiliate Program.
Know Before You Join. The Amazon Agreements you must follow:
You can't incentivize people to buy through your Amazon link 

You can't offer bonuses, rebates, cashback, discounts, points, donations to charity, or other incentives, or by stating that customers can support you by shopping through your Special Links.

Customer must buy within 24 hours for you to get credit for the sale

Only 24 Hour Cookie
Purchase must be made within 24 hours upon clicking your link
Or 90 Days if they Add to Cart

You need to make sales in 180 Days or your Affiliate Account will be closed

Amazon requires at least three within the first 180 days
This happens all the time
Don't join the Amazon Affiliate Program until you are ready to ensure traffic and sales to your links
If you are account gets shut down, you simply request to re-open it

You can't include prices in your content unless you use the API

The prices on Amazon fluctuate often
So, you must use the API to always pull the latest price

Make sure that your link redirects to the official Amazon.com website
You can't include your Amazon affiliate links in email, eBooks, PDF downloads or anything other than your website

Your Amazon agreement only approves you to use links on your approved websites

Do not purchase using your own Amazon link

Try to avoid making purchases from the computer where you set up and manage your Amazon Associates account

Make sure your website has original content

Amazon recommends at least 10 posts that are publicly viewable
Your site will be checked by the Amazon team before your affiliate application is approved

Never design your website to look the same way as Amazon does—not even the same layout and color because they will view this as a violation
You are only allowed to have one Associate account

You can use the one account to use links across multiple websites (as long as they are approved by Amazon)

Don't promote on social media unless through the SiteStripe tool

All promotions must be made through your website

Don't promote potentially offensive products nor to children under the age of 13
Follow Amazon's trademark policy, especially with your logo and domain name
Don't manipulate or alter the Amazon cookies
These are the most important requirements for Amazon Associates. To keep your account from getting banned, make sure to follow these rules.
It's also important to note that after your first three sales, Amazon will conduct a quality check of your website.
Be sure that there is nothing that violates their affiliate rules lest you put your account at risk of closure.
Amazon Affiliate Program Frequently Asked Questions
How do I become an Amazon affiliate marketer?
It's super easy! To become an Amazon affiliate marketer, you simply have to sign up here: Amazon Associates Program. The process begins by submitting a complete and accurate application. In this application, you must identify your website and make sure that it contains original content. A team from Amazon will then evaluate your application and notify you if your website is suitable for the program or not.
What percentage do Amazon Affiliates make?
Amazon Affiliate earnings vary depending on the category of the products that were sold through your affiliate link. The rates can be as low as 0% for gift cards, 1% for physical video games and gaming consoles and, up to as high as 10% for Amazon coins and products in the luxury beauty category.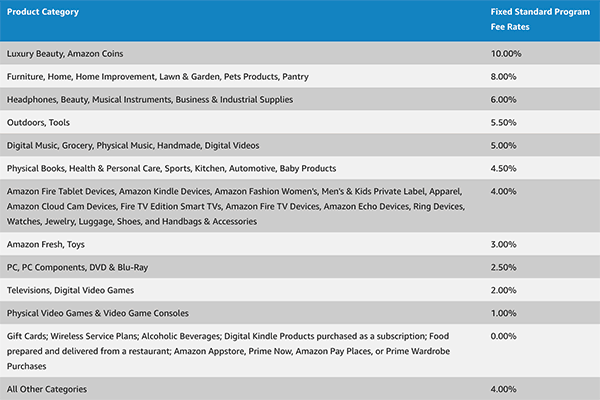 Pro Tip: Try to choose products with 4% or higher commission rates, to make this worth your while. Also, try to promote higher priced items, say $100+ which will give you a bigger commission.
Can you make money as an Amazon affiliate?
The simple answer is yes.
Being an Amazon affiliate does not guarantee commissions. No affiliate marketing program will give you this guarantee.
But if you are asking if you can earn a lot, that totally depends on how much you traffic you drive to the Amazon affiliate products on your website.
Amazon Affiliate Program Pros & Cons
Pros:
It's free to become an Amazon Associate
You can always renew your account if canceled
Over 500 million products to choose from
A great platform for affiliate newbies to get started and learn from
Cons:
Limited sales due to affiliate competition
Low commission rates
Strict policies to follow
Account cancellations happen all the time
The Best Training for Building Amazon Affiliate Sites
There are great affiliate marketing training options to learn how to use the Amazon Affiliate Program.
Here are two of my favorites:
Wealthy Affiliate
Wealthy Affiliate will teach you how to build Amazon Affiliate websites. Wealthy Affiliate comes with training, website hosting and built-in tools to make the process easier. You will also get a built-in community support system that is better than having to access an external Facebook Group. Wealthy Affiliate comes with a free trial so you can try it out before you buy completely free. I joined Wealthy Affiliate 3 years ago, and haven't looked back since.
How to Save $5,624 with Wealthy Affiliate
The Authority Site System by Authority Hacker
The Authority Site System is another great option. You will learn how to build Authority Websites leveraging the Amazon Affiliate program. The trainers behind this affiliate marketing training program have sold authority websites for mid 6 figures.
Got Questions?
Just ask them below.
Today is YOUR day. Make it count.