If you want to become an affiliate marketer, I have found an affiliate marketing free full training for you. This free full training course will teach you how to start affiliate marketing and how to grow your affiliate marketing business to make more sales and commissions.
Full Free Affiliate Marketing Training
Features: 100 Training Lessons with Video Tutorials and Reading Material
The Free Affiliate Marketing Lessons is the most free full training you will find in one place. Comprised of 8 training sections and 100 lessons, this training will run you from A – Z of affiliate marketing. Each lesson features a video along with supporting content, links, and resources to help you learn the affiliate marketing topic.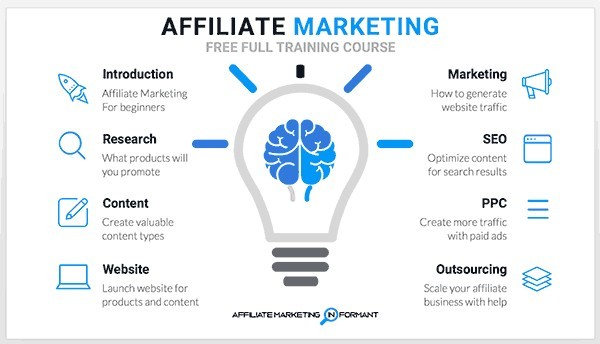 What do I like about this free training?
Pros: This is a full free affiliate marketing training course. No credit card required : )
I have not found this much detailed free training (100 lessons) inside one platform, anywhere else. You will learn everything from the beginning basics of affiliate marketing to advanced marketing strategies which help you scale your affiliate marketing businesses and make more money.
What I don't like about this training?
Cons: Some of the training is very old. You will learn outdated practices in some lessons.
I want to be completely upfront with you now, at the beginning of this post. And not the end…
This free training offers some outdated content and strategies. So the risk here is that you will learn some outdated practices for affiliate marketing, website building, and traffic generation.
I'm not saying this to detour you from taking this affiliate marketing full free training. This free training contains plenty of good content, along with the old content. This is the price you pay for getting this training completely free. The advantage of paying for affiliate marketing training is the content is frequently updated so you learn current strategies and practices.
To help you understand what content is current and what is not, I call out the outdated content areas in the sections below.
What Affiliate Marketing Skills Will You Learn
The full free affiliate marketing training contains 7 detailed sections:
Start your free affiliate marketing training here.
Free Training 1: Affiliate Marketing Introduction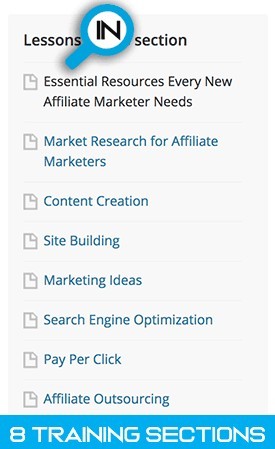 The first section is affiliate marketing training for beginners. Learn how to get started in affiliate marketing with these 9 free training lessons. This introduction training will introduce you to what affiliate marketing is, how affiliate marketing works and many reasons why you should become an affiliate marketer.
You will learn how to identify affiliate websites and see real-life affiliate marketing website examples, affiliate product examples, and affiliate link strategies. The goal for you is to learn how they make money from affiliate marketing, so you can apply similar strategies yourself.
You will also be introduced to affiliate networks, learn how to find affiliate programs to join and how to use affiliate links to track your sales, and ultimately your commissions. This section gives you ways to do affiliate marketing without a website. This is a frequently asked question from beginner affiliate marketers.
I personally recommend a website over anything else. Your online affiliate website is your owned and controlled storefront accessible to every connected internet user around the globe, 24 hours, 7 days a week.
Free Training 2: Market Research for Affiliate Marketers
The second section of this free affiliate marketing training full course contains multiple lessons about research. This is where you will learn how to determine what topic your affiliate website is about, what products you will promote and who you will promote to.
These free affiliate market research training lessons will teach you what is a niche for affiliate marketing, how to find a profitable niche for your affiliate website and what you need to consider before deciding on a niche. You will also learn how to perform keyword research which is important for providing valuable content to your target audience.
My favorite lesson in this section…
One of my favorite training lessons is how to find good affiliate products on ClickBank. ClickBank is one of the many affiliate marketing networks you can join to find products to promote. You will learn how to navigate through ClickBank's gravity filter feature to find good affiliate products to promote.
Free Training 3: Content Creation and Marketing
The third free training section is about creating valuable content for your niche. Content marketing is a type of marketing where you create valuable content to help your target audience of people.
You will learn why content marketing is important in the affiliate marketing world today. You will also learn how to incorporate different types of content marketing such as regular blog posts, ebooks, videos, white papers, infographics, email newsletters, podcasts, how-to guides, etc.
Overwhelmed with the writing challenge? This section will cover how to get content for your affiliate website, even if you are not a writer. You will learn you how to create product reviews (don't underestimate the power of reviews!) and write winning email subject lines that get opened. The ultimate goal is to write compelling sales copy so you get sales.
The 7 Steps To Improve Conversion Rates lesson will train you on how to improve your conversion rate (% of people who take the desired action you want). Improving conversions makes sure you get as many sales as possible. Ultimately, you want to have website traffic and sales. But if no one is buying your affiliate products, then you have no sales or conversions.
Start your free affiliate marketing training full course here.
Free Training 4: Website Building for Affiliate Marketing Websites
This fourth section will teach you about creating affiliate marketing websites. This training offers information on website builders, website hosting providers and how to set up the structure of your affiliate marketing website.
[Warning: Outdated training]
The information provided to you about building websites is way more complicated than it has to be. The suggested website builders are hard to use and outdated. I mean what affiliate marketer recommends Dreamweaver? Definitely NOT me!
Most affiliate marketers today, use WordPress as their website builder. Including myself. And you can find shared website hosting deals that will allow you to host up to 25 websites on one plan. (You need website hosting to make your affiliate website accessible on the internet.) The information in this section is very old, outdated and does not reflect the website builders or hosting options available to you today. (When was this training created? Apparently ages ago…)
The Anatomy of a Web Page lesson explains how to code your website pages in HTML. This is way TOO technical for beginner affiliate marketers. HTML is the code that makes up all pages on the www, world wide web. Despite this training lesson, you do not need to know HTML to build websites today.
Some good lessons in this training section are: What to Look For in a Hosting Provider, how to find a good domain name and a trick for making your affiliate links pretty.
So just skip over the technical stuff and learn the basics of what it takes to get an affiliate marketing website up and running.
Learn the website process through my own up-to-date training: how to create a website for affiliate marketing. No HTML required!
Free Training 5: Marketing Strategies and Website Traffic Ideas
The fifth free affiliate marketing training section will teach you how to drive traffic to your website with marketing and content strategies. This training will introduce you to blogging, email marketing, and social media marketing.
The blog training lessons cover why you should blog as an affiliate marketer, how to start blogging and how to write a blog post. You will also learn the different ways to monetize (aka make money from) your affiliate marketing websites. Including links to affiliate products is just one of several ways you can make money.
The email marketing training lessons cover how to incorporate email campaigns into your affiliate marketing strategy. (This training section is pretty good : ). You will learn the different ways to set up your website for email, how to build a list of people and how to develop a relationship with your email subscribers. The #1 Newsletter Strategy lesson will deep dive you into the 6-part mini-course email marketing strategy. This strategy is very popular and widely used by affiliate marketers today.
The social media lessons will teach you how to leverage Facebook and Twitter for your affiliate marketing promotions. You will learn how to set up a Facebook page, how to optimize your Facebook page for searches and how to direct your Facebook traffic to your affiliate products and offers. The Twitter lessons cover how to do these same strategies with Tweets and your Twitter followers.
Free Training 6: Optimize Your Site for Search Engine Ranking
The sixth free training section is about optimizing your affiliate marketing website for search engine results. SEO, Search Engine Optimization, is one of the most popular website traffic strategies today. This training section will introduce you to affiliate marketing SEO and the importance of search engine optimization for your affiliate website.
You learn the difference and importance of on-page and off-page SEO. You will learn how to optimize content on your website and outside of your website. You will also learn how to get backlinks to your website which helps your website rankings within search engines.
The Top 6 On-Page SEO Factors lesson covers how to optimize your page content for the maximum ranking potential, how often to use your keywords and how to leverage headers and images as key SEO elements. The 4 Areas of On-Page SEO to Tweak on Your Site lesson covers additional optimization strategies for you to do.
After you understand affiliate marketing SEO, download my handy dandy SEO page optimization checklist. Use the editable template to help you remember the steps you should take to optimize every piece of content on your website.
Start your free full affiliate marketing training course here.
Free Training 7: Pay-Per-Click Advertising
The seventh free training will teach you about Pay-Per-Click (PPC) advertising. You will learn how to leverage advertising to help drive more traffic to your affiliate website. This free training will introduce you how to to do PPC for affiliate marketing.
This training will dive you into the cost of pay-per-click advertising, the different types of ads you can buy and how to place Google Ads. The Writing and Placing Google Ads lesson details the process for creating your ad campaign, setting up the budget and designing the actual ad in Google.
You will also learn how to track your ad conversion rates, how to write Google Ads for better conversions and how to design specific landing pages for the ads. One thing to note – this free training recommends The Squeeze-Style Landing Page strategy which gets you banned from Google Ads. The other landing page strategies are ok.
Free Training 8: Affiliate Outsourcing
The eight and final section of this Affiliate Marketing Free Full Training will help you learn how to scale your affiliate marketing business.
You will learn how to outsource tasks to help you grow your affiliate websites faster. You can hire people to write your blog posts, design your content marketing pieces and do the tasks that you may not be able to do all by yourself.
The Introduction to Outsourcing lesson will suggest Upwork and Fiverr as popular options to find help. (I personally hire content writers from Onlinejobs.ph. I can point you to a very good training on how to hire help successfully on OnlineJobs.ph. Just comment below if you are interested.)
Our Top Tips for Hiring lesson will cover tips for finding the "perfect worker" to make sure you find the right fit for you and your affiliate marketing business.
Start your free affiliate marketing training here.
+ Free BONUS Guide
Free Affiliate Marketing Quick-Start Guide
If 100 free training lessons were not enough, you will also get access to the Quick Start Affiliate Marketing Guide. All you need to do is sign up for a free account here. Once you confirm your email address, you will receive this free guide by email.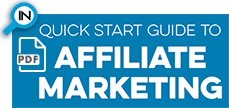 The 32-page Quick Start Guide to Affiliate Marketing will highlight the 4 steps to building a successful affiliate website, tips for succeeding as an affiliate and what affiliate marketing pitfalls you need to avoid.
Conclusion
I hope you enjoyed this post. And thanks for stopping by! I think you will see this is a very extensive free training on affiliate marketing. Happy learning!
Sign up to get your free bonus guide now. (You will also get instant access to these 100 free training lessons : ) What are you waiting for?
Got Questions?
Just drop them below : ) Or just enjoy this infographic 🙂