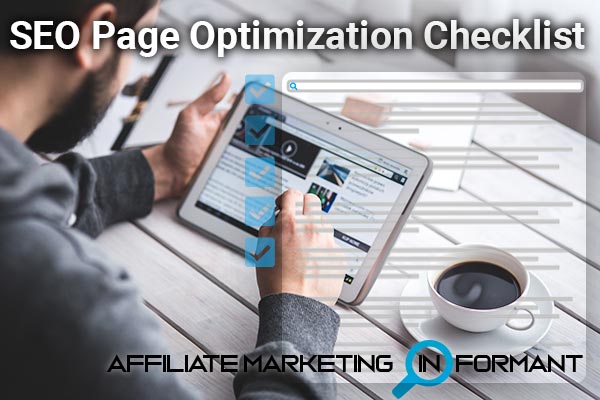 When it comes to executing affiliate marketing, you should always use a SEO Page Optimization Checklist to optimize your website content.
SEO is one of the most important affiliate marketing strategies for beginners.
So I created this handy checklist guide and SEO Page Optimization Checklist templates (at the bottom of this article) to help you along your affiliate marketing journey.
Before we get to your reusable templates…
First, lets talk about the importance of SEO and what content you should optimize.
Rankings = Traffic = Sales Opportunities
The ultimate goal of Search Engine Optimization (SEO) is to rank your content in search engines.
All search engines want you to optimize your content for people. You want your content to show up when a person searches for information and help. This will bring traffic to your website when those people click on your content.
Today, people are searching many places. Not just on Google, Bing or Yahoo.
People are searching for information on many places including: YouTube, Pinterest and Quora.
These people are not just looking for something to read.
They are looking for visual sensory images and instructional videos to aid them solving their real life problems.
So when it comes to your SEO page optimization checklist strategies, it is important to optimize all of your words, images and videos.
Not just your content, titles and descriptions.
Watch this 3 minute video to learn how search engines work:
Importance of On Page and Off Page SEO

Effective search engine optimization happens on and off your post page.
This means you will plan for both:
On page SEO – optimize the content on your page or post.
Off page SEO – optimize outside of page or post.
With each optimization category, they have their own steps to help rank your content for specific keywords.
Combine all of these steps for an effective page optimization strategy.
SEO Page Optimization Checklist
There are 14 steps to take with each piece of content.
Here is your SEO checklist to follow for every page you create and publish.
Do these steps consistently for each page or post and watch your content rank for search traffic.
---
On Page SEO
Pro Tip: Read this full guide to understand what you need to do. Then leverage the PDF and Google Doc SEO Page Optimization Checklist below.
---
The components of an on page SEO strategy are:
1. Target Keyword
A keyword is a word or multiple words that focus on a specific topic.

Keywords are what people type into search engines every day.
People type in words related to the topic of the information they are looking for and the problem they want to solve.
The way you build up content for your search results is to write on a topic using a keyword that people are searching for.
You use keywords in your content strategically in various places throughout your content to tell the search engines what your content is about.
Target keyword checklist:
1 keyword (topic) per post or page
Keyword in first paragraph
Keyword in 1 headline
Write the rest of your content naturally – don't overuse keywords
2. 2,000 Words (Or More)
2,000 words are more is how much content you should write for each post.
A blog post is a way to add fresh content to your website and target searches happening on search engines.
In order to use blogging for search engine optimization advantages, you need to publish long and high quality content.
You should aim for 2,000 words or more explaining your topic in great detail.
You will hear some affiliate marketers get better rankings with 3,000 – 5,000 words.
Writing 2,000 – 5,000 words is easier than you think.
Simply break down a topic into 5 sections at 400 words each to get 2,000 words. (5 x 400 = 2,000).
Or break down a topic in 10 sections at 500 words each to get 5,000 words. (10 x 500 = 5,000).
If you use WordPress, Blogger or some other content management system (CMS), then you have the ability to easily create website pages and posts.
Content length checklist:
2,000 words or more
Really explain your topic in detail
3. Page or Post Title
The page or post title is the headline that shows up within your page or post.
Your website title will usually start with a headline that tells users what they can expect from your content.
Titles can also be displayed on blog roll pages.
Use the title as your headline to describe what the content is about.
You want to include keywords in your page title. You also want to start your headline with those keywords.
You can add related words to make the headline enticing to click on it.
Page or Post Title Checklist:
Write captivating headline to make a person want to read your content
Include keywords – Start your title with the keywords if possible
4. URL
The URL is the Uniform Resource Locator to your page or post content on the web.
The URL is simply the web link to your content.
https://www.lifewire.com/meta-title
You want to include keywords in your URLs.
This helps confirm what the page is about along with other important SEO and content elements within your content.
URL Checklist:
Keep URLs short and to the point
Include keywords only in URL
5. Meta Title
The meta title is your content title that appears within search results.
This is the headline of your page, post or YouTube Video.
You want to tell people in a captivating way, what your page or post is about. You need to phrase this title in 60 characters or less.
Include 1 keyword in your title along with additional relevant information.
You can make your meta title the same as your page or blog post title.
Or you can make this title completely different because they appear in different places.
Meta Title Checklist:
60 characters or less
Include keywords – Start your title with the keywords if possible
Get people's attention to want to click on your content
6. Meta Description
The meta description is your content description that appears in within search results.
This area displays below the meta title and describes what your content is about. (As shown in the Meta Title image above.)
Tell people what they can expect to learn if they decide to read your content.
You need to write this description in 160 characters or less.
Meta description checklist:
160 characters or less
Include keyword in the first sentence
Tell readers what they can expect to learn
7. Internal Links
An internal link is a link that points to another relevant page or post on your website.
The idea is to offer your readers supporting information for the current content.
You only want to include links to content that is related to the content they are reading.
Internal links checklist:
1 or more links to other pages or posts – I personally strive for 4 – 5 per post to be resourceful on the topic
Use keyword related anchor text – use keywords related to the internal article within the link text
8. External Links
An external link is a link that points to other websites and blogs.
These links look exactly the same as internal links. The difference is where they take the reader to.
External links take people to supporting content on the web, outside of your website.
The idea with external links is to continue offering value to your readers.
You want to back up what you are saying by including other resources.
So every post should contain at least 1 link to an outside source.
Common websites to link out to include Wikipedia, other thought leaders in your niche, and statistics sites like Statista and eMarketer.
External links to other sites is referred to as backlinks.
You are helping these other websites by giving them a backlink from your site.
Using keywords in external links is not important.
Because whatever words you use benefits the website you are linking to, not yours.
Just use the website name so your readers know what the link is about.
External links checklist:
1 or more links to an external website or resource – I personally strive for 1 per post
Keyword in the anchor text is not important – just use the website name
Bonus points: Ultimately, you want to strive to write content that people want to link to your website for. Search engines like backlinks which can help improve your rankings over time.
9. Image Filenames
Images are important visual elements of your web content today.
These visuals help reinforce what you are talking about utilizing our sense of sight to aid in our comprehension of your topic.
However, there is an additional benefit to optimizing your images for SEO.
Images have the power to rank in image search engines like Google Images.
When someone clicks on your image, they will be taken to your website post or page where the image lives.
A common mistake is to include an image with a default file name.
An example is:
Image-2018-01-27-at-2.55-16-PM.png
This is a missed opportunity to explain what your image is about and increase the potential of ranking for your keywords for image specific searches.
A better use of the file name would be:
Image-Filenames-Example-SEO-Page-Optimization-Checklist.png
Notice how I said what the image is about and included the keywords for my post that the images are part of.
You simply save your image file with your keywords. Then upload that named image file to your page or post content.
Naming your images is no different from naming your blog post title and your SEO meta title.
You want to tell Google and your readers what your image is about.
This simple strategy expands the reach of your content to be found in specific image search engines.
Pro Tip: You can't have spaces in your image names. The internet browsers do not translate spaces. Spaces actually break the code and prevent the search engine from reading your information. When saving saving images to be uploaded to the internet , connect all words with hyphens or underscores.
Image Filenames checklist:
Describe what the image is about in the image file name
Include keywords in your image name
Connect all words with a hyphen or underscore – your web browser doesn't translate spaces
10. Images with Alt Text
An image with alt text allows your images to be read by text-only browser and visually impaired site visitors.
Screen readers read out all text on a web page.
The imager Alt text allows anyone to understand what the image is about without seeing the image.
Alt text also increases the potential of ranking images for specific keyword searches.
Image with Alt text checklist:
Describe the image in Alt Text
Include your keyword
Spaces are ok – a screen reader will read out all the words with spaces ok
11. Embedded Video
An embedded video is a related YouTube video that is included within our content.
Videos keep people on your content longer which helps with ranking.
The longer people spend on your content, the more search engines will recognize and consider your content good content to show to other people searching for your topic.
And Google owns YouTube which is why it is important to link content to each search engine.
You want to find a video on YouTube that you can embed into your content.
Just grab the embed code from the video share options and place into your content.
You don't need to create videos just to have inside your content.
You can include a video that was created by someone else.
You do want to make sure the video is related to your topic.
Embedded video checklist:
Embed 1 YouTube video
Make sure the video is relevant to your content
12. Request Comments

A comment is when someone comments on your page or post content.
Comments are great engagement activity on your content.
They signify interest and interaction with your content which is a good signal to send search engines.
Comments also add more relevant content to your page which adds more words to your content length which helps your rankings.
In the end of your content, ask people to leave comments on your blog posts.
You can easily ask a question to encourage people to leave answers as comments.
Be sure to thank anyone for leaving comments and answer any questions they may have asked you.
You can find tools that help generate comments like SiteComments.
Request comments checklist:
Ask for comments – include at the bottom of your post
Reply to comments in a timely fashion
Off Page SEO
The components of an OFF PAGE SEO strategy are:
13. Request Indexing

Indexing is the ability to request a search engine to add your content to its database.
The idea is to let Google and Bing know when you have added new content.
Everytime you create a new page or post, you want to request Google and Bing to index your new content.
You request indexing by submitting your new URL in Google Search Console or Bing Webmaster Tools.
Request indexing checklist:
Request Google to Index URL – Search Console Inspect URL
Submit URL to Bing – Webmaster Tools Submit URLs
14. Share Content

Sharing content on sources like email and social media are a good way to expedite traffic to your pages.
If your site is new, it may take some time for your content to rank for search engine traffic.
Sharing your content to people you are connected with is an easy way to increase traffic to your website.
Ideally, you want people to share your content with other people.
There are many places you can promote your content: Google+, Facebook, Twitter, YouTube, Pinterest, etc.
Choose a few strategic places to share every page and post.
Share content checklist:
Google+ – until April 2019 (Google Plus is shutting down)
Facebook – Share on your personal page or a business page for your website
YouTube – Share your video if you created one for your content
Free PDF Download & Template
Use these templates for your SEO page optimization checklist.
Got Questions?
Feel free to leave a comment or question below.
If you want to learn more, join me at Wealthy Affiliate. I access daily trainings and tools for website building, monetizing my sites with affiliate marketing, advanced SEO strategies and so much more!