Thanks for checking out my AffiliateESY Review.
If you follow other affiliate marketers for training and advice, then you may hear about the latest product launch for AffiliateESY by Uddhab Pramanik.
Here's what you need to know about AffiliateESY before you buy:
Why you should run from this product, fast and far away!
The product claims that are misleading and not really true
2 Reasons why this review site will never get free traffic from search engines
I cover everything you need to know in this AffiliateESY review! Now, let's get into it.
AffiliateESY Review Overview
Product Name: AffiliateESY

Product Creator: Kumar, Uddhab Pramanik & Akshat Gupta

Product Categories: DFY Affiliate Website, WP Plugin

Product Objective: Helps you create an affiliate marketing website on WordPress by creating affiliate product reviews for you.

Price: $17 – $368

Upsells: Yes. 3 Upsells: AffiliateESY Pro, AffiliateESY Agency License, AffiliateESY Masterclass Edition

Who is it for: It targets complete beginners who want to get into affiliate marketing.

Skill Level: Complete Beginner

Recommendation: No. Quality is low. See below more details below.

Would I Buy it: No. Not worth it.
What is AffiliateESY?
AffiliateESY is a DFY (Done-For-You) Affiliate website builder.

It creates a WordPress Affiliate website and comes with 30 pre-created reviews installed on your site.
The pre-created reviews focus on the Make Money Online (MMO) niche and are all affiliate products available on ClickBank.
If you were to use AffiliateESY to build your affiliate website, you would be promoting products targeted to online marketers. And anyone who wants to make money online.
AffiliateESY Claims – True or False?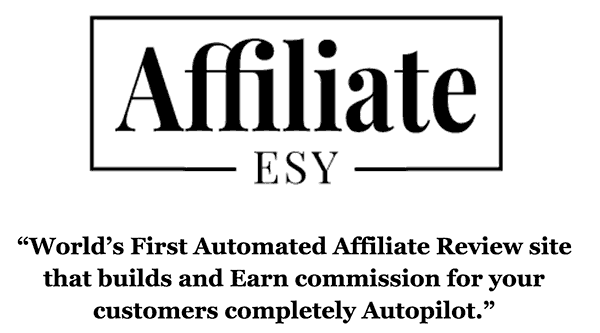 World's First Automated Affiliate Site
Verdict: False
These DFY affiliate website builders are a dime a dozen. There are 100's of these products available today. A new one is being released on WarriorPlus every other day.

Other "automated affiliate site" builders just like AffiliateESY are AffiliBuilder (Not worth buying), AffilojetPack, InstantGuru, ClikBank Profits, and hundreds more.
Get Consistent Traffic and Sales on Autopilot
Verdict: False
The content is not original so it won't be ranked in search engines to get free traffic. The product reviews are low quality. These reviews are not enough to convince a person to buy the product. Especially, when it costs $1000.
Keep reading to see a review comparison example. (Hint: My original review is much better quality and strives to really help someone make an informed decision.)
Using the Automated System that Gets You Consistent Income Online Everyday Without Much Work
Verdict: False
Affiliate marketing is work. When anyone or any product promises affiliate marketing success without much work, RUN AS FAST AS YOU CAN! This promise is complete BS!
It Drives Tons of Traffic From Google and gets you sales every single day
Verdict: False
Your Affiliate ESY website won't rank in Google. Learn more below in the 6 Reasons to avoid AffiliateESY below.
This is Your Ultimate Affiliate Marketing Action Plan
5 Reasons To Avoid AffiliateESY
1. Low Quality Product Reviews
The quality of these DFY (Done-For-You) reviews are low.
Take a look for yourself.
If you were considering buying Super Affiliate System, which review do you prefer?
Which one do you trust to make a sound decision on whether to spend $997 on the product or not.
The DFY review by AffiliateESY. Or the Super Affiliate System Review by me.
The AffiliateESY review is only 500 words and does not go into very much detail about the product.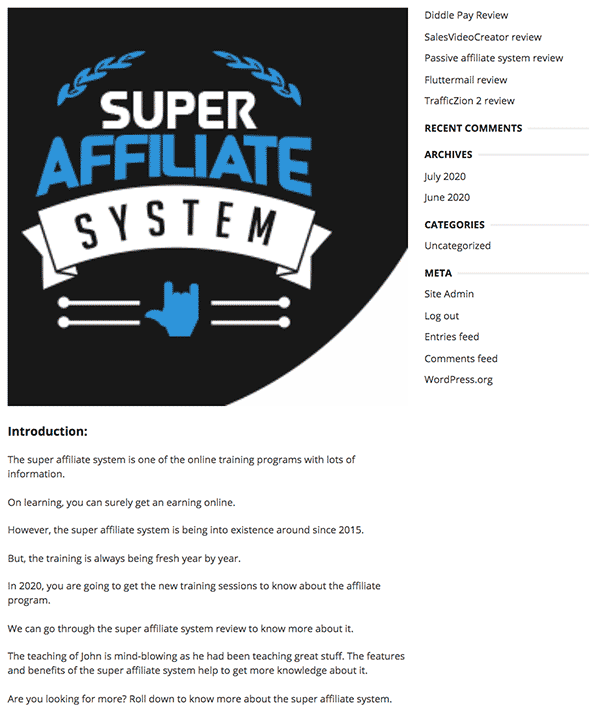 My Affiliate Marketing Informant review is 3200 words and covers the product in detail.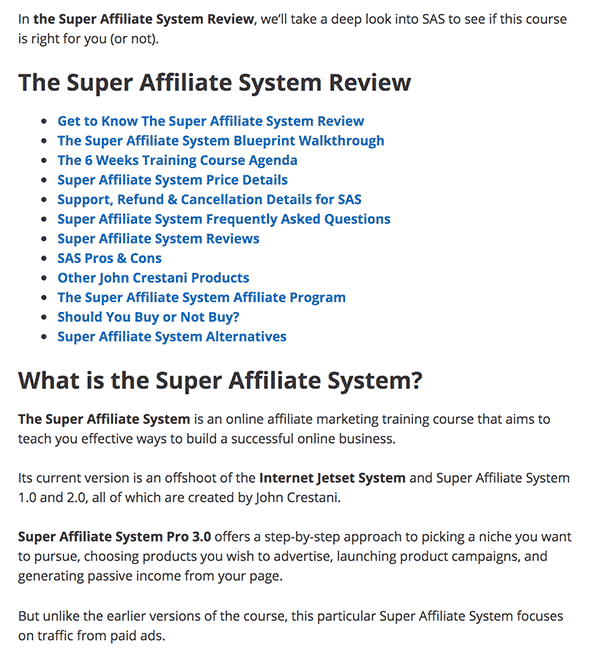 The AffiliateESY review does not provide enough information to convince anyone to spend a thousand dollars on that product.
Get Your Ultimate Affiliate Marketing Action Plan Today
2. You Can Only Promote MMO Niche Products
AffiliateESY only supports affiliate products for the Make Money Online (MMO) niche.
As an affiliate, you would only be promoting products that train people on how to make money online.
If you want to recommend affiliate products in the health or relationships niche, you could not use AffiliateESY. These niches are not supported.
The Make Money Online niche is very competitive. You will not be able compete with the other reviews with these low quality reviews.
3. The Product Reviews Will Not Get Free Traffic From Google
Google nor any search engine will rank these reviews. Therefore, you will not get any free traffic from search engines.
Here are 2 main reasons why:
Reviews are an average of 500 words. Competing reviews that are better quality and longer are going to rank instead.
The content is not unique. Search engines will not rank the same content across different websites. Your reviews from AffiliateESY will be exactly the same as the other 10 people who buy AffiliateESY. If your reviews are not unique and do not provide value, your reviews will not rank. Better quality, original and helpful reviews will.
So where is the Consistent Traffic and Sales on Autopilot, exactly? I'm still scratching my head on this one. I don't see it.
4. No Website Sitemap (Best Practice/SEO standard)
The AffiliateESY Done For You affiliate website does not come with a sitemap installed.
Having a sitemap is highly recommended by all SEO experts out there.
Sitemaps help search engines index all of your pages and understand what your site is about.
Sure, you can install a WordPress plugin to add the sitemap yourself.
But if the website is to be done for you, then why should you have to?
Related: What is SEO in Affiliate Marketing?
5. No required Disclaimers/Disclosures (This Can You Can Get Fined!!!)
If you are an affiliate marketer in the United States, all product reviews must have a clear disclosure of your affiliate link.
If you violate the FTC rules, you could face serious trouble and expensive fines. This is no joke.
Many affiliate programs require you to disclose your affiliate relationship with them whenever you offer an endorsement or testimonial of their products.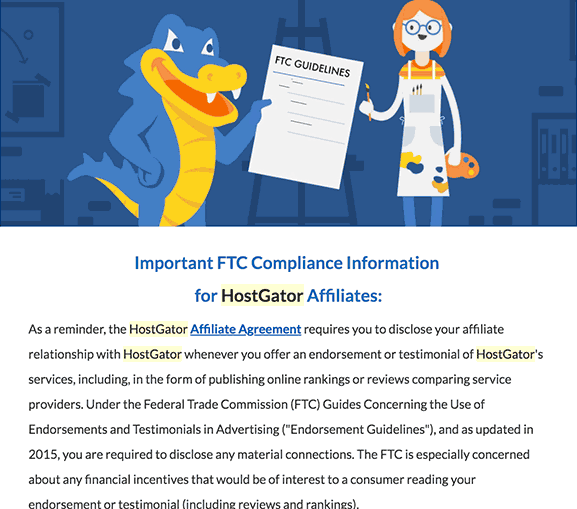 Your AffiliateESY website does not come with these disclosures installed. You have to install them yourself.
See affiliate disclosure examples.
This is a HUGE ISSUE! Why would a product that claims to everything for you, not protect you as an affiliate marketer.
Good quality products will be sure to provide these disclaimers for you. As they are a very important requirement to every affiliate marketer and website.
Your Ultimate Affiliate Marketing Action Plan
6. Recommends Low Quality Products
One AffiliateESY affiliate product review is for Fluttermail. Fluttermail is an email marketing product used to send emails to your subscribers.
Fluttermail is terrible. I've personally used it. It's the email marketing platform that is added on to your AffiloJetpack websites.
Fluttermail is outdated. Hard to use. The user interface is archaic. I would not recommend this product to anyone.
Therefore, I would NOT have a review recommending this product!
7. ClickBank Doesn't Require Affiliate Approvals
AffiliateESY is very proud of the "guaranteed approvals for the affiliate products". ClickBank doesn't require approvals before you can promote the product.
As long as you have ClickBank affiliate account, you can promote any ClickBank product immediately.
Other affiliate networks like JVZoo and WarriorPlus require approvals before you can promote.
AffiliateESY makes it sound like they do something special for you, to get you approved automatically.
But, you don't need AffiliateESY to be approved top promote ClickBank affiliate products. ClickBank automatically approves you so this can be done without AffiliateESY.
AffiliateESY REAL DEMO & Walkthrough
See these issues for yourself. Here is an AffiliateESY demo and walkthrough showing these issues and comparisons in detail.
Your Ultimate Affiliate Marketing Action Plan
AffiliateESY Review Features
30 Done For You Affiliate Product Reviews
Promotes affiliate products on ClickBank
Easily integrates your ClickBank affiliate links in the product reviews
Optin Form to Build a List (Pro Version)
Guaranteed Affiliate Link Approval (ClickBank doesn't require approval)
Facebook and Google Pixel Code Support for Retargeting (Commercial Version)
Website Theme with Logo & Review Layout
Basic Training, 4 Training Videos, 25 Minutes of Training
Bulk Import of all the review posts in 1 Click
Reviews include featured images
AffiliateESY Price & Upsells
AffiliateESY $17
Creates a WordPress affiliate website. Includes 30 done for you product reviews, WordPress theme, and basic images.
Upsell #1: AffiliateESY Pro Edition $37
Includes additional features. The optin form to capture email addresses. Access to the Commercial license for a short period of time. Add Facebook pixel and Google pixel code for retargeting. Advanced traffic generation training on SEO and paid ads.
Upsell #2: AffiliateESY License Edition $37 – 47
Includes the ability to sell DFY affiliate websites using AffiliateESY and the ability to sell the plugin to other people. (Don't do this. Those people will never buy from you again if you sell this product…)
Upsell #3: AffiliateESY Masterclass Edition $197 to $267
Weekly coaching and help to set up affiliate campaigns.
AffiliateESY Total Cost
$17 – $368
If you were to buy all of the products and upsells, you'd spend a total of $368.
There are better products to spend that amount of money on.
Your Ultimate Affiliate Marketing Action Plan
AffiliateESY Refund Policy
They offer a 30 day money-back guarantee but it is NOT a no questions asked guarantee.

It will be hard to get your money back if you are just unhappy with the product. You have to prove that the product has a technical issue.
Read the policy for yourself. All sales are final unless you can prove a technical issue.
"We don't offer a no questions asked refund so please provide a genuine reason and show us proof that you did everything we told you to do before asking a refund. Refunds are for technical issues only and only given if we are able to solve the problem that you reported. Other than that all sales are considered Final."
AffiliateESY Affiliate Program
AffiliateESY does have an affiliate program. But we do not recommend that you promote this produce to anyone.
AffiliateESY Review Final Verdict
Don't do this.
I learned how to build a quality affiliate business with training like this.
If this review helped you from wasting your hard-earned money, let me know in the comments below.