Welcome to my Lurn Master 2020 Review, an online marketing training course on Lurn.com.
If you have an online business (or you are starting one) and want more leads, more engagement, and more sales, then Master 2020 online marketing training may be for you.
I bought this course to review it, and ended up getting a lot of useful information from it.
(I was surprised.)
With Lurn Master2020 Training Course By Anik Singal (CEO of Lurn.com), you will learn:
New ways of doing marketing in 2020 that are relevant to current times
Relearn marketing to master new marketing philosophies, strategies, and tactics
The marketing plan that is predicted to double Lurn's revenue
New types of funnels that are the next big must-have funnels for every marketer
How to get engagement in your funnels which going to be key to a funnel's success
What Anik says about the 5th and biggest marketing shift ever experienced
To make sure you can make an informed decision before you buy, my Lurn Master 2020 Gold Membership Review will cover everything you need to know. Let's dig in!
Lurn Master 2020 Review
Lurn Master 2020 Review Summary
Product Name: Master 2020

Product Creator: Anik Singal, Founder and CEO of Lurn Inc

Product Categories: Online Marketing Training, Funnel Training, Advertising Training

Enrolled Students: 2,000+ (at the time of this post)

Product Objective: To teach you advanced marketing strategies and topics to not only survive but thrive as an online marketer in 2020 and beyond.

Price: $97

Upsells: Yes, Master 2020 Platinum Membership $297

Who is it for: Someone who wants insights and thought leadership on the latest changes within the online marketing industry to successfully market in 2020 and beyond.

Skill Level: Intermediate to Advanced

Recommendation: Yes for anyone looking for more leads, more conversions, and more sales.

Would I Buy it: Yes. Thumbs up!

I paid for Master 2020. The training gave me a lot to think about as a marketer who wants to succeed in 2020 and beyond.
Unlock the Entrepreneur Inside of you!
What is Master 2020?
Master 2020 is an online marketing training course by Anik Singal, Founder of Lurn.com, who teaches you new marketing philosophies, strategies, and tactics for 2020 and beyond.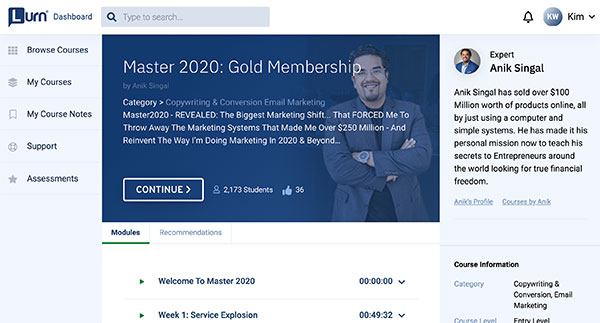 Master 2020 Gold Membership offers 12 Advanced Marketing lessons covering topics such as:
New types of funnels that are mandatory to survive
How to combat rising advertising costs and compete with the "big boys"
The importance of remarketing and how this can save you a LOT of money on ads
The Master 2020 training course was originally presented as a live mastermind over 12 weeks. Now the course is access to the recordings.
You will learn the thoughts and specific strategies that Anik Singal is using to double the revenue for his business, Lurn.com.
What is Lurn?
Lurn is an online training platform where you can learn everything to know about entrepreneurship and digital marketing.
It's the same idea as Udemy and Skillshare but with a specific focus on teaching you business, mindset, and marketing to make your business successful.
You will find 100+ training courses on Lurn.com related to digital marketing and making money online. Just think funnels, email marketing, copywriting, Facebook Ads, course creation, time efficiency, and more.
Lurn has many free courses along with paid courses priced from $7 to $2,000+.

20+ Hours of Free Entrepreneurial Training
A Real Master 2020 Demo – A Real Look Inside the Master 2020 Training Course
Here is a real demo of Master 2020 Gold Membership by a real buyer and real course user. You are getting more than just a review of the sales page 🙂
I'll show you around inside the Master 2020 Gold training course and call out the features I really like. See the training details and features that make this course worth buying.
Why I Like Master 2020 Training?
The bulk of the training inside Master 2020 is centered around 3 main marketing topics:
Funnels
Traffic
Conversions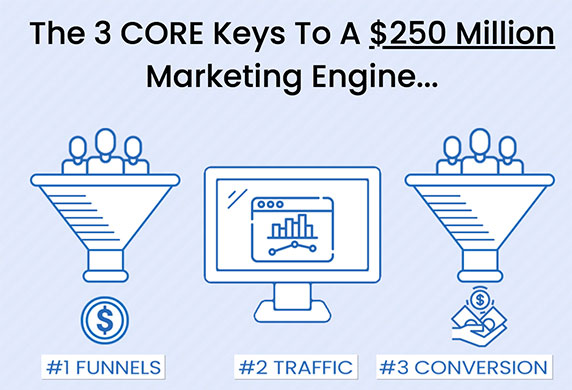 These 3 components are crucial to being a successful online marketer.
If you are not interested in learning about funnels, traffic or conversions, this training is NOT for you.
(But then you should question why you have an online business in the first place.)
1. Funnels
Funnels are the standard way to sell online these days.
They are the path that your website visitors go through in order to become customers. Funnels help warm your audience to like you more and be more likely to buy from you.
Having a high-converting funnel is a crucial part of your marketing success these days. They can directly impact your growth, customer relationships, and most importantly, your ability to get traffic.
In Lurn Master 2020 Gold, you will specifically learn how to redefine, redesign, and reinvent funnels, the way they are at Lurn.
2. Traffic
Traffic is the only way you make sales. No people to buy your product or service means no money for you.
That's why this saying was invented, "traffic is the lifeblood of every business".
These days, getting traffic seems complicated because there are:
So many traffic sources to choose from
Your consumers (potential buyers) can be in so many places
Lots of other businesses competing for the same traffic
In Lurn Master 2020 Gold, you will specifically learn how to up your traffic game and standout amongst your competition.
3. Conversions
Conversions is all about making the most money you can from the traffic you have.
Most beginner marketers don't pay attention to the importance of conversions and conversion rates.
But sometimes, it's easier to convert more of the traffic you already have into buyers than it is to get more traffic. (Sometimes cheaper too…)
Conversions are getting harder too these days because consumers have changed. The way consumers make buying decisions have changed. The way they buy has changed.
In Lurn Master 2020 Gold Membership, you will learn how to change your conversions skills, tactics, and strategies to prevent from wasting money.
A Few Things I DON'T LIKE About Master 2020 Gold?
Although I really like this course and do recommend it to you, there are some things I do not like about it too.
Here's a few things to know about Master 2020 and Lurn before you buy.
1. Less Training Hours than What's Claimed on Sales Page
The sales page claims the training will be anywhere from 12 hours to 24 hours. The actual Gold Membership training only has 8.5 hours of training. This is a big difference in what you are promised vs. what you actually get.
2. Bad Sound Quality on Week 3 Video: The Birth Of The Engagement Funnel
The sound is not right on the third training lesson: The Birth Of The Engagement Funnel. It only plays on one side of your speaker. Not on both sides at the same time. I got a headache listening to 45 minutes of training in one ear, hahaha. Funny, but not really.
3. No Refund Policy
Lurn does not offer refunds for their courses because they are digital and you get instant access. However, you CAN get your money back if you cancel your order within 3 days of your purchase. Some reviews bash Lurn for not having a refund policy. This is something to know before you buy any course on Lurn.com.
Notable Features for Master2020 Gold
The Master 2020 Gold Membership training on Lurn.com comes with features to help you learn and grow as an online marketer.
Here are the main features that you will get if you buy this course:
12 Training on Demand Videos
Watch Anytime at Your Own Pace
8.5 hours of Total Training
Course Notes Functionality to Capture Important Thoughts and Tips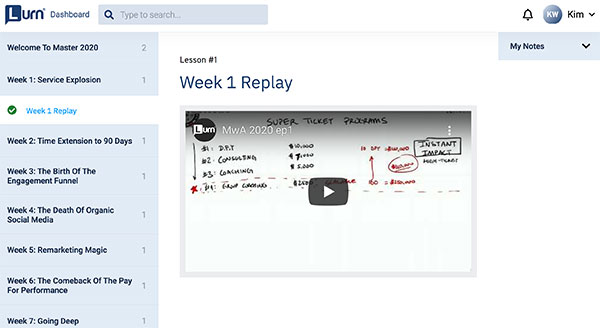 The Way to Grow Your Entrepreneur and Digital Marketing Skills in 2020 and Beyond
Master2020 Gold Membership Details
The Master2020 Gold Membership training course comes with 12 weeks of training and covers 12 different marketing topics.
Here is information about each topic and the important information you will learn (that can help you and your online business):
Week 1: Service Explosion
The Master 2020 Service Explosion training covers the reasoning behind why people want "do it for me" solutions. And how you stand to make a lot of money from these people by offering services. You'll also learn why services help make funnels profitable. (Hint: Front-end funnels are getting harder and harder to actually be profitable.)
Week 2: Time Extension to 90 Days
The Master 2020 Time Extension to 90 Days lesson explains why funnels do not provide 24-hour profits. And why you should wait 90 days to measure whether your funnel is profitable or not. The Q&A section towards the end provides some great insights into how to prevent your ad accounts from getting banned. (Hint: Don't make claims you can't back up.)
Week 3: The Birth Of The Engagement Funnel
The Master 2020 Birth of the Engagement Funnel training explains about how traditional funnels no longer work. And why the engagement funnel is proving to be the new funnel on the block that is necessary to succeed in 2020 and beyond. You'll also learn how Anik personally used this funnel to get insane results on a specific training course launch.
Week 4: The Death Of Organic Social Media
The Master 2020 Death Of Organic Social Media training why organic social media is quickly becoming an ineffective strategy alone to drive real traffic to your online business. And why how you can leverage paid traffic to boost your organic traffic.
Week 5: Remarketing Magic
The Master 2020 Remarketing Magic training shows you how to leverage remarketing to reduce your ad costs and make Facebook Advertising profitable for you. Also referred to as retargeting, this training will teach you the concept of remarketing, the benefits and importance of remarketing, and the different ways to actually do remarketing.
Week 6: The Comeback of The Pay For Performance
The Master 2020 Comeback of The Pay For Performance training shows you pros and cons of using affiliates to drive business for you. You'll learn how affiliates drove $10M of revenue a year for Anik but the negatives that come with being an affiliate driven business.
Week 7: Going Deep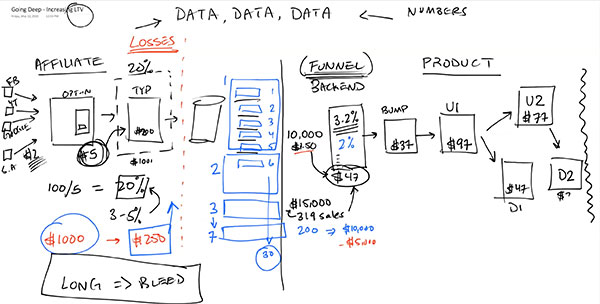 The Master 2020 Going Deep training shows you why selling one product these days will not be profitable. And how you need to make profits on the deep end (aka backend) by going deep, having more products to sell down the road, and focusing on increasing your customer's Lifetime Value (LTV) over time.
Week 8: Camouflaged Pitch
The Master 2020 Camouflaged Pitch training covers the easier way to sell – getting the sale to become the customer's idea. You'll learn the importance of building some reference, exposure, and some trust with your visitors to get them warmed up to you and essentially pre-sold on your first offer or service.
Week 9: In Search For A Tribe
The Master 2020 Search For A Tribe training talks about how to create a tribe of raving fans that buy everything you offer. These are the types of fans every business owner wants. Anik walks you specifically what you need to know on how to build a tribe, where to build your tribe and what systems you use to build your tribe.
Week 10: Building A Million Dollar Business With A Free Book
The Master 2020 Building A Million Dollar Business With A Free Book training teaches you how the book publishing strategy is by far one of Anik's favorite strategies. He's made a lot of money just by giving away books. Printed books that is! You'll learn how to do the free book giveaway to build up your business.
Week 11: Overcoming 2020 Challenges
The Master 2020 Overcoming 2020 training exposes the challenges within the Lurn business. And what Anik is doing to overcome these challenges. You'll get some great tips as a free Facebook Ads tool you need to know about and the true secret to doing well with ads.
Week 12: Wrapping Up
The Master 2020 Wrapping Up training is the final session of the Master 2020 Gold Membership lesson. Here you will get a recap on what's happening inside Lurn's multimillion dollar business. You'll learn about the "audience targeting circle", how Anik is structuring his business and team to support $2M in sales a month. (Yea, 1 month 🙂 Towards the end, there is also Q&A where you'll learn tips on how to prioritize your time and focus on the right tasks that bring you the most results.
The Cost of Master 2020 Gold Membership
Price for Lurn Master 2020 Gold: $97
$97 for the Recorded 12 Week Course: The course was originally launched as a live 12-week training class on January 31, 2020, and ended on July 24, 2020. Now the 12 recordings are being sold as the training course.
Master 2020 Platinum Membership Upgrade
There are two versions of Master 2020 training courses:
Master 2020 Gold Membership
Master 2020 Platinum Membership
The Master 2020 Platinum Membership contains more hours of training and more training lessons.
Price for Lurn Master 2020 Platinum: $297
$297 Master 2020 Platinum Membership Course: With the Platinum Membership course, you get 67 lessons and over 64 hours of training. (Platinum course has near 3,000 students). Compared to 12 lessons, 8.5 hours and $2,000+ students with the Gold Membership course.
Pro Tip: Assuming the 3,000 students enrolled in the Master 2020 Platinum course paid $297, that would mean this one course has made $891,000 dollars. WHOA!!! That's a lot of money made from just this one course alone!
If you are looking for more details and a deeper dive into more advanced digital marketing topics (67 to be exact), see if Master 2020 Platinum is a better choice for you. Click here.
Lurn How to Master 2020 with this 20+ Hours Free Training
Master2020 Enrollment Period
Since the training is recordings from the live 12 week training course, you can join Master 2020 at anytime. This course's enrollment period is open, 24/7 which means you can join any day, at any time.
(But if you are serious making money from online marketing in 2020, then don't wait too long. The information is worth your time.)
Master 2020 NO Refund Policy
Lurn does NOT offer a refund option. This means there are no refunds available.
The stated reason on Lurn's refund page is due to receiving immediate access and benefit from the training courses which are digital products.
There is a 3-Day Cancellation Policy, however.
If you purchase a course for $25 or more, you can have your payment canceled within 3 days of your purchase.
To keep things simple for you, only buy the course when you are ready to invest in the course and get your money's worth.
Master 2020 Support Options
A good thing about Lurn is the number of support options you have to choose from. You can call, email, submit a support ticket or search the knowledge base.
Here are the various Lurn Support Options you get when you buy any training course.
Regardless of which contact method you prefer, you will be able to get help when you need it most.
Lurn Affiliate Program
Yes, Lurn does offer an affiliate program.
Lurn's Affiliate Program
Commission rate: 40% commission
Interested in becoming a Lurn Affiliate? Get the details here.
Lurn Master 2020 Review Verdict
Master 2020 Gold Membership is a really good course. The training is solid and speaks to the current happenings in the marketing space.
As mentioned earlier, if you are looking to grow your business with more leads, more sales, and more money in your pocket, you need to go through the Master 2020 training course.
Start with the Golder Membership course first. Then go through the Platinum Membership course as the next best step to keep learning and always progressing as an online marketer.
Master Entrepreneurship in 2020
Got Questions?
If you have any questions, just comment below. I'll be more than happy to help you out.