Thanks for checking out my AffiliBuilder Review.
If you follow products on JVZoo, ClickBank, or Warrior Plus, then you may hear about the latest product launch for AffiliBuilder by Kurt Chrisler.
I personally bought it so I can offer you an honest and real review of AffiliBuilder, the Affiliate Site Builder plugin for WordPress.
(And save you from wasting $54 dollars of your hard-earned money…)
Here's what you need to know about AffiliBuilder before you buy:
Why I am disappointed
What functionality works and what doesn't
The only niche this product seems to work for
AffiliBuilder Review
What is AffiliBuilder?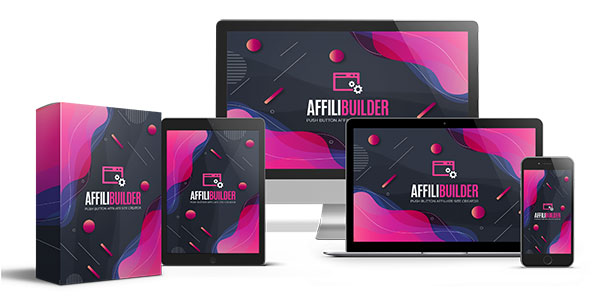 AffiliBuilder claims to be a done for you (DFY) affiliate website site creator.
The software is a WordPress (WP) plugin that handles much of the website setup process and affiliate content creation process for you.
The idea of using AffiliBuilder to create your affiliate websites is to provide an easier way than creating websites from complete scratch.
The WP plugin makes the setup process as easy as possible to get your affiliate site set up and running quickly.
AffiliBuilder Review Overview
Product Name: AffiliBuilder (No Affiliate Link, I Don't Recommend It)

Product Creator: Kurt Chrisler

Product Categories: Affiliate Websites, WP Plugin

Product Objective: Helps you create a WordPress affiliate marketing website quickly, by creating affiliate product reviews with content, images, and videos.

Price: $17 – $151+

Upsells: Yes. 4 product add-ons + additional services and products for purchase inside the AffiliBuilder Members area. (More details below)

Recommendation: Only for the drone niche? (Not really. Video explains why.)

Who is it for: Anyone who wants a quick way to launch an affiliate website.
AffiliBuilder Review Demo (By an Actual User and Buyer)
Important Note: Most of the other reviews use a pre-recorded demo video. They are not actually demoing the real product. I bought the product so I could provide you with a real and honest review.
AffiliBuilder Review Pros, Cons & Warnings
Pros:
Requires minimum setup time
Provides pre-created, ready to use review content
Easy to add videos to content
Cons:
Basic search functionality in the content generator can show unrelated content results
The image creator does not work
Backlink generator failed to create backlinks in most cases
Warnings:
Duplicate content presents issues for search engines which can impact rankings

Your content becomes repeated when other people use the app and the same content
While not technically a penalty, duplicate content can still sometimes impact search engine rankings. When there are multiple pieces of, as Google calls it, "appreciably similar" content in more than one location on the Internet, it can be difficult for search engines to decide which version is more relevant to a given search query. 

https://moz.com/learn/seo/duplicate-content
Free backlinks can be low-quality, spammy and can harm your reputation and performance with search engines
Gone are the days when you could build low-quality backlinks to your website as a means of boosting your website rankings. Do this today and you'll end up causing more harm than good to your SEO strategy

https://neilpatel.com/blog/10-tools-that-will-get-you-more-backlinks/
Get Unstuck With This FREE 12 Step Action Plan For Affiliate Marketing =>
AffiliBuilder Review Features
WordPress (WP) Plugin for self-hosted websites
Automatically includes a YouTube Video for every product review
Includes a way to leverage Pixabay free images in reviews
Content generator to automatically create the reviews
Can publish posts or pages
Works with various affiliate program (Amazon, CJ, AliExpress, eBay, etc.)
Includes training for setup requirements (Getting API Keys and such)
(Pro) Provides content scheduler
(Pro) Includes WordPress Theme
AffiliBuilder Review Requirements
Developer keys for:
YouTube
Pixabay
Amazon Shopping Ads
Training is provided. It is pretty easy to follow.
Separate Plugin for AffiliBuilder and AffiliBuilder Pro
You either install AffiliBuilder or AffiliBuilder Pro plugin. You install one or the other, not both. This installs the correct features for the plugin you purchased.
Best Niches for AffiliBuilder
In the process of my AffiliBuilder Review, we identified that "football" is not a topic with a lot of content. I did some more research and searches to find niches with lots of content.
Here are some good niches to use AffiliBuilder with:
Drones
Cameras
Jobs
Mobility Scooters
Important note: This is a partial list based on my research. This is not a complete supported niche list.
AffiliBuilder Product Details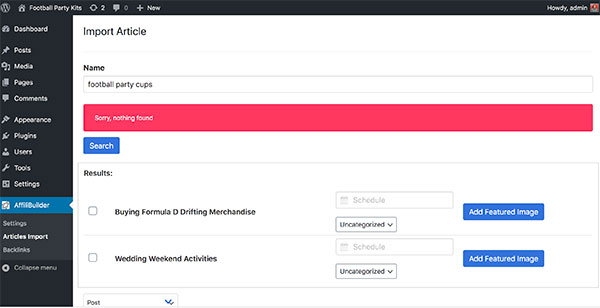 AffiliBuilder Settings – One Time Setup
YouTube Video Integration
Allows the import of related YouTube videos to automatically be included in your reviews
Pixabay Free Images Integration
Connects you with 1.7 million free images to be used as featured images in your content
Custom Ads
Includes an add before the content and after the content (eg. Amazon Native Shopping ads, Google Adsense, hyperlinked image)
AffiliBuilder Content Generator
Article Import
A database of 10,000 custom created content articles in their own database
Add Featured Image
(Supposedly) Allows you to search and find specific images related to your topic to include in the review
Important note: I couldn't get the "easy to add featured image" functionality to work.
Backlinks Generator Tool
An included tool to create free backlinks to your site.
Content Spinner (Additional Costs)
A way to make your content different than other websites that also use AffiliBuilder to create site content. However, this is tool / service cost more. See price details below for more info.
Included Training
Training on how to integrate YouTube, Pixabay, Amazon Ads, eBay Ads, and AliExpres
AffiliBuilder Price & Upsells
AffiliBuilder $17 – $27
AffiliBuilder is a basic affiliate website creator plugin. It allows you to create a basic affiliate site and publish pre-created content. Price starts at $17 and increases to $27 over the launch period.
AffiliBuilder Pro $37
AffiliBuilder Pro provides additional features including:
Access to all new articles added to the content database. 100s of new articles are added weekly.

A content scheduler which allows you to create multiple posts at once and have them scheduled to publish one a post a day (or whatever frequency you choose)
The AffiliBuilder Theme provides you with a specific layout for your affiliate products and overall affiliate site.
AffiliBuilder Developers License $27
Allows you to sell websites that are created from and use the AffiliBuilder plugin.
iMarketers Hosting $39.95 – $59.95
A website hosting option to use for the affiliate sites created with AffiliBuilder.
Important note: You can use any website hosting company for AffiliBuilder.
iMarketers Club $27 per month
A monthly membership that provides access to a suite of plugins and themes available.
AffiliBuilder Additional Products, Services & Add-Ons
Best Content Spinner $67 – $247 a year
Creates a different version of your content to make it original. This is a separate paid service that costs: $67 – $247 a year. In addition to the WP plugin cost.
Get Unstuck With This FREE 12 Step Action Plan For Affiliate Marketing =>
Spin Rewriter $47 – $497
Another content spinner option that makes your content unique. This is another separate paid service that costs $47 – $197 a year or $497 one time cost.
WP Marketer Tools
Additional Plugins and Themes are available for purchase. These vary in prices individually. You can buy access to all of them for $27 a month.
AffiliBuilder Total Cost
$120.95 – $150.95
If you were to buy every AffiliBuilder product, you would spend $120 – $151. This does not include the Content Spinner products or the other plugins and themes available within the iMarketer Club membership.
AffiliBuilder Support Details
Website: Help Desk
Email: support@imarketersclub.com
AffiliBuilder Refund Policy
AffiliBuilder comes with a 30-day money-back guarantee. This refund policy applies to all of our products and courses.
AffiliBuilder Affiliate Program
AffiliBuilder does have an affiliate program on JVZoo. Approval to promote is required.
Final Verdict
AffiliBuilder works for very specific niches. It's unclear of all the niches the content supports.
Because it failed for my test niche, I don't recommend this product. I don't want to choose an affiliate website around this plugin and pre-created content.
I prefer to create my own niches and design content around them. This strategy has worked for this website and is a better longer-term results.
You can buy AffiliBuilder at your own risk. Hope you enjoyed this AffiliBuilder review.
If I helped you out, comment below!
Get Unstuck With This FREE 12 Step Action Plan For Affiliate Marketing =>