And How To Earn Cash For Commenting!
What is Site Comments? And what does it have to do with affiliate marketing?
If you are into affiliate marketing today, having a website to promote your affiliate products is the way to go.
A website is an easy way to create a store for people to come and buy your affiliate products.
And today, building a website is easier than you think. How to Create a Website for Affiliate Marketing.
In the old days, when you wanted to buy something, you had to go somewhere.
All stores were physical locations that you physically walked in to buy that product you needed or wanted.
Today, stores are both physical locations and online websites.
With online website stores, you just go online! And many websites online today allow people to comment on your products.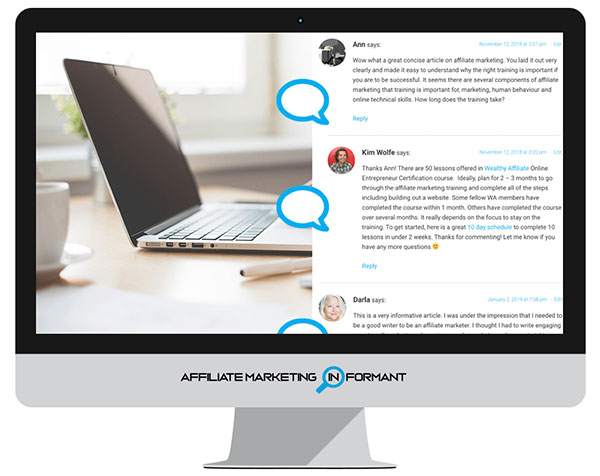 Through comments, people can:
Interact with you as they would if they were physically in your store.
Ask you questions about the product.
Leave a personal review of how much they liked the product.

Reviews can help others buy your products too.
Comments are great for your audience. Comments are also great for SEO.
Comments can also help your content rank in search engines. This is why requesting comments is a recommended step in my SEO Page Optimization Checklist (includes free templates :).
What is Site Comments Summary
Site Comments is the ultimate blog commenting service for your websites hosted at Wealthy Affiliate.

It is software that helps you get comments on your site pages and posts!
This service will actually find people to leave comments on the content you want. You can recommend people to ask questions, provide input on your topic, offer opinions or experience about your topic.
Site Comments is one of several website software tools offered by Wealthy Affiliate, to help your online affiliate businesses.
I personally would not know what to do without SiteComments and everything Wealthy Affiliate provides me as an affiliate marketer. Where do you think some of my comments come from 🙂
Bonus: Learn How To Earn Cash For Offering Site Comments
How It Works
Here is how Site Comments works to help get you quality, real people comments on your website.
Step 1: Request comments
Create a comment job to request real people to comment on your content.
Step 2: Choose the website you want comments on
Select a website from the drop down list. You can choose any website that is hosted at Wealthy Affiliate.
Step 3: Select which page you want comments on
Once you select a website, Site Comments will pull in all published content for that website.
Choose which content you want the comments for. This step allows you to select the specific page or post each person will leave a comment on.
Step 4: Pick a category for your comment request topic
Choose which category the content topic is in. This categorization will show your comment request to people interested in your topic.
People interested in your content are more likely to leave a relevant comment.
Step 5: Select the type of feedback you want
Identify what kind of feedback do you want. You will choose from these four options:
Questions on the topic or overall article
Discussion about the topic
Offer experience with the topic
Opinion about the topic
You can select just 1 or all 4 of them. Most comment requesters select all feedback types to make it easy for the commenter.
Step 6: Choose how many comments you want
Tell Site Comments how many comments you want. Each comment costs 2 credits.
You can earn credits by commenting on other people's websites. Or you can buy credits at $.50 cents each.
Step 7: Choose when you want your comments
If you request more than 1 blog comment, you choose when to have your comment requests delivered.
Your requests can be distributed all at once or evenly over 7, 14, 30, 60, or 90 days.
Step 8: Submit a comment job
After going through all of these steps, you can submit and review your comment request.
Once submitted, your comment request will be sent to other Wealthy Affiliate members who are interested in your selected comment category.
Step 9: Approve Comments
The last step is to approve each comment and publish them on your site. All requested comments will need to be approved by you before they are actually published on your website.
When someone provides you with a comment, the comment will be placed in the pending approval queue. You manage all of your pending comments and decide to approve or reject them based on the comment quality.
What are Site Comments Benefits
As mentioned at the beginning of this post, getting comments on your blog posts has positive benefits.
Fortunately, you can leverage tools to help you get comments. Using a blog commenting service like Site Comments provides you with additional positive benefits.
The benefits of blog comments are:
Allows people to interact with you
Sparks discussion on your content
Helps build trust with your audience
Helps improve search engine rankings
Benefits of Site Comments are:
Easily request comments for all of your websites
Taps into a community of commenters for you
Saves you time and speeds up the commenting process
Connects you with real comments from real people
Provides the option for free comments
Schedule comment requests over multiple days
Connects you with other tools to help manage your websites
What are Site Comments Features?
Site Comments is built on the give and take system. Not only can request comments for your own websites, but you can also earn credits for giving comments to other people's websites. These credits can pay for your comment requests.
All the commenting features are built around this give and take system.
Dashboard
The Site Comments dashboard is your main page.
You get a pulse of your comment activity, status, approval rate and how many credits you to spend on requesting comments. You can also see who the top commenters are.
Request Comments
The request comments page allows you to request comments for all websites hosted on Wealthy Affiliate.
These steps allow you to designate what content to get comments on and request what type of comment discussion you want.
The request comments page is where you follow the "how it works" steps mentioned earlier in this post.
Offer Comments
The offer comments page is where you leave comments on other websites.
You can what website has made the request, read the content, and view what types of comment is requested.
The offer comments area is how you pay it forward and earn credits to use for your requesting your own comments, without paying any money.
Comment Profiles
Comment profiles are the profile you use to offer comments to others.
When you leave a comment on a website, you choose which profile the comment will be from. A comment profile includes information from a Gravatar account:
your name
email
profile pic
You can add multiple profiles to use depending on the topic of the comment request.
Watch this video to learn how easy it is to create a Gravatar account.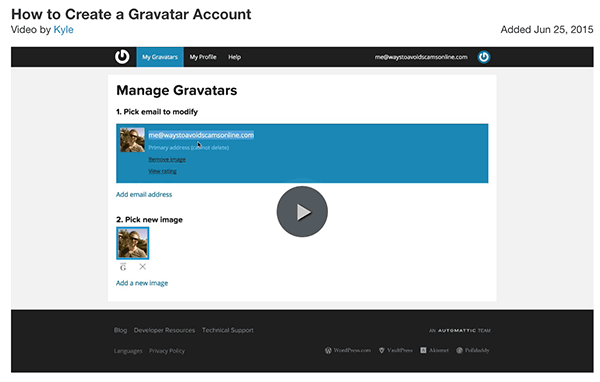 Category Interests
The category interests are the categories comment requesters can choose for their category.
For your interests, you can choose which categories you are interested in commenting on.
There are 37 categories for you to pick from ranging from animals, internet marketing, technology, travel, and gardening.
Comment Boost
Site comment boost is a priority queue for your own comment requests. This boost will prioritize your comment requests over other people's requests.
The way to leverage comment boost is to give 10 comments within a 24-hour timeframe. After you offer 10 comments to others (and earned 10 comment credits :), you will earn your own comments priority boost for 24 hours.
The good news about comment boost is there is no cap. Meaning if you offer 30 comments in 24 hours, you will get a priority comment boost for 72 hours.
Earn Community & Cash Credits
The give and take system of Site Comments allows you to get comments for your sites without paying for them.
And earn cash for giving comments to other people's sites.
You simply invest your time and help other affiliate marketers and bloggers.
Community Credits
You can earn community credits by giving comments and site feedback to other members. Each action earns you 1 credit. And each action request requires 2 credit. In other words, you need 2 credits to request 1 comment. And you need to give 2 comments to earn 2 credits.
Cash Credits
You even have the ability to earn cash credits. Offer 50 comments within a month with other criteria to become a certified commenter. Once you have reached the certified commenter status, you will receive 1 $.50 cent cash credit for every other comment. The credit system rotates:
For comment #51, you earn 1 community credit
For comment #52, you earn 1 cash credit
Comment Approval Required for Credits
When it comes to getting your credits, your comments have to be approved.
You may see a delay in credit payouts depending on how long it takes for your comment to be approved.
And if your comments are not approved, you do not get any credits.
Keep in mind: Premium membership is required to access Site Comments.
Benefits of the Wealthy Affiliate Credit System
The entire Wealthy Affiliate system is built on credits which means these credits can be used for different features available at WA. You can earn credits for more ways than mentioned here.
The benefit of these credits is you can buy:
blog comments.
website domain names.
pay for your Wealthy Affiliate membership plan.
and even cash out credits for real money.
How To Give Good Site Comments Instructions
You will even find instructions on how to leave good comments for others. You have to admit, this blog comment service is very thorough and well-thought-out.
Pros
The advantages of Wealthy Affiliate's Site Comments blog comment software are quite clear.
Save time and money requesting comments
Tap into a community of commenters
Earn comment credits without paying money
Help your site's audience
Improve your website's content SEO
A very thorough and well-thought-out commenting service
Cons
Site Comments does have a few disadvantages as well.
Only works with websites hosted at Wealthy Affiliate
Not available with Wealthy Affiliate's free starter plan – requires the premium paid plan
You may get low quality comments sometimes – you can always reject them and not use a credit
There are not always comments available to earn credits
Pricing
Essentially, you can earn your blog comments for free.
Each comment costs 2 credits.
You can earn 1 credit for each approved comment you give.
Give 2 comments on other websites and earn 1 credit for a comment on your website.
Site Comments is a premium plan feature. Site Comments is also just 1 of the 7 total website tools offered at Wealthy Affiliate. Check out Wealthy Affiliate pricing options. LINK: to Wealthy Affiliate pricing.
Comparison
When comparing other blog comment services, no competitors seem to have the free option "give and take" option you will find at Wealthy Affiliate's Site Comments
Here are 2 other blog comment services options you can find available on the internet.
Bulk Comments. Charges $25 for 100 basic comments and $37.50 for 100 keyword rich comments.
Robin Gupta. Charges $125 for 100 comments within 10 days.
Note: Use these services at your own risk. I have not used either of these mentioned blog commenting services. Therefore, I can not guarantee the quality of these comments or the company behind the service. Investigate each option thoroughly before you buy.
I personally use Site Comments at Wealthy Affiliate 🙂
Conclusion
Site Comments is a revolutionary product within itself. This blog commenting service offers features that help you and helps others at the same time.
I mean, where else will you find this type of giving and take feature set for blog comments?!
And Site Comments is JUST ONE of the many products offered inside Wealthy Affiliate.
Got Questions?
Feel free to leave comments and questions below.