Welcome to our Aura review by Billy Darr.

We spent a few hours reviewing the product and training materials, so you don't have to.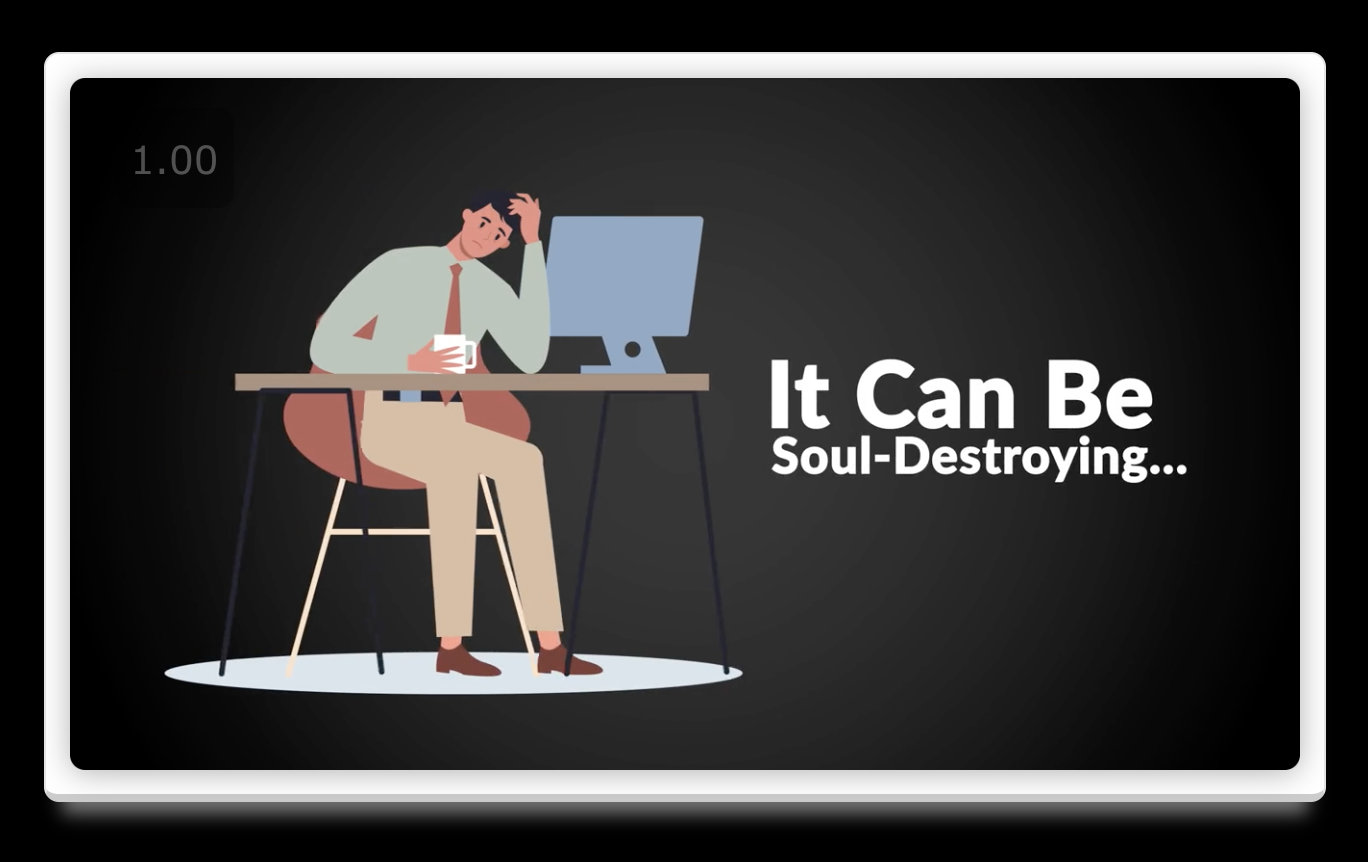 If you want to know if Aura is going to be your:
1-click app to create killer promo videos
raining in millions of free buyers from 500 sources in 21 secs
without experience or tech skills or any work
world's first-ever 500 in 1 traffic app
will actually destroy your soul…
Then you've come to the right place.
Aura Review Uncovered
In this Aura review, we are going to show YOU exactly what it is all about.

We're going to go over:
Here we go!
Get Unstuck With This FREE 12 Step Action Plan For Affiliate Marketing =>
What Aura Promises – The Aura Sales Page Review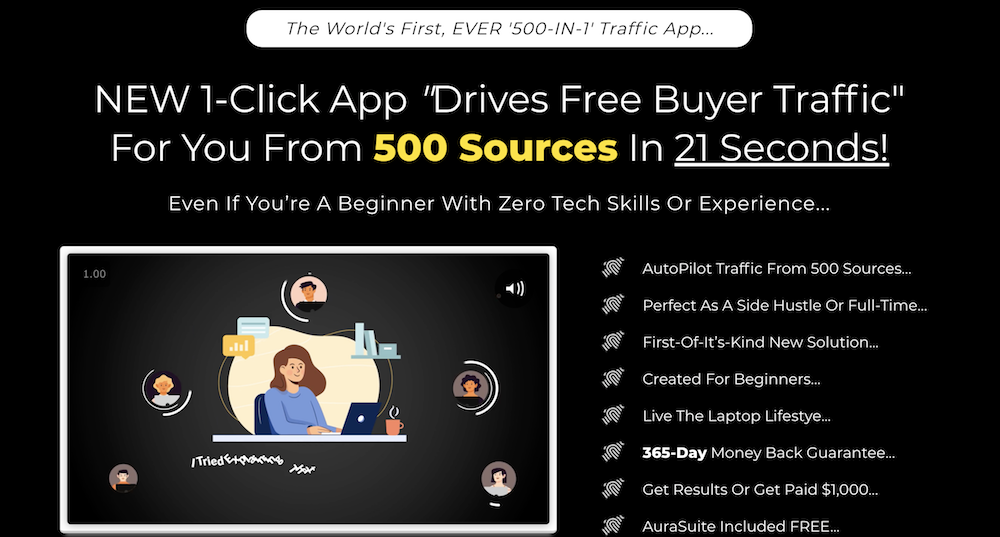 On the Aura sales page, they tell us that Aura is:
the world's first-ever, 500-in-1 traffic app [insert eye rolls here]
a one-click app that creates promo videos
that fires these videos to 500 sources for free buyer traffic in 21 seconds
without any upfront costs experience or tech skills
On the right, they do have a few more things that they think are very important to us.
The Aura team wants us to finally stop struggling and succeed with:
a first of its kind new solution
created for beginners so they can live the laptop lifestyle
get results or get paid $1000 [um, yea right]
If this sounds interesting to you, stick with us because we will be breaking this down.
Aura Demo – A Real Honest Look Inside Aura
You can see the overhype for yourself in our Aura demo.
Watch this video to see Affiliate Marketing Informant, Susie, walk you through the Aura platform and give you a detailed demo of what works and what doesn't.
Get Unstuck With This FREE 12 Step Action Plan For Affiliate Marketing =>
Aura Features – 101 Useless Features?
The promise of Aura software is to get you free buyer traffic in 21 seconds from 500 of the hottest online platform sources on the web. (All from one click.)
Here are the features inside the Aura platform that supposedly will make all this happen for you.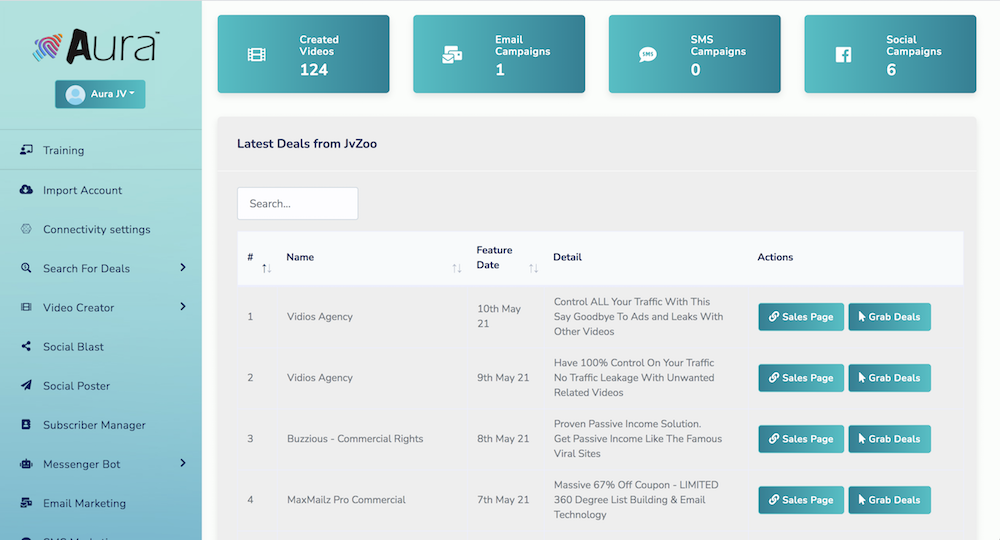 Aura Dashboard
One view to see all of your analytics. How many videos published. How many emails created.
Aura Training
Video training is supposed to teach you how to turn free traffic into cold hard cash. [Our BS meter is overheating…]. Turns out this is the same training used in a previous product called Orion. How can this product or training be a one-of-a-kind if it just released over and over again with a different name.
Search Deals
The ability to search and find the latest deals from JVZoo and WarriorPlus affiliate networks.
You can eaily find the latest, best-selling deals by looking at JVZoo and WarriorPlust directly.
They both have "top offers" areas where you can see the latest trending products.
You will be able to see other important information such as product ratings, vendor information, and more.
Pro Tip: JVZoo and WarriorPlus require you to be approved by the product vendor before you can promote it as an affiliate. ClickBank and Digistore24 do not. These are better for newbies because it is harder to get approved when you have not sales or history of good performance.
Learn more with these 12 Best Affiliate Marketing Programs in 2021.
Video Creator
The tool to create your viral promo videos. It is not easy to navigate or back out. You can do the same in and more in Canva.
Social Blast 
This is your 500 sources of traffic. The rest of the app is geared only towards Facebook.
A newbie or complete beginner does not need this many options. Pick 1 or 2 to focus with to start in the beginning.
Use add to any as a browser extension to save more open tabs
Social Poster
This allows you to post to Facebook. This only supports Facebook.
Pro Tip: Aura is surprisingly similar to a previous product launched by Billy Darr called Klever. Klever promised to be the world's one-of-a-kind Facebook app. Notice the out of this world over hype trend yet?!
Subscriber Manager 
Manage your subscribers here. For Facebook Messenger and SMS/Email.
Here, you can import a current list. Do you even have one yet?
You can start to build your list. But who will you send this amazing video you just made to?
Messenger Bot
Facebook messenger bot app.
Email Marketing
Email marketing tool to send out emails. Comes with templates. Requires technical API set up to get started.
SMS Marketing
SMS (Short Message Service) tool to send out text messages. Requires technical API set up to get started.
Pro Tip: Know the laws before you SPAM! Email marketing, SMS messaging and message bots are all governed by various laws that you must adhere to or you can get in a lot of trouble. Know the various consumer protector laws before you spam people: e.g. CAN-SPAM, GDPR, TCPA, etc.)

ECommerce
An online store setup tool. Set up products to sell online. This feature is not needed for beginners.

Traffic Marketing Analysis
An analyzer tool. But analyze what exactly? How do you analyze spam or social networks with not followings and traffic? There will be nothing to analyze in the first place.
And more useless tools. Watch the video above to see all of them.
Aura Review Summary
Most of these tools can be found for free. The usual benefits to tools like these is the place to access all tools under one place. One login. One dashboard.
But these same tools can also make things more complicated and overwhelming for complete newbies. Because that's all this software is. A tool.
You still have to learn the strategy to know how to properly apply the tool for the result you seek.
(Usual desire: traffic, leads, and sales!)
What You Need to Know Before you Buy
Here's what you need to know before you buy Aura:
You don't need 500 social media accounts to be successful as an affiliate
You can access most of these tools for free
Consider promoting offers from ClickBank and Digistore24 affiliate networks because they do not require vendors to approve you

As a complete beginner, you will have a harder time getting approved as you have not sales and no reputation of being a good affiliate vs. a bad one

You can get a free email tool with Aweber.

A reputable email sender that gives you a free account for up to 500 subscribers.

Pick one or two social media networks to start out with.

Learn how to build a following, gaining traffic & building a list.

Know the email laws before you send them.

Email laws

Reputable email programs will offer options and rules to follow these required guidelines.
For example, Each law has its own rules about consent and opt-ins, opt-out, penalties, and age restrictions

SMS Laws

Laws around time restrictions, opt-in/out restrictions and more. A reputable tool will tell guide you on what you need to know to stay compliant and avoid trouble like being sued.
Get Unstuck With This FREE 12 Step Action Plan For Affiliate Marketing =>
Aura Pricing and OTO's
Front-end: $22
OTO 1:  Unlimited Edition – $39 – $67
The Unlimited Edition of Aura has Multiple Templates, unlimited usage, unlimited traffic, and sales. It also comes with additional tutorials.
So there are limits in the front-end that don't tell us about, even though they say it is unlimited.
OTO 2:  Done-For-You Edition – $197
An upgrade that supposedly offers to deliver traffic and sales for you.
OTO 3:  Automated Edition – $39
Access to all automation tools in Aura.
OTO 4:  200 DFY Campaigns – $39
200 DFY campaigns, templates, swipes and more that they copy & paste to make affiliates sales with Aura.
OTO 5:  Selling Machine – $17 – $197
A custom funnel setup.
Estimated Total Cost: $353 – $561!
Get Unstuck With This FREE 12 Step Action Plan For Affiliate Marketing =>
Aura Review Conclusion
Now, let's make sure we answer the questions we asked in the beginning of this post.
Will Aura be your:
1-click app that creates promo videos"

Yes, it will create videos in a very difficult & frustrating to use or edit app

Firing them to 500 sources for free buyer traffic in 21 secs.

This won't matter if you don't have a list of people for each of the 500 sources. Who will you send it to?

Without experience or tech skills

All of this functionality requires some technical understanding, regardless of what this app claims. Does the word API scare you? Then this is too technical for you.! 
A complete newbie will be confused with all of these options, and will go in circles with no clear way to use or purpose to use this shiny object.
Our Personal Opinion
A newbie only needs a few things to start out with
Most of those things can be tried free or for a small fee that may increase with your business…Stick to 1 or 2 traffic sources, not 500, focus on building your list & providing value
Learn the laws & rules of the strategy you decide to use before you get penalized or shutdown
If you want to learn honest and long-term sustainable ways to make money online, then this 12 step action plan was made just for you!
Get Unstuck With This FREE 12 Step Action Plan For Affiliate Marketing =>