Thanks for checking out my Klever Review.
If you follow products on JVZoo and WarriorPlus, then you may hear about the latest product launch for Klever by Billy Darr.
Before you buy Klever, here's what you need to know:
The true cost of Klever
The truth behind the sales page claims
The product limitations
Other alternatives worth considering
What is Klever?
Klever is a traffic app that allows you to post content to your Facebook Pages & Messenger Bots.
You use Klever to publish different types of media content to your pages and messages.
The idea is to publish engaging content on Facebook to generate free traffic to your affiliate products and promotions.
Klever Little Traffic App Overview
Product Name: Klever (No Affiliate Link, You Don't Need This!)

Product Creators: Billy Darr, Dipanjan Goswami, Justin Opay

Product Categories: Facebook Publishing App, Content Scraper

Product Objective: Allow you to publish content to Facebook Pages and Messenger Bots.

Price: $17 – $528

Upsells: Yes.

Recommendation: You don't need this.

Who is it for: It's targeted for people who constantly keep spending money on unnecessary tools, services, and gadgets.
Klever Review Video, Inside the App
See the Klever little traffic app for yourself. I show you inside the Klever software and how it all works.
Klever Software Features
The features of the Klever Software include the ability to:
Publish content to multiple Facebook Pages
Create multiple post types with various media
Bulk publish posts to multiple pages at once
Schedule posts in advance to create your FB Pages content calendar
Find content ideas using the viral content finder (This can infringe on copyright laws so be careful here…)
Klever Limitations
Before we dive into the Klever product details, it's important to know the limitations first. This one app alone will not solve all your traffic and social media management needs.
Here's why:
Klever does not work for Facebook Groups
Klever only works for Facebook Pages, Messenger Messages. It doesn't include groups which are a common strategy for driving free traffic to your affiliate products.
Affiliate marketers commonly use Facebook Groups to build relationships with audiences who are interested in their topic. This strategy makes it easier to suggest solutions (aka affiliate products) when it makes sense.
If you want to create and manage Facebook Groups, you have to use Facebook directly or another tool.
Posting on Facebook Pages does not guarantee traffic
No Facebook Fans = No Free Traffic (Period).
Facebook pages are built on the premise of building fan bases around your page concept and ontent. If your pages do not have any fans, you will not have any free traffic.
There are 90 million businesses on Facebook. You are competing with 90 million other companies and pages for free traffic.
The chances for your content to be suggested over others is very slim.
Because of this fact, publishing content on Facebook pages doesn't magically generate traffic to your offers.
Facebook Pages Generate More Traffic with Ads
Even Facebook recommends you run ads to get more eyeballs on your page content. Why else would they ask you to spend money?
Because they know the free way will NOT get you the results you want. Or the results Klever promises.
The Truth Behind the Claims
Get Your Customers Free Traffic From Leveraging Fanpages & Messenger Tech
Facebook has offered free traffic opportunities from pages since the year, 2007. This amazing concept is nothing new.
First of It's Kind Facebook Traffic Software…
Once again, Facebook has been around for 16 years now. There are thousands of softwares that work on Facebook. This type of software is not new.
I've included free alternatives to Klever alternatives below.
Software, Tutorials And Everything Else Your customers Need To Succeed
You need to buy the upsells to get better training and tutorials. The basic front-end offer (for $17) comes with a very basic user guide to show you where the features are.
The Worlds 1st Klever Little Traffic App, Leverages Facebook Fanpages & Messenger For Mass Free Traffic, Leads & Sales In 60 Seconds
Watch out for the "traffic for 60 seconds" claim. This only works if your pages have an audience that you can promote to.
If you have the audience, you don't need Klever to get traffic from them. You don't need Klever to get those people to read your website content or buy your affiliate offer.
Get Unstuck With This FREE 12 Step Action Plan For Affiliate Marketing =>
Klever Product & Price Details
The first initial (front-end) offer is cheap. The 5 upsells add more functionality for an additional $511.
If you bought the entire product set with all of the upsells, you'd spend a total of $528.
(That's a lot of money just for a Facebook Page and Messenger only solution!)
Here's what comes with the front-end offer and upsells.
1. Klever – $17
The Klever basic version allows you to:
Publish to your pages and people in messenger
See basic publishing stats in the dashboard
Copy content from other people's YouTube channel video descriptions
View basic engagement and performance metrics in the reports
Social sharing which doesn't work very well
An important note: Klever basic comes with publishing and traffic restrictions. If you want unlimited restrictions, you need to pay additional money for Klever Unlimited.
2. Upsell 1: Klever Unlimited Edition – $39
The Klever Unlimited Edition removes the usage and traffic restrictions. It also comes with additional features and training.
3. Upsell 2: Klever Automation Edition – $39
Klever Automation supposedly unlocks more traffic sources. The current social share traffic sources in the Klever Basic do not work very well as is…
4. Upsell 3: Klever Done-For-You Edition – $197
The DFY edition provides you more templates and automation features.
5. Upsell 4: Klever Reseller Edition – $39
The Reseller edition allows you to resell Klever to other people.
6. Upsell 5: Klever Luxury Edition – $197
A customized funnel setup with your autoresponder integration, squeeze page, follow up emails, and additional traffic training.
Klever Total Cost: $528
That's a lot of money for just a Facebook Page and Messenger only solution.
Klever User Guide
You can learn more about Klever through this manual. This is the only training you get when you buy Klever Basic.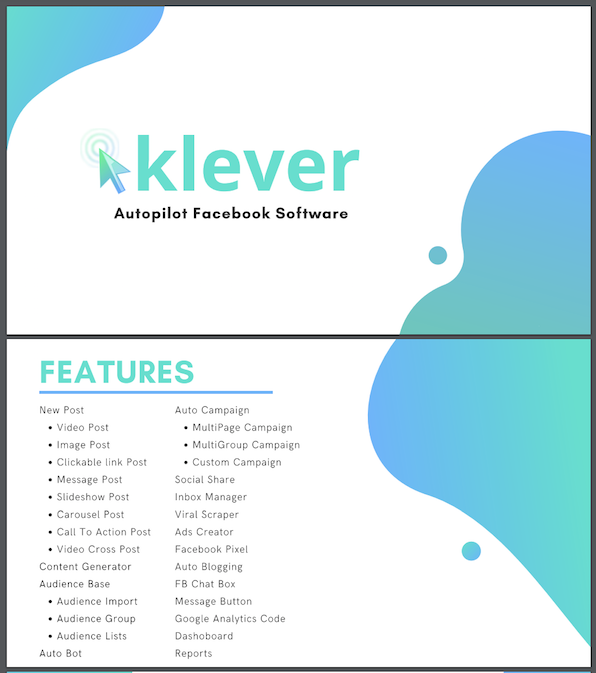 Take a look at the manual here.
Klever Alternatives
If you search for best publishing apps to Facebook, you'll find other products mentioned in every list. These are more popular alternatives to Klever.
Hootsuite – One of the most popular social media publishing apps today. You can get a free account with Hootsuite.
Buffer – Another extremely popular app that also offers a free version.
Final Verdict
Klever works in the way it says it does. However, it is quite limited for overall social media needs.
You are better off starting off with a free account somewhere else and adding a more robust solution when you have built up audiences across your social media channels.
If you are interested in learning how to make money online, here's my recommended training for you. You get instant access!
Get Unstuck With This FREE 12 Step Action Plan For Affiliate Marketing =>