Before you can launch a website live on the internet, you need a domain name for it.
There are many companies that you can buy a domain name from. Wealthy Affiliate is one of these many companies.
This guide will walk you through step by step on how to buy a domain name from Wealthy Affiliate.
This post contains affiliate links. We get a commission for purchases made through our links, at no extra cost to you.
Learn more
.
Once you have chosen the domain name you want and confirmed it is available, you are ready to buy your domain name.
The benefits of buying domain names from Wealthy Affiliate is that they include private domain name registration and unlimited emails addresses with every domain name.
Most other domain registrars charge extra for these two features.
So this is why we choose Wealthy Affiliate over GoDaddy, Bluehost, etc.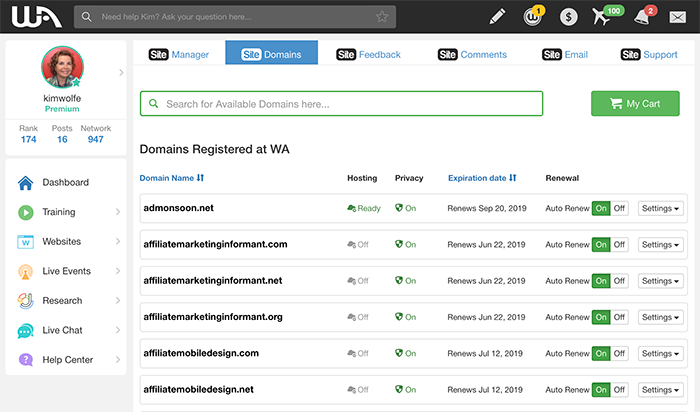 How to Buy a Domain Name From Wealthy Affiliate
1. Login into Wealthy Affiliate.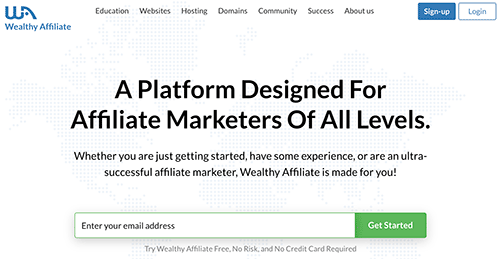 If you are not already a member of Wealthy Affiliate, you can create a free account.
To sign up, choose the free starter package and just enter in your:
Email Address
Full Name
Username
Password
2. You are now on the Wealthy Affiliate Dashboard.
From the dashboard, you can access all of the tools, training and social features of the Wealthy Affiliate platform.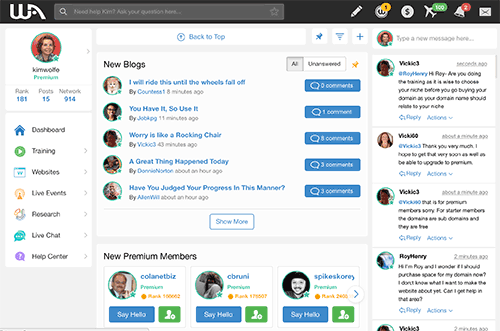 3. Click on Websites, located on the left hand side.
This will bring up the websites menu of options.
This area connects you with all of the web development tools available in Wealthy Affiliate.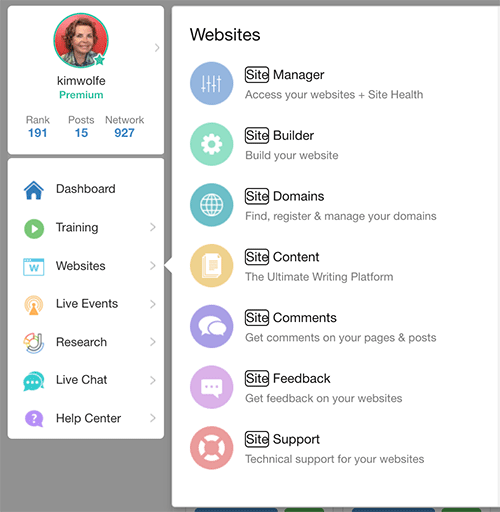 4. Click on Site Domains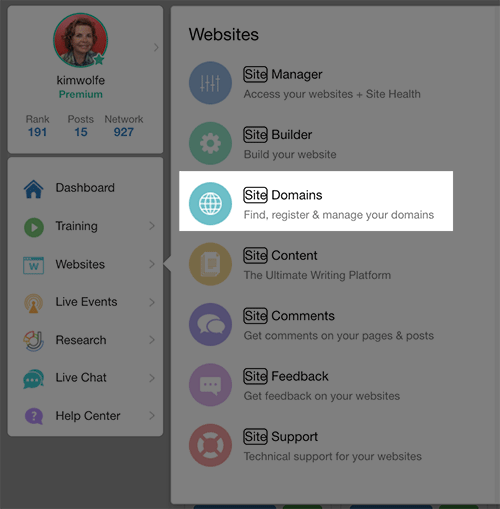 5. Enter in the domain name into the search bar
example: blendersworld.com

6. You will see results for the domain name you entered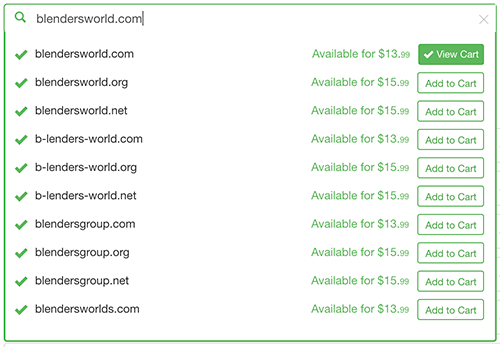 These results are available domain names that you can buy.
7. Click on Add to Cart for the domain names you want to buy
For domain name buying strategies, read the tips section below before you buy.
8. Click on My Cart

9. Click on Checkout
10. Confirm the domain name is correct
You cannot change it after you buy it! You will own it for the time duration you specify in the next step.
11. Click continue
12. Choose how many years you want to register the domain name for:
One year
Two years
Three years
Four years
Five years
Six years
Seven years
Eight years
Nine Years
Ten Years
In this example, we will choose one year.
13. Click continue
14. Enter in Your Contact Details
All domain names require registration. This information is what secures the domain name to you and no one else.
You must enter in correct information about yourself:
First Name
Last Name
Street Address
Country
State / Province
City
Zip / Postal Code
Telephone Number
Email Address
15. Confirm that the Domain Privacy Protection is set to On
You do not want your contact details showing to everyone in the massive database of domain name registrations.
16. Click continue
17. Enter in billing address information and payment information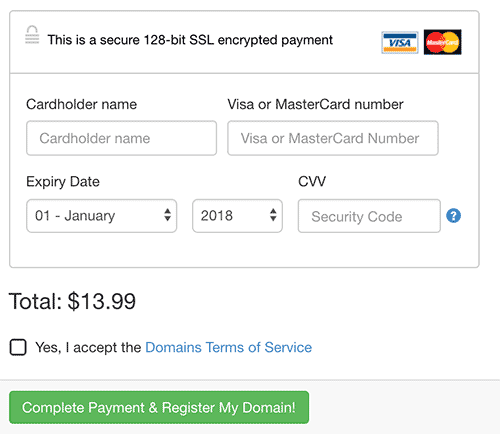 You can use the same address from contact information.
And you can pay with Credit Card, PayPal or Wealthy Affiliate Credits.
18. Check the checkbox to say: Yes, I accept the Domains Terms of Service
Read Wealthy Affiliate's Domain Terms of Service
19. Click Complete Payment & Register My Domain! 
This will finalize the purchase and charge your credit card.
Congratulations!
You are now the official owner of this domain name! You own it for as long as you want.
And you can build an amazing business on it. Go get it!
Got Questions?
Feel free to leave them below. Thanks for reading!
Or Learn More About Buying Domain Names
5 Tips for Buying a Domain Name Which Features Do You Really Need?
How to Buy a Website Domain Name And Avoid These Costly Mistakes