Looking for Vidnami alternatives? You are in luck. 
Whether you want to create videos to monetize your Youtube channel. Or use video to improve the performance of your sales pages to sell more products.
You have plenty of video makers to choose from. 
Vidnami used to be a fan favorite before they changed their free trial offer. Many people were trial hopping and using all of Vidnami's video creation features for free.
Once Vidnami changed their free trial offer, people started looking for alternatives.
Although it is hard to compare to the intelligent video creation and built-in auto voice features in Vidnami, some people still want to use another video maker.
Fortunately for you, there is no shortage of alternative video makers. (Video is the best marketing tool after all…)
So I created this Vidnami alternative list just for you! Use to compare Vidnami to 14 other alternatives.
Vidnami was formerly called Content Samurai. Use this same list if you are looking for Content Samurai free alternatives.
We will start out with highlights for Vidnami first. Then we will look at other options.
Heads up: I am a real affiliate marketer. I may make affiliate commissions on purchases from some of these links (at no extra cost to you). This is good news for you. At least I practice what I preach 🙂 Learn more here.
Vidnami
Price: $47/mo, $397/yr
Affiliate Program: 50% Commission
Free Trial or Plan: Yes
Get Vidnami for $35/mo with my link here.
+ Automatically chooses video and creates text overlays
+ Automatically creates captions and transcribes your video
+ Access to over 790,000 video clips library
+ 30,000 royalty-free music tracks
+ Text to Speech voiceover
– Only Works on Google Chrome browser
– Processing can be slow depending on the video size
– Some photos/videos require attribution (auto-generated) 
– Data breach in Aug 2020 makes security questionable
Vidnami is a unique video maker that automatically combines your text, clips, voice track, and music for you.
The built-in artificial intelligence reads your text and automatically selects video clips from the library of 790,000 video clips.
Vidnami also automatically creates captions for your videos, which helps with your YouTube SEO score.
Vidnami is best suited for anyone looking for a way to create engaging videos with very minimal work.
The built-in auto voice feature is great for anyone whose native language is not English. Here are 10 Vidnami examples of what Vidnami videos look like in real life.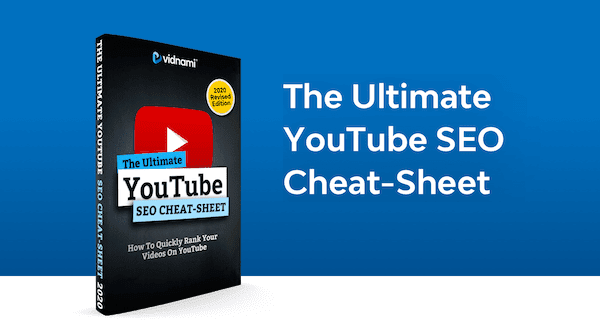 Grab their YouTube SEO Cheat-Sheet today to learn:
22 tips pro marketers use to quickly rank their videos on YouTube
How to write video titles that actually get clicks
3 tags your video must have to maximize your traffic
The single biggest factor that impacts your video rankings
7 tricks to generate natural inbound links
How to jump-start your video immediately after you publish it
Now let's look at your other options. Here are 14 Vidnami alternatives for you to consider instead. 
14 Vidnami Alternatives
Watch this video for a quick run through of all of them. Read below for more details on each alternative.
Best Free Vidnami Alternatives
IMPORTANT NOTES: Free accounts come with limitations.
1. Free plans come with video quality limitations. Videos may be limited to 420p or 720p resolution. If you want 1080p, you may need to upgrade to a paid plan.
2. Free plans may come with creation or export restrictions. For example, some free video makers restrict the number of videos you can create each month. Some restrict the number of videos you can export each month.
3. Videos made with free accounts include a video maker branded watermark. If you want to remove the watermark, you will need to upgrade to a paid plan.
Check the free account restrictions and try each free plan to find the right Vidnami alternative for you.
1. InVideo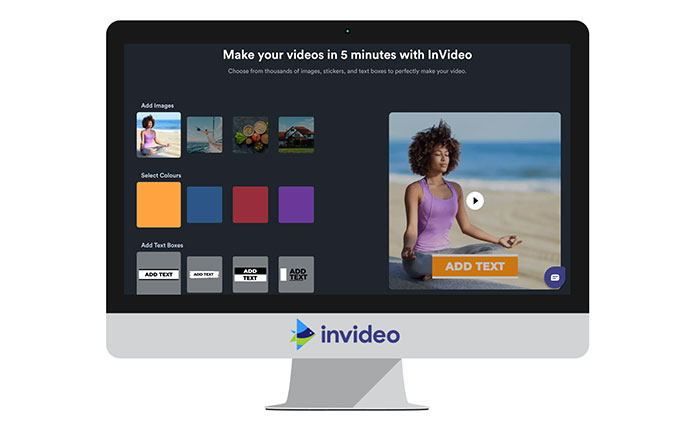 Price: $0, $20 – $60/mo, $120 – $360/yr
Affiliate Program: 50% Commission
Free Trial or Plan: Yes
+ Create video from a URL
+ Full Customization options 
+ Automated Text to Speech Option
– No automatic media selection
– 15 minute video length max
InVideo is considered to be a Canva for making videos.
With 3000 templates, InVideo is great for creating short videos to upload on social.
You can leverage animated grids to display multiple images in the same scene. Or layouts to compare new features. And add a little fun to your scenes with the many sticker options. 
InVideo is best suited for someone looking for a quick way to make videos by simply plugging content into templates.
InVideo is not the best alternative for long, custom, in-depth explainer videos. 
2. Lumen5
Price: $0, $29 – $199/mo, $228 – $1788/year
Affiliate Program: Yes
Free Trial or Plan: Yes
+ Automatic scene selection with relevant background photos, videos, and music.
+ Text to Speech AI Voiceover (in BETA, needs to be enabled for your account)
– Voiceover feature doesn't work in Safari or mobile browsers
– Slow rendering times for final videos
Lumen5 claims to be the easiest video maker for social media marketing.
Lumen5 allows you to create engaging videos with the help of AI-powered technology to automatically use relevant motion videos from its library. 
Lumen5 is best suited for anyone who wants to make video a regular part of their marketing strategy.
The ability to tap into 15 million videos, stock photos, and audio files makes Lumen5 a popular choice. There is no voice-over option, image, or sound editing features. 
3. Biteable
Price: $0, $29 – $99/mo, $228 – $588/yr
Affiliate Program: Yes
Free Trial or Plan: Yes
+ simple interface
+ no design or video editing background required
– need more high-quality video clips
– difficult to change timings and speeds
Biteable is an online video and animation maker.
Biteable allows you to create all kinds of videos with animations for video ads, explainer videos, presentations, and social videos.
Choose from pre-designed templates and scenes to mix and match with your own content as desired. Biteable helps you create animated videos with characters, infographics, or motion effects.
Biteable is best suited for non-technical users who want to create fun, entertaining videos to share on social.
The video animator creator is not super sophisticated or complicated to use. There's no voice over options and limited customization features.
Keep in mind, these types of animated videos are not good for explainer videos, product reviews, or helpful information to help inform people of whether to buy a product or not .
4. Typito
Price: $0, $29 – $149/mo, $300 – $1500/yr
Affiliate Program: No
Free Trial or Plan: Yes
+ 5 star rated support team
+ specializes in text videos
– limited number of videos per month
Typito looks more like Canva for making videos, than InVideo in my opinion. 
With 500+ free motion templates and 600,000+ free images, Typito gives InVideo a run for your money.
Typito allows you to create brand videos in 20 different formats. Instant Captions, easy drag and drop editor and brand kit feature makes Typito a video maker favorite. 
Typito is best suited for marketers who need an easy way to publish videos on Facebook, Instagram, Twitter, YouTube and LinkedIn. 
5. Veed
Price: $0, $15 – $30/mo, $144 – $288/yr
Affiliate Program: No
Free Trial or Plan: Yes
+ simple video editor 
+ requires little training to use
+ sample video creator, no login required
– no stock media or royalty-free assets
– data breach in Nov 2019 makes security questionable
Veed is a simple video editor that requires little training to get started.
Veed provides an easy way to create influencer videos with automatically generated subtitles, cool video effects, and your custom logo for branding.
The founders created Veed after becoming frustrated with other video editors that were complex and time-consuming to use.
Veed is best suited for online marketers, affiliate marketers, influencers, and solopreneurs.
Veed videos are dependent on your uploading the video content and do not include stock assets. If you are looking for a quick way to edit your own recorded videos, Veed is a great option for you.
You can try out the Veed video editor without signing up for an account. 
6. WeVideo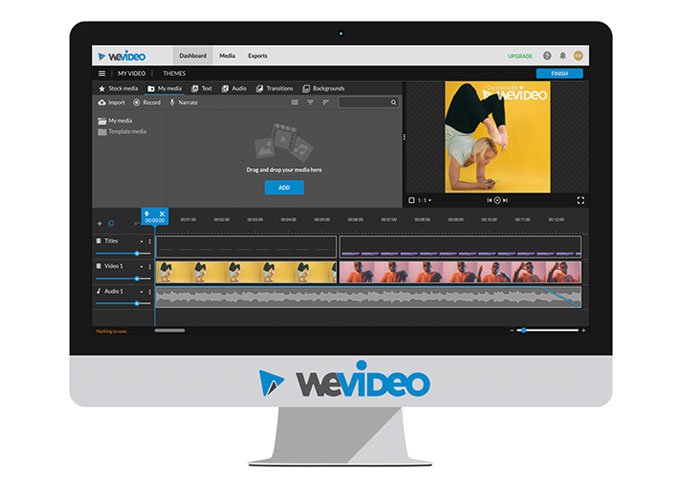 Price: $0, $9.99 – $59.99/mo, $59.88 – $358.88/yr
Affiliate Program: 20 – 30%
Free Trial or Plan: Yes
+ includes cloud storage for videos
+ good for video ads across YouTube, Facebook and Instagram
+ works on any device that supports the internet
– limited audio editing options
– slow video rendering times
WeVideo makes it easy for anyone to create engaging videos. 
You can easily make your videos look cool with a wide variety of animated text options, colors, fonts, music and special effects. 
WeVideo is best suited for just about anyone. They have a wide variety of price plans to fit just about any profession's needs. Memory makers, passionate video creators, marketers, solopreneurs, small marketing teams and businesses. 
The WeVideo professional and video plans include unlimited use of 1 million of stock media videos, images and music tracks. 
7. BIGVU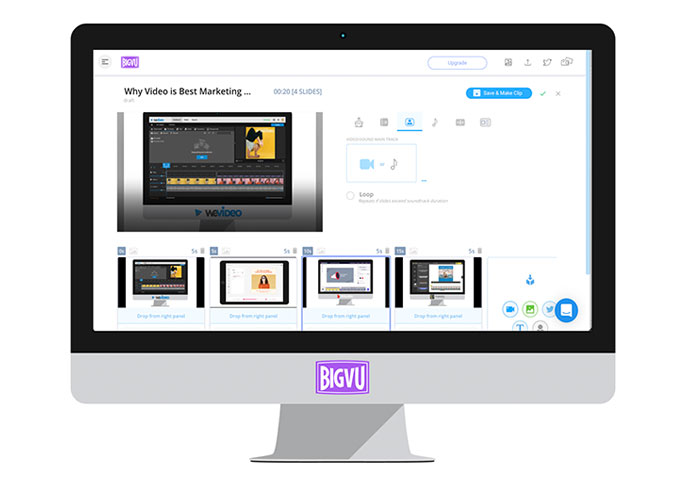 Price: $0, $14.99 – $79.99/mo, $79.99 – $499.99
Affiliate Program: 20%
Free Trial or Plan: Yes
+ desktop and mobile app
+ includes teleprompter for professionally spoken videos
– desktop composer is hard to navigate
– instructional videos and support are not always clear
BIGVU is a mobile app and desktop based video maker that allows anyone to create videos like a pro.
The teleprompter feature, green screen background replacement, automatic captions, logo, titling, and music allows you to script and style professional-looking videos quickly. 
BIGVU is best suited for individuals and small businesses to create videos for various platforms.
Videos created with BIGVU can be used for marketing videos, sales pitches, news, social posts, training videos, and online tutorials.
Grab the same beginner video marketing course I used to start making money on YouTube.
Best Paid Vidnami Alternatives
8. Storyblocks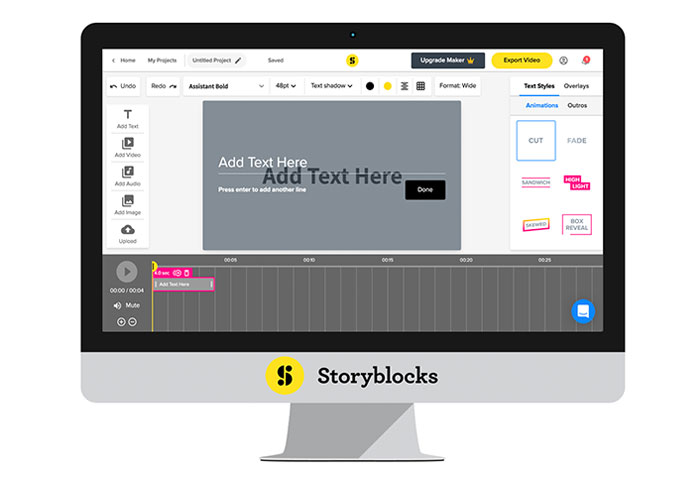 Price: $19 – $65/mo, $99 – $349/yr
Affiliate Program: Yes
Free Trial or Plan: Yes
+easy to search and find media
+ video maker is in BETA mode
+simpler payment model than using credits
Storyblocks is a marketplace for royalty-free stock media assets.
They offer flat-rate pricing for unlimited access to 893,000 video, audio, and image files.
With Storyblocks, you'll find HD / 4K footage clips, AE templates, and motion backgrounds to bring your video content to life. The Storyblocks Maker is their newly released video maker to easily create videos from marketplace content. 
Storyblocks is best suited for freelancers, creatives, and business owners who create high-end videos for their own materials and client projects.
Storyblocks focus is video footage with audio and photos for support content. The video maker is a tool they added to help members leverage the content in creative ways and get more value from their Storyblocks subscription. 
9. EasyVSL 3.0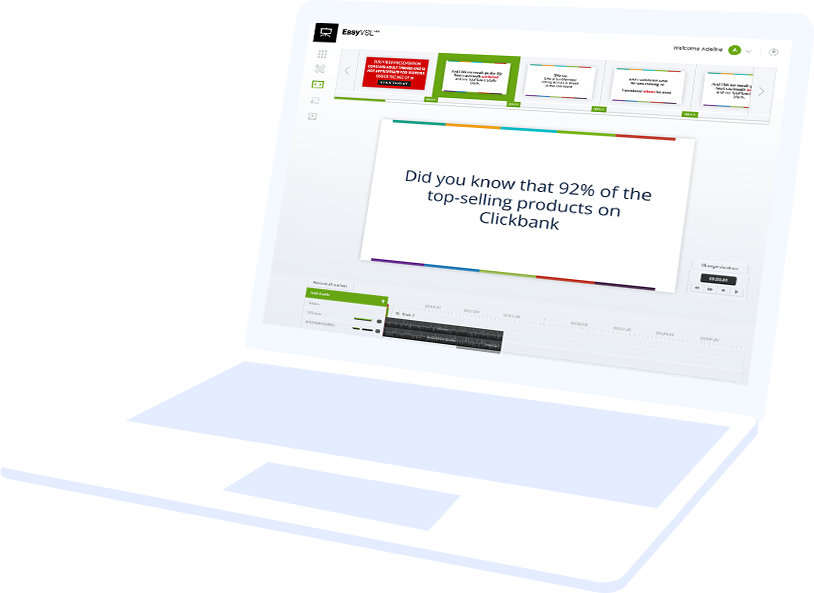 Price: $97+$9.99/mo, $197/yr
Affiliate Program: 50% Commission
Free Trial or Plan: No
+ easy to use 
– requires download, not cloud-based
– Supports horizontal formats only
– no square or vertical formats 
EasyVSL 3.0 is a slideshow presentation style video maker.
3.0 includes newly released features including kinetic typography style videos, automated voiceover sync, and access to 1,000,000 royalty-free images.
EasyVSL is best suited for video sales letters and explainer videos. The lack of support of square or vertical videos makes EasyVSL, not a good fit social media or ads. 
Hardcore Vidnami Alternatives
10. Wave.video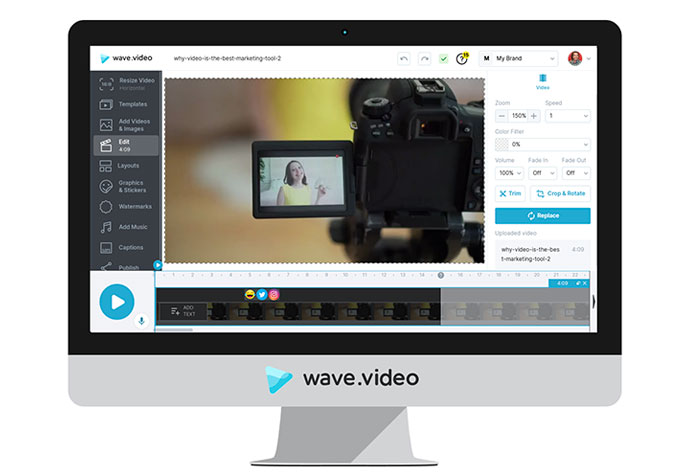 Price: $0, $49 – $99/mo, $234 – $474/yr
Affiliate Program: 20% Commission
Free Trial or Plan: Yes
+ all in one editor
+ auto-generated video landing pages
+ video formats auto-resizing
+ includes video hosting
– text layers do not automatically adjust when format changes
Wave is an online video making and hosting platform for all of your video marketing needs.
With Wave.video, you can easily create and host videos for your promotions, video ads, social media, emails, website, and blog.
Wave makes it easy for you to combine video clips, crop and trim your video the way you want, add animated text, record a voice over for your video, add music to video, apply color filters and change the aspect ratio of your video.
Wave is best suited for small business owners, marketers, and bloggers who want to grow their brand with video.
All of your video edits are automatically saved in the cloud as part of the included online storage. 
11. Rocketium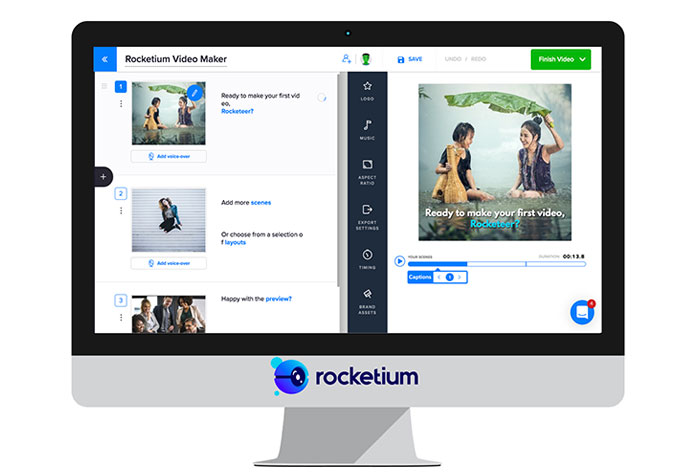 Price: $0, $49 – $499/mo
Affiliate Program: Yes
Free Trial or Plan: Yes
Workspace video organization feature
Sometimes difficult to make customizations
Templates can be creatively constricting
Rocketium is a suite of video and image creation products for creative agencies, serious marketers, and professional teams.
The online video maker is a self-serve video creation software with drag & drop capabilities and integrations for video production. 
However, the main product of Rocketium is the API that automatically creates videos in bulk from the converted data sent. (API and spreadsheet bulk create features require high-cost business plan.)
Rocketium is best suited for marketers, design teams, and brand managers working on high-performance campaigns for other customers.
Geared to support the professional graphic design production process, Rocketium offers an API for bulk video creation, workspaces for an organization, and workflows for team management processes.
12. Promo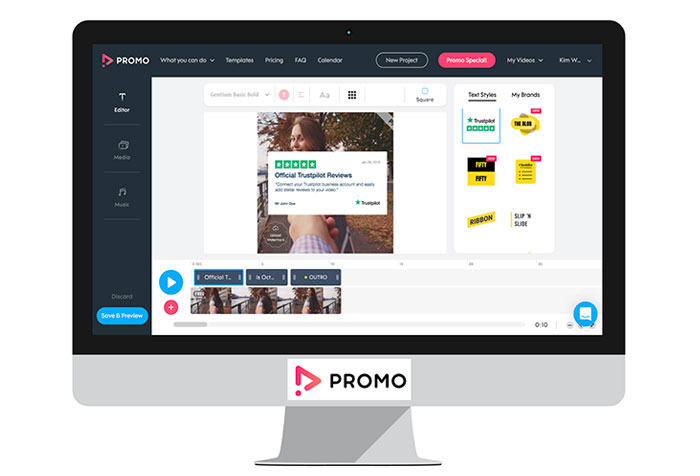 Price: $0, $49 – $359/mo, $468 – $2988/yr
Affiliate Program: 30% Commission
Free Trial or Plan: Yes
+ best suited for video ads 
– restricted video lengths
– complex pricing structure
Promo is an award-winning video maker to create practically any type of video. Video ads, social media videos, product videos and explainer videos.
You can design from 2,500 video templates or create your own. And you can choose from 23M premium HD videos and photos from Getty, Shutterstock, and other media asset partners. 
Promo is best suited for who wants to promote a vision, a product, a business, a sale, an idea, an event, a blog post, or anything. 
13. Animoto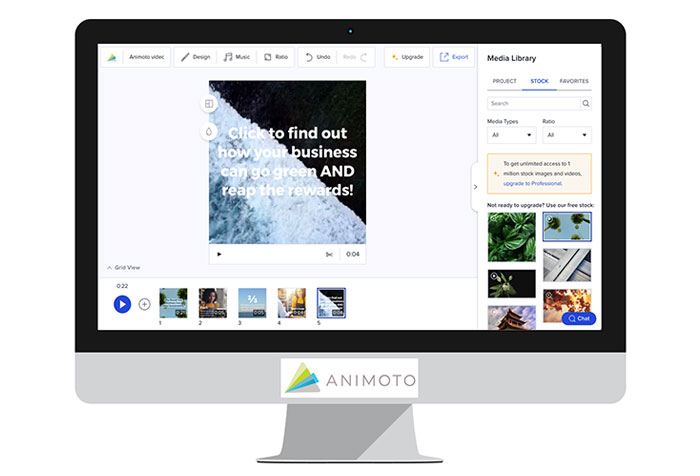 Price: $0, $65 – 94/mo, $396 – $588/yr
Affiliate Program: Yes
Free Trial or Plan: Yes
+ easy to create short videos
+ easy to use templates
– limited amount of templates
– difficult to connect with technical support
– long video preview times
Animoto makes it easy to create professional quality videos on your computer and mobile device.
Leverage the easy to use drag and drop editor with pre-built templates, and 1 million stock photos and videos from Getty Images (paid plans only.)
Animoto allows you to create a video from a storyboard template or completely from scratch. 
Animoto is best suited for professional creatives and established business owners who need to frequently create high-quality videos for their products or services.
The price of Animoto monthly paid plans are higher than other Vidnami alternatives, but there are no restrictions on how many videos you can create.
The videos from Animoto can be created in many different sizes to support any social network or platform sharing requirements.
14. Fleeq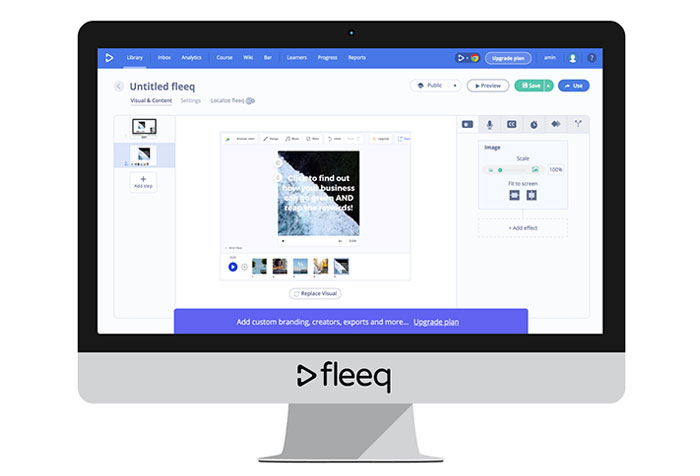 Price: Call Required
Affiliate Program: No
Free Trial or Plan: Yes
+ creates live interactive videos
+ auto narration
+ video localization and translations
+ real-time tracking and retention status
+ chrome extension allows easy screenshots and video sharing
– non disclosed prices
– have to set up a 30 min call to get price details
Fleeq is a unique video maker great for demoing new features, training new employees or for internal knowledge sharing. You can easily create bite-size explanatory videos in minutes.  
Then Fleeq offers the unique ability to track, embed, optimize, localize and share them in seconds. You can get real-time feeds of who's watching what, where and when.
This helps you understand how viewers interact with your content so you can improve engagement over time. 
Fleeq is best suited for serious marketers, course creators, support teams, and businesses who can use videos as ways to communicate.
Although Fleeq can be used for video marketing on YouTube, it is designed for so much more.
Grab the same beginner video marketing course I used to start making money on YouTube.