Thanks for checking out my Affiliate Insider Monthly Review by Matt McWilliams.
If you are looking up your affiliate marketing skills, then AIM is worth considering. You'll learn new tips and tricks every month.
Affiliate Insider Monthly strives to keep you up to date with the latest affiliate marketing trends.
Afterall, this is a challenge for every affiliate marketer, no matter what experience level you are.
Because the affiliate marketing space moves so fast.
Technology. Consumer behaviors. Affiliate offers.
What you and every good affiliate marketer wants to know among this fast-paced change is how to:
Deliver your affiliate offers so you get the best results
Show up on leaderboards and win contests miles ahead of other affiliate marketers
Make bank with affiliate commissions (you want that right?!)
In this Affiliate Insider Monthly Review, I'll show you how AIM can help you. You'll see everything you need to know about Affiliate Insider Monthly (AIM) before you buy it.
If you have any questions that I don't answer here, definitely leave a comment below so I can help you out.
Affiliate Insider Monthly Review Topics
Affiliate Insider Monthly Review Overview
Product Name: Affiliate Insider Monthly

Product Creator: Matt McWilliams

Product Categories: Affiliate Strategies, Affiliate Training

Product Objective: To keep you up to date on the latest affiliate marketing trends and changes that are working for other affiliate marketers, so you know how to succeed.

Price: $47 per month or $197 per year – But you can try it out for $1 through my link – See more info below…

Who is it for:  Intermediate or Advanced affiliate marketers, online marketers, entrepreneurs, and soloprenuers.

Skill Level: Intermediate or Advanced affiliate marketers. Not recommended for beginner. My recommendation for beginners here.

Recommendation: Yes. I recommend this for anyone serious and obsessed with affiliate marketing success.

Would I Buy it: Yes. And I did 🙂 (I pay the monthly the fee because I learn valuable insights that cover the costs 🙂
Access 2 months of insights worth thousands in affiliate commissions for only $1.
What is Affiliate Insider Monthly?
Affiliate Insider Monthly (AIM) is a monthly training service to learn the latest trends, tactics, and strategies of successful affiliate marketers.
The primary goal of AIM is to teach the latest strategies and tactics for succeeding with affiliate marketing, being used by other successful affiliate marketers.
If staying up to date on the latest affiliate marketing news, strategies, and changes, then Affiliate Insider Monthly is right for you.
How AIM Works
Affiliate Insider Monthly (AIM) delivers new content every week of every month. So, no two weeks (or months) are ever the same.
Each week, a different type of content is released ranging from trend reports, behind the scenes access into team affiliate promotions, interviews with other affiliates, and a regularly scheduled Q&A chat time to ask questions and learn from other's questions.
Here's how the AIM content is rolled out each month so you know what to expect:
Week 1: Latest Affiliate Trends Report shares the latest affiliate marketing news, strategies, and changes
Week 2: New Backstage Pass gives you exclusive behind-the-scenes access to Matt McWilliams' team affiliate promotions so you can learn what's working and what's not for them
Week 3: Insider Profile of the Month is an exclusive interview with successful affiliates who shares tried and true strategies and tips
Week 4: Monthly Fireside Chat allows you to dive into your biggest questions and greatest struggles with Matt and his team
Affiliate Insider Monthly REAL DEMO & Walkthrough From a Real Member
Affiliate Insider Monthly Pros and Cons
Pros
​Master the affiliate marketing basics
Stay up to date with the latest changes in the affiliate marketing industry
Learn from top affiliate marketers across various niches
Connect with other affiliates in the AIM Insiders' Club Facebook Group
Access to exclusive discounts and special offers
Cons
I haven't found any flaws yet
Affiliate Insider Monthly Features
Downloadable Trend Reports – PDF format so you can save or print for continued reference, some are videos
Private access to the Facebook Group, AIM Insider's Club, to connect with other affiliate marketers
Live case studies and recordings to watch on demand
Live Q&A sessions with Matt every month
Affiliate Insider Monthly Product Details
Affiliate Trends Monthly Reports
The Affiliate Insider Monthly Affiliate Trends Report is a monthly report that showcases the latest trends in the affiliate marketing world. Each month focus on specific topics that help you learn how to increase your affiliate commissions.
To give you an example, here's what you will learn inside the Affiliate Insider Monthly Trends Report for August 2020.
August 2020 Trends Report
How 15 affiliates finished in the top 7 of affiliate promotions with very small lists
Strategies that can increase your affiliate commissions
6 mindset shifts and 6 strategies to improve your affiliate performance results
Four steps to help you get past your fear and start selling with confidence (the only way to make affiliate commissions)
A unique bonus strategy that can pay in huge dividends
Additional Affiliate Insider Monthly Trends Reports
At the time of this post, there are 11 monthly affiliate trends reports.
August 2020
July 2020
June 2020
May 2020
April 2020
March 2020
February 2020
January 2020
December 2019
November 2019
October 2019
Disclaimer: You may not be able to access all of these previously released reports. It depends on when you join and the offer around when you join. Some offers allow you to access previous reports. The most current offer only allows you to access the content released after you join.
Backstage Pass
The Affiliate Insider Monthly Backstage Pass takes you behind the scenes of monthly affiliate promotions executed by Matt McWilliams team. You'll learn various insights from how the team approaches, executes and succeeds with different affiliate promotions.
To give you an example of what you can expect in a Backstage Pass, here is July's edition. (August hasn't been released yet.)
July 2020 Backstage Pass
In the Affiliate Insider Monthly's July Backstage Pass, you get insights into the team's recent promotion of Ryan Levesque's Quiz Funnel Masterclass. You'll learn everything from:
How to prepare early, remain flexible, find balance,
Adjust on the fly, create systems to make promos easier
Use mystery to increase open rates
Create killer bonus packages
Additional Affiliate Insider Monthly Backstage Passes
Previous Backstage Passes cover other promotions with vivid details and insights on how to improve your affiliate promotions. A few previous behind the scenes promotions worth learning from are:
Backstage Pass for Our Best Affiliate Promotion Ever
Behind the scenes for different ways to use and promote evergreen offers
Inside look into their Black Friday Affiliate Promotion
Backstage Pass for their Product Launch Formula Affiliate Promotion
Insider Profiles & Case Studies
The Affiliate Insider Monthly Insider Profiles & Case Studies connects you with insights from a different affiliate marketer each month. You'll learn from everyone who's participating in an affiliate program for the first time to experienced affiliate marketers who have their best affiliate promotion ever.
Here example Insider Profile released for August 2020.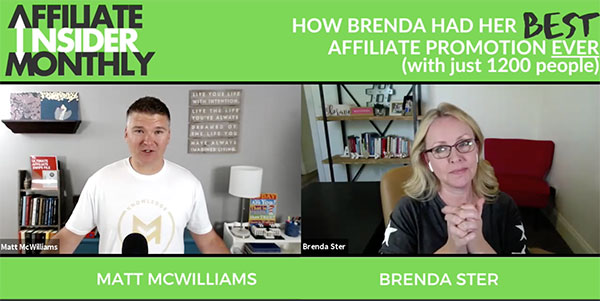 August 2020 Insider Profile with Brenda Ster
The August Insider Profile shows how Brenda Ster had her best affiliate promotion ever, with only a list of 1200 people.
In this case study, Brenda shares her tried and true insights on:
Strategies that led to her success
How to reach out to the creators
How to go through the launch content with your list
Key affiliate marketing 101 strategies she used for her success
Additional Affiliate Insider Profiles & Case Studies
Previous insider profiles and case studies feature a variety of other affiliate marketers and lessons including:
Keira Merkovsky's first-ever affiliate promotion sharing the fundamentals of being new in the online space and promoting in a notoriously "difficult" niche
John Lee Dumas and Kate Erickson from Entrepreneurs on Fire parlayed a challenge into a Top 10 spot on Tony Robbins' and Dean Graziosi's Knowledge Broker Blueprint leaderboard
Interview with the founder of Growing Farmers, Michael Kilpatrick, discussing one of the best and fastest list building strategies that can help with affiliate promotions
​Fireside Chats
The Affiliate Insider Monthly Fireside Chats is an intimately portrayed monthly Q&A session. This monthly session is a place to ask Matt and his team your toughest questions and get help with your biggest struggles. What affiliate marketing question you have, you can get live help with them each month.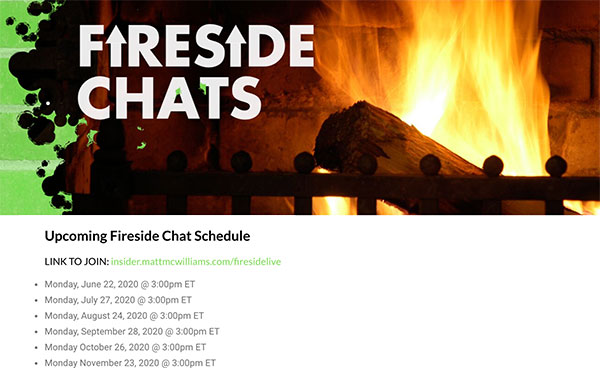 Exclusive Discounts and Offers
Access to AIM-Only discounts, offers, and affiliate promotions. With these exclusive discounts and offers only available to Affiliate Insider Monthly insiders, you'll get access to products, services, and special offers not available anywhere else.
Affiliate Insider Monthly Price
Two Pricing Options:
Monthly: $47 per month (Total Cost: $564 per year)
Yearly: $197 per year subscription
Affiliate Insider Monthly Support Details
There are multiple AIM support options if you decide to buy it:
Email: support@mattmcwilliams.com or insider@mattmcwilliams.com
Facebook: Posting inside the Private Facebook Group
Affiliate Insider Monthly Cancellation Policy
Since you can try out AIM for 60 days and only pay $1, there is not really a refund policy.
Over the course of 60 days, you will get two months of trends, insider profiles, backstage passes, and live Q&A sessions for 1 buck. If you decide that Affiliate Insider Monthly is not for you, you can cancel your membership before the 60 days expires. You won't be charged any more money.
After your $1 trial ends, you can cancel at anytime to prevent from being charged the $47 for the next month.
Affiliate Insider Monthly Affiliate Program
The big question that every good affiliate will ask. Does Affiliate Insider Monthly have an affiliate program?
The answer is yes. Although it is not advertised. If you want access, reach out to support.
Affiliate Insider Monthly Alternatives
I haven't found any other services quite like Affiliate Insider Monthly. If you know of a quality alternative, please tell me in the comments below. Its always good to know of all options.
Affiliate Insider Monthly Review Final Verdict
If you are looking to up your affiliate marketing skills, then AIM is worth considering.
Whether you want to know how to close more sales, how to promote challenges, or pivot during economic times of uncertainty, Affiliate Insider Monthly is worth trying out.
Don't forget, you can get 2 months access for $1. If this doesn't sound like a good offer, then AIM is NOT for you.
I hope this Affiliate Insider Monthly Review helped you out.
Got Questions?
If you have any additional questions about AIM or even random questions about affiliate marketing, feel free to leave a comment below!