How Do I Check My Website Ranking?
If your content isn't ranking within the first 5 pages or so, then you are likely not generating much search engine traffic to your products or affiliate offers for sale.
So, as you build out the content on your website, it's important to check your website rankings often. Each piece of new content you create should target a keyword to rank within Google or other search engines like Bing and Yahoo.
How I Check My Keyword Rankings
Although there are many SEO tools out there that will check your page rankings for you, there are free ways that most tools will not tell you about. Because many SEO tools require some sort of monthly or yearly fee for access.
There are definitely reasons why you should consider using paid SEO tools down the road. But if you are just starting out with a website or as an affiliate marketer, here are the free ways I use to check keyword rankings for my website. (It doesn't cost me or you any money 🙂
How to Find Your Website Ranking in Google
The easiest way to find your website ranking in Google is with Google Search Console.
Google Search Console is a free SEO tool that allows you to see where your content ranks in Google search results, monitor your organic website traffic and fix any indexing issues that may arrive. (Indexing just means that the search engines know your content exists.)
The steps for checking your website ranking in Google are quite simple.
1. Make sure you are signed up with a free account
3. Choose the Performance Page + NEW Page
4. Type in (or copy & paste) the URL you want to check page rank for
e.g. https://affiliatemarketinginformant.com/wealthy-affiliate-review
5. See your average position for that page
Pro Tip: This page is showing up as the 92nd – 93rd search engine results in Google. Not quite where I want this post to be. However, this post was recently published (less than 1 week old) and this keyword "wealthy affiliate review" is very competitive with over 200 other websites competing to rank for these same words. So, I'm pleased to have this new post showing in the middle of the 200 other results. By adding more content to my website and giving Google time to trust my website, I hope to see my ranking improve in the future. (SEO is not an instant game unless you've already built up your website and trust with Google…)
5. Repeat steps for your all website pages
Pro Tip: If you want a quick way to grab all of your website page URLs, use your sitemap link. Type in "sitemap.xml" behind your website name + / (e.g. https://affiliatemarketinginformant.com/sitemap.xml). This works for all websites that have a sitemap setup. (FYI: You can peak into other websites content too – try mine above 🙂
How to Find Your Website Ranking in Bing
Another way to check your website rankings is with Bing Webmaster Tools.
Bing Webmaster Tools is another free SEO tool that allows you to see where your content ranks in Bing search results. Bing.com is another search engine used by connected internet users to search for things online.
The steps for checking your website ranking in Bing are also simple to follow as well.
1. Make sure you are signed up with a free account
3. Click on your website to go inside your website Dashboard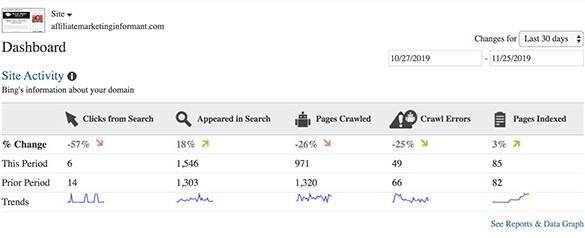 4. Go to Reports Data + Page Traffic
5. Scroll through the list of all your indexed website pages
Pro Tip: Website rankings for your website content will be different in each search engine. Notice how the same post is averaging the 46th search result position in Bing.com (compared to 92nd position in Google.com). Since Google is the leading search engine used by the majority of the internet users, I care more about my Google website rankings than any other search engine.
Conclusion
When it comes to building out any authority website, there is much to learn. You learn that your website needs traffic in order to generate sales (and affiliate commissions). Then you learn the variety of ways to drive traffic to your website (e.g. free organic traffic, paid traffic, social media, etc.)
Getting free traffic from Search Engines (aka SEO) is one of the most popular ways to generate traffic to your website. Because it's free. Optimizing content to rank in search engines doesn't require you to put down your credit card. SEO does, however, require you to invest time and learn skills to get your content to rank.
So when you are starting out, be sure to leverage free SEO tools like Google Search Console and Bing Webmaster Tools. When you are ready for more advanced features, you can consider upgrading to paid SEO tools like Jaaxy.
Got Questions?
Feel free to leave comments or questions below.