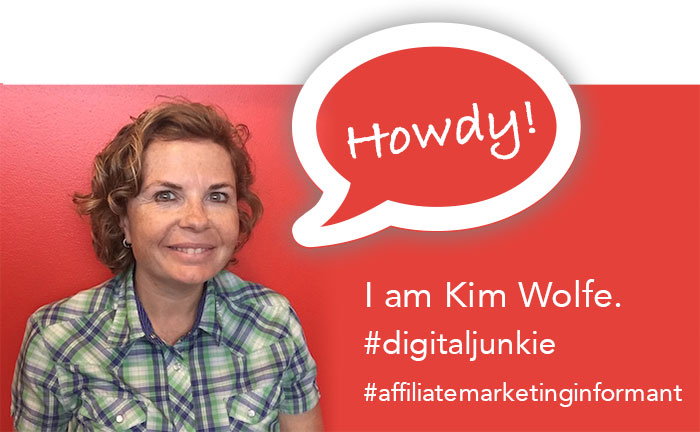 Howdy Ya'll!
A very southern way to say "hello to you all"… : )
Your Personal Informant
My name is Kim Wolfe.
I am your personal informant behind Affiliate Marketing Informant .com.
I am here to give YOU information on everything you want to know about affiliate marketing.
I may use we in some cases, because it takes multiple people to run a website like this.
I appreciate the help from freelancers, guest bloggers and affiliate marketers who share their wisdom in the comments.
The Questions That Brought Me Here…
Can you relate?
How do I create my own business?
How can I get a piece of the billion dollar online industry?
How do I learn to make money online?
I started out my career 20 years ago as a print graphic designer. I eventually learned web design because I had to. That is where the marketing industry went and still is today.
I have been connected to the marketing industry for half of my life.
I have personally witnessed the growth from traditional marketing (e.g. newspapers and magazine ads, billboards, TV commercials, etc) to digital marketing (e.g. online stores, website ads, email newsletters, social media communities, web cookie tracking, etc.)
I am here today because I've been helping people with their marketing for years.
After years of helping others, I decided to help myself.
I want my own piece of the money pie!
I Discovered Affiliate Marketing
So, I started doing research.
For you know, the basic searches:
how do I make money online?
how do I learn internet marketing?
Because I knew that internet marketing was a way to generate revenue.
So low and behold, I discovered the idea of online affiliate marketing.
WHOA?! Wait…what? I can make money just by promoting other people's products?!
Yes. Apparently so.
I instantly knew affiliate marketing was for me.
I KNEW that recommending other people's products online was a fantastic way to learn internet marketing.
Because, I didn't have to worry about creating or managing my own products or services.
Or wait for that one client to agree to let me do their marketing for them, just so I could really learn how to do it. Yuck!
With affiliate marketing, it is just me, someone's product and people looking for solutions. I could just focus on getting really good at internet marketing skills.
I thought, "Perfect!"
So, I set out on my journey as an affiliate marketer. And I created this website.
Because, in my journey of research and learning, there are too many options.
Too many directions you can go. Too many promises of every solution being really great.
Learning how to become an affiliate marketing can be overwhelming. And it can be hard to find advanced tips and tricks that are easy to understand.
I want to share my experience.
I Want To Help You
So here we are. You and me.
[INSERT YOUR NAME HERE] and Kim Wolfe.
Nice to meet you!
I want to help you become an affiliate marketer. I want to to help advanced marketers learn new tips and tricks.
Perhaps, I will learn a thing or two as well.
Where You Will Find Me Online

My favorite affiliate marketing community is Wealthy Affiliate.
But I am also on Affilorama.
Wealthy Affiliate is where I have learned how to be an affiliate marketer.
And where I continue to learn something new everyday. And where I connect with other affiliate marketers of all stages. From beginners to professional experts.
But, before I inform you of everything you need to know about affiliate marketing…
Connect With Me
Come join me on Wealthy Affiliate and Affilorama.
Check out my profiles below.
You will prompted to create your own account (for free, yes), so we can connect.
Be sure to comment on my profile so I know you are there 🙂