As with all affiliate programs, the Amazon Associates Affiliate Program has requirements you must follow as an affiliate marketer.
You must follow these rules if you want to make affiliate commissions from Amazon. 
But, what happens if you don't follow the rules?
If you don't, you risk getting your account closed. Or worse, your account can be permanently banned.
Getting your account shutdown can really deflate your affiliate marketer ego.
There's nothing worse than losing out on your hard-earned affiliate commissions. Because your account got suspended or even shut-down. If you have commissions during this time, you may never actually collect them.
With Amazon being one of the largest independently run affiliate programs in the world today, the last thing you want to do is piss off Amazon. 
In order to know what Amazon wants and does not want, you need to read all of the policies and agreement documentation.
For Amazon Associates, you need to read and understand more than 12,000 words of affiliate rules!
Most people will not read 300 words of agreements, let alone 12,000+ words. Yet, they and you will still be held to the requirements when you become an Amazon affiliate. 
So, to help you out…
Here are 10 things you need to know before you join the Amazon Associates Affiliate Program.
These are the most common mistakes and pitfalls I see newbie affiliates make all the time.
However, keep in mind, these 10 rules do not cover every rule. This blog post does not replace the need to read all of the policies yourself.
But this will call out the most common requirements that surprise new Amazon affiliate marketers every time.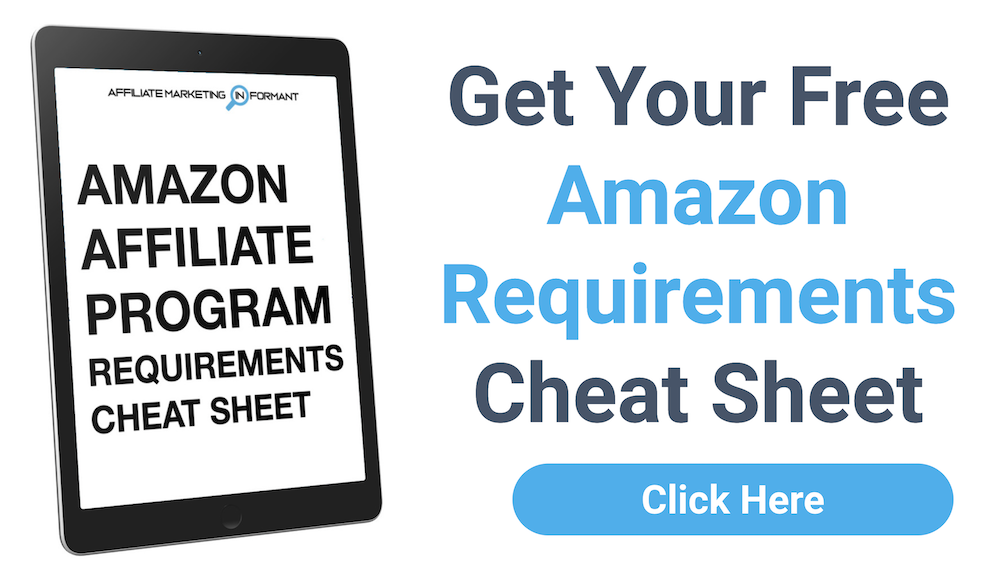 10 Amazon Associates Affiliate Program Requirements (To Prevent Your Account Getting Shutdown)
1. You need to make 3 Sales in 180 Days
The Amazon Associates program requires 3 qualifying purchases to Amazon.com within 180 days of your account sign-up. 
If you do not meet this requirement, your application will be rejected and your affiliate account will be closed.
This is a common mistake with new affiliates. (Having their accounts shut down because they did NOT make 3 sales within the time limit.)
Here are a few tips to make this requirement easier:
Don't join the Amazon Affiliate Program until you are ready to ensure traffic and sales to your links
If your account gets shut down, don't worry. You can request to re-open it. Just make sure you will get enough traffic to get 3 sales in the next 180 days. 
Once you make your first three sales, Amazon will conduct a quality check of your website to confirm and accept your application.
2. Have at least 10 public posts before you apply
When you request to become a Amazon Associates Affiliate, your website will be checked by before your affiliate application is approved. 
Amazon recommends at least 10 public posts before you apply, to ensure you have enough content to add value to readers. 
Here's a tip to make sure your content is considered valuable:
Make sure the content is good quality and original content
Provide content where product recommendations from Amazon.com fit naturally
3. Only 24 hours to get credit for the sale
Amazon only offers a 24-hour cookie. 
This means that when you refer people to buy a product from your Amazon affiliate link, they must buy within 24 hours for you to get credit for the sale. 
Sale = affiliate commission for you.
If they buy the product 48 hours after they clicked your link, you will not get credit for the sale. 
NO Sale = NO affiliate commission for you.
There is one exception to this rule: 
If your customer adds the product to their cart, you get 90 days to get credit for the sale.
Here are two ways to get around the small 24-hour window: 
Encourage your buyers to add the product to their cart so you have 90 days to get credit for the referral
Consider other affiliate programs, besides Amazon, that offer longer time periods.
Bonus points for finding affiliate programs that offer lifetime commissions. (They do exist.)
Remember all these steps with this!
4. Do not buy from your own affiliate links
This is a very BIG NO NO. Don't make this mistake as an affiliate. 
Do not purchase Amazon products using your own affiliate links. This will get your Amazon affiliate account banned. 
This is also a standard rule for every affiliate program. Not just Amazon's. 
Because buying from your own affiliate link and getting a commission kickback is considered cheating. 
You are not allowed to leverage the affiliate system to make commissions from your own sales, and essentially get products cheaper than everyone else. 
Here are tips to avoid making this costly mistake:
Try to avoid making purchases from the computer where you set up and manage your Amazon Associates account
Confirm your Amazon links do not have your affiliate ID attached before you buy
5. Don't hardcode Amazon.com prices in your content
Prices on Amazon fluctuate often. Therefore, you cannot hardcode prices for products into your content.
Fortunately for you, Amazon offers you options to get around this.
You can show product prices by using a free Amazon provided affiliate tool called SiteStripe or their API.
Here's the easy way to include prices in your content:
The free Amazon SiteStripe tool makes it easy for you to pull in dynamic prices that change over time
Save yourself time and heartache with this cheatsheet
6. You can't incentivize people to buy through your Amazon affiliate links
It's a common affiliate marketer strategy to offer special bonuses along with your affiliate offers. This strategy works to encourage people to buy from your link instead of other affiliates. 
You can't do this strategy with Amazon products or affiliate links.
Incentivizing is in direct violation of Amazon's Operating Agreement. They don't want the focus to be on the affiliates. Just the products from Amazon.

This affiliate marketer learned of this violation first hand, directly from Amazon. 
7. Don't put Amazon affiliate links in emails, ebooks or free downloads
Your agreement with the Amazon Associates Affiliate Program only approves you to use affiliate links on approved websites.
Therefore, you can only use your affiliate links on your website.
You cannot include your Amazon affiliate links in emails, eBooks, PDF downloads, or anything other than your website. 
You will get your account closed if Amazon finds out you are doing this.
What about Social Media?
Can you post your Amazon affiliate links on social media? The short answer is yes.
Posting on Social media is allowed, but still has restrictions.
You are allowed to use your same Amazon links from your website on your social media feeds.
The mentioned social channels are Facebook, YouTube, and Instagram but can include others as long you follow the rules set forth by the social network itself.
It is required that each social account you intend to share from be listed in your Associates profile before sharing.
Check out Amazon's guide for sharing links on social media for more info.
Avoid getting your application rejected and your affiliate account shut down because you didn't follow Amazon's requirements!
8. You can only have 1 Amazon Associate account 
You are only allowed to have one Associate account. You cannot set up multiple Associate accounts.
You can use one affiliate account to create links for multiple websites, as long as they are approved by Amazon.
9. Do not copy Amazon's website layout or colors
Amazon is a large, global company. They are very protective of their business, assets, and sales.
You cannot use the same layout or colors to make your website look like Amazon.com.
Amazon doesn't want anyone thinking you are Amazon and impacting their multi-billion dollar business!
10. Do not download product images from Amazon.com 
Never save Amazon product images to your computer.
This is a common practice, although this can get you into copyright infringement trouble.
Doing this for product images on Amazon.com will get you banned from the Amazon Affiliate program.
It is written in the terms and conditions of the Amazon Affiliate program that you cannot download images from Amazon to use on your website.
Tips to use product images from Amazon legally:
Use Amazon's free SiteStripe tool to get your images
You can create a variety of different types of text and image links with product images, product info, and more with SiteStripe